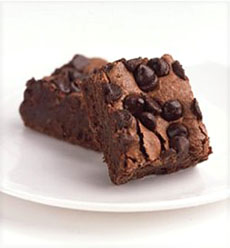 Chocolate chip brownie from Solomon's. Absolutely delicious—and kosher, too. Eighteen brownies, $27.95. Click here to order. Read our full review here.


Party Planning: Desserts
How Much Is Enough?
When you're planning a "finger food" dessert—cookies, brownies, and pastries—how much dessert is enough? You don't want to run out; nor do you want to have too much in excess, resulting in wasted dollars or too much on your waist (from eating all of the leftovers). Here are some guidelines:
When serving sweets as a dessert, 4 to 6 ounces per person is sufficient.
For a dessert-only party, 8 to 10 ounces is sufficient, plus fresh fruit.
If you're serving fresh fruit or fruit salad, count that in addition to the sweets.
How do you "visualize" 1, 6 or 8 ounces? Here are some examples:
1 ounce: 1 small cookie or mini-muffin, 1 piece of rugelach
6 ounces: 1 medium-sized chocolate chip cookie, 1 medium brownie or bar
8 ounces: 1 large brownie or bar, 1 large muffin, 1 jumbo cookie.
TIP: A brownie or muffin or this size is, in our opinion, "supersized"; unfortunately, it is the size that is usually found at bakeries, muffin shops, et al. It should be cut in half to make two portions. Guests will prefer to eat less and have more variety.
Like all guidelines, those above follow the 80/20 rule: 80 percent of the guests will conform to them and 20 percent will eat either a lot more or will eat nothing at all.
Based on these guidelines, here's how many pounds of sweets you need, assuming four ounces per person (if you know your family and friends are fiendish dessert hounds or compulsive dieters, adjust the numbers accordingly):
25 people: 6.25 pounds
50 people: 12.5 pounds
75 people: 18.75 pounds
100 people: 25 pounds
200 people: 50 pounds
| | | |
| --- | --- | --- |
| | | |
| Solomon's Caramel Brownies. Made with the best chocolate, butter and eggs, Solomon's brownies are tops. 18 brownies are $27.95. Click here for more information. | Solomon's Chocolate Mint Brownies. These brownies are killers—if you're a mint lover, you must have a box. Eighteen brownies are $27.95. Click here for more information. | Solomon's Cookie Assortment. Get some of the brownies and a variety of cookies in this wonderful assortment. Thirty cookies, $41.95. Click here for more information. |
© Copyright 2005- 2015 Lifestyle Direct, Inc. All rights reserved. Images are the copyright of their respective owners.