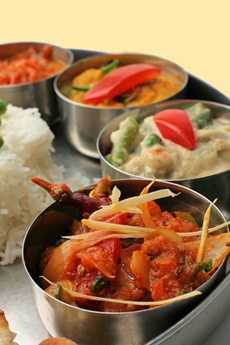 No Indian restaurant near you? No worries: With Stonehouse 27 Indian cooking sauces, you can whip up authentic dishes with ease. Photo by Yuliya Gorodetskaya | Fotolia.
KAREN HOCHMAN is Editorial Director of THE NIBBLE.

Stonehouse 27 Indian Cooking Sauce
Easy—And Healthier—Indian Recipes
CAPSULE REVIEW: Exotic and easy to prepare, Stonehouse 27 cooking sauces are a boon for anyone who enjoys fine Indian food and would like to have it more often. With these authentic Anglo Indian cooking sauces, just add vegetables and/or meat and in 30-40 minutes, a delicious entrée is ready to serve. This is also healthier Indian cuisine: all-natural and gluten-free with no added salt; heart-healthy canola oil; and diabetic-friendly, low-glycemic agave nectar instead of refined sugar. The flavors—Dates and Tamarind, Tamarind and Garlic, Tomato and Chilies, Cashews and Cream, and Cilantro and Coconut curries—have varying degrees of heat and are flexible to be used with meat/fish or vegetarian. Most varieties are vegan; two varieties are vegetarian.
Introduction
More than 500 years ago, Portuguese sailors first arrived on the shores of India in search of spices. The British arrived later, and by the latter part of the 17th century, had established Bombay as the main port of entry for the spice trade: basil, cardamom, cilantro, coriander, ginger and the all-important peppercorn.
Stonehouse 27 founder Sharon Fernandes has a Portuguese and British Indian heritage. She grew up with Anglo-Indian cuisine and saw a gap in the marketplace for quality cooking sauces. She left her position as a technology and management consultant to start the company—and technology's loss is cuisine's gain.
In terms of the name, Sharon says, "Stonehouse is an ancestral name that pays homage to the Colonial aspect of my roots while the number 27 represents the number of spices in a traditional, Portuguese-inspired blend that I use in my modern, yet authentic recipes."
Cooking Sauce Varieties
These handcrafted cooking sauces have been carefully slow cooked for hours so that all you have to do is add a protein and/or vegetables and make the rice.
The recipes are customizable: If you're using meat, you can add all the vegetables you want or none at all. But whatever vegetables are in season will taste delicious simmered in these flavorful sauces (in fact, non-veggie-lovers may be converted).
For a special occasion, think about serving all of the varieties in one impressive Indian buffet.
Cashews & Cream Cooking Sauce. Garlic, paprika and turmeric season finely-ground nuts in this creamy sauce—made with half and half. Simmer cubed chicken and/or favorite vegetables. Vegetarian, mild or hot varieties.
Cilantro & Coconut Cooking Sauce. Made with fresh herbs and lemon, this delicate sauce was made for fish/seafood and/or vegetables: lightly creamy (from coconut milk) and lemony. Vegan, mild heat.
Dates & Tamarind Cooking Sauce. Succulent dates and tart fresh tamarind marry for a sweet-and-sour effect; roasted hot chilies, pepper and agave nectar make it hot and sweet. A great sauce for cubed pork and/or vegetables. Vegan, hot.

The hard work—making this Tamarind & Garlic sauce, has been done. You just add chicken or veggies and simmer. Photo by Hannah Kaminsky | THE NIBBLE.
Tamarind & Garlic Cooking Sauce is a combination of coconut milk, garlic, onion, tamarind, and tomato seasoned with cumin, paprika and roasted chili peppers. Great with shrimp and/or veggies. Vegan, mild heat.
Tomato & Chillies Cooking Sauce is a sophisticated combination of sautéed onions and aromatic garlic in a coconut milk and tomato sauce, seasoned with turmeric and paprika. Add beef and/or vegetables. Vegan, medium heat.
Serving Suggestions
Complete your Indian entrée with:

Here are some suggested wine pairings with Indian food.
STONEHOUSE 27 INDIAN COOKING SAUCES

Cashews & Cream (Hot), Cashews & Cream (Mild), Cilantro & Coconut, Dates & Tamarind, Tamarind & Garlic, Tomato & Chillies

Purchase online* at Stonehouse27.com.

Or see store locator on website.

*Prices and product availability are verified at publication but are subject to change. Shipping is additional. These items are offered by a third party and THE NIBBLE has no relationship with them. Purchase information is provided as a reader convenience.


Prepare an entire Indian buffet! Photo by Hannah
Kaminsky | THE NIBBLE.

Recent Articles From Our NutriNibbles™ News Feed:
Subscribing notifies you whenever there are
new additions to the NutriNibbles™ section.

Subscribe to THE NIBBLE™ NutriNibbles™ by Email
© Copyright 2005-2015 Lifestyle Direct, Inc. All rights reserved. Images are the copyright of their respective owners.