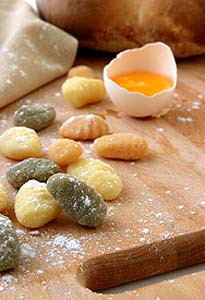 Fresh gnocchi in regular, tomato and spinach flavors. From IsolaImports.com.

The Many Flavors Of Pasta
From Black Olive Fettuccine To Wasabi Tagliarini, They're All Delicious Flavors
Create Gourmet Pasta Dishes in Minutes
How Pasta Is Made
Before jumping into the delicious and myriad flavors of pasta (it's not just regular, tomato and spinach, as shown in the photo at the left), let's take a brief look at how one of America's favorite foods is made. There are three basic steps in the commercial pasta-making process.
Mixing the dough. The flour, generally semolina, is mixed with water and usually salt, then kneaded until it forms a dough. This is the point at which eggs or any flavor or color ingredients are added.
Extruding (creating the shape). After the dough reaches the correct consistency, it is pushed, or extruded, at high pressure through a die (a metal disc with holes in it). The size and shape of the holes in the die determine the shape of the pasta (you may have done some low-pressure extruding with Play-Doh® molds a few years back). When the extruded pasta reaches the right length, it is cut with blades that rotate beneath the die.

Not all pasta is extruded: some artisan manufacturers mimic the old hand-cranking machine method. They mix and knead small batches that are then rolled into long sheets by similar machines, and cut into specific widths: capelli, tagliarini, linguini, fettuccini, lasagna et al.
Drying the pasta. In commercial pasta-manufacturing, the pasta is then sent through large dryers that circulate hot, moist air, generally for five or six hours (the time varies depending on the thickness of the pasta shape). In artisanal boutiques, the pasta is hung to dry naturally.
The dried pasta is now ready to be packed in bags or boxes and shipped.

Fresh Pasta Versus Dried Pasta
There is undeniable culinary romance in the idea of fresh pasta. Some people believe that fresh pasta tastes better; others find that there is essentially no discernable taste difference between a quality dry product and a quality fresh product. (It should be noted that when discussing fresh pasta, one needs to distinguish between homemade pasta and that from the local pasta shop or restaurant, which probably has commercial equipment.)
There will be a slight difference in taste between commercial and homemade pastas due to the flour. Semolina (the ground kernel of durum wheat that is the basis of manufactured American and Italian pastas) requires industrial strength kneading machinery, so home cooks using machinery meant for the home kitchen cannot use it. Instead, home pasta-makers must default to 00 (double zero) or all-purpose flour, which makes a tasty product but doesn't have semolina's nutty flavor and firm consistency; only semolina can be cooked to an al dente consistency.
This doesn't mean that homemade pasta is less good than commercially made fine pasta; it just means that in a hair-splitting analysis, differences will be discerned. On the other hand, home cooks have the advantage of adapting recipes until they achieve a perfect balance of seasonings, fillings, creative combinations, et al.
Flavors and Colors of Pasta: A Rainbow of Choices
When the dough is made, any number of flavors and colors can be added to create a specialty product. The flavoring agent generally adds color to the pasta: beet will be deep pink to dark red, saffron will be yellow, spinach will be medium green, chocolate will be brown, etc. The colors can lighten when cooked, but they generally produce a stunning presentation.
Specialty pastas are readily obtainable, and the chart below shows flavors that are commonly added. The list is meant as an overview and is not exhaustive: for example, you can buy black bean pasta, not on this list, at specialty stores and specialty pasta shops. Creative chefs are constantly generating new ideas to keep our palates excited.
You can find recipes online to make almost all of the pastas below from scratch, and recipes for how to use the pastas themselves (check at RossiPasta.com, which makes 21 flavors). However beautifully specialty pastas make up into complex gourmet dishes, all of the flavors can be enjoyed simply, with just butter or olive oil, grated cheese, and a grind of fresh pepper. A squeeze of fresh lemon or lime is a simple trick that brings the dish to life.
Addition

Artichoke*

Cooked artichoke hearts are pureed and added to the pasta dough. Artichoke pasta is a classic complement to veal and chicken dishes. It pairs well with creamy seafood sauces, white wine sauces and light red sauces, and is especially wonderful with cilantro- and lovage-based pestos. Or, just serve with butter and a squeeze of lemon, like you would with cooked artichokes!

Click here to purchase.

Also serve with antipasti, vinaigrettes and, of course, marinated artichokes.

Beet

Cooked beets, and often garlic, are pureed and added to the pasta dough mostly for color; there is not much noticeable beet flavor. Beet color is the least stable, so the pasta looses a good amount of rich red when cooked, settling out at a nice pink. Serve with a white sauce (or sour cream and caviar or roe), garlic butter, an orange ginger sauce with citrus segments, and any seafood. Think "borscht" and add a hearty meat and vegetable sauce.


We love beets and goat cheese, so we add baby beets, fresh goat cheese, chives and walnuts and serve this dish hot or cold. If cold, consider tossing with walnut oil instead of the traditional olive oil.

Black Olive*

Salt-cured olives and fresh garlic are added to the pasta dough, providing a subtle olive flavor. Serve with tomato sauce, or make a pasta salad with feta, diced tomatoes and a vinaigrette.

Click here to purchase.

A squeeze of lemon juice and some grated parmesan cheese will bring out the natural olive flavor.

Chile Pepper*

Chopped fresh or dried chile peppers in varying intensities of heat, from cayenne, poblano and serrano to the hotter jalapeño and habañero, are added to the pasta dough. Use this pasta to make a fiery pasta salad or a zingy Alfredo, to add excitement under a red sauce, or to add bite to a peppery Primavera. Create a Mexican-Italian fusion dish by serving grilled chicken, meats and stews with this pasta instead of traditional rice.

Some like it hot...and they'll enjoy a main course, pasta salad, soup or casserole made with this exciting jalapeño-based pasta.

Chocolate‡

Cocoa powder is added to the dough to provide a mild chocolate-flavored, savory pasta, traditionally served with meat ragus and game like boar and venison. Sugar can be added for a sweet dessert pasta to serve with ice cream, whipped cream and strawberries.

Click here to purchase chocolate dessert pasta.

Curry*

Curry powder is added to the pasta dough to create a spicy pasta; like chile pepper pastas, this is a true fusion food. Ideally served with coconut milk or chicken stock-based sauces, it will also work with light seafood stocks. This pasta is a natural companion to vegetables of all sorts, seafood and chicken dishes.

Click here to purchase.

Made with curry powder, which is not an individual spice or herb but a blend of several, including coriander, turmeric, cumin, fenugreek and red pepper.

Egg†

Eggs or egg yolks are added to the pasta dough to make a richer product. Historically, the egg-enriched product has been referred to as noodles, and non-egg pasta has been called spaghetti. (Maccheroni are tubular pasta.)

Click here to purchase.

While not members of the specialty or flavored group, we included egg and whole wheat pastas in this chart because they add rich flavors over plain semolina pastas.

Fruit Pasta†

Puree or juice strained from cooked fruit, but no sugar or sweetener, is added to the pasta dough. The pasta can be served in a savory or sweet preparation, although most chefs choose a savory preparation: a light olive-oil based sauce with herbs, olives and capers, for example; or Asian-inspired citrus- or ginger-based sauces. The pastas are best served with seafood and poultry.

Click here to purchase this tangerine pasta.

You can get very creative with this full-flavored tangerine pasta. There's no sugar, other than what it gets from the juice it's made with. It's very popular with restaurateurs in Florida, where it is made. Serve it with a savory sauce and chicken or seafood; or with a sweet citrus sauce topped with citrus salad for dessert.

Garlic or Garlic and Herbs†*

Crushed garlic cloves alone, or with various herbs, are added to the pasta dough. Herbs can include parsley, basil, sage, rosemary, thyme, chives and oregano. Garlic pasta excels with a tomato sauce or pesto, but be careful not to add too much additional garlic to the sauce.

Click here to purchase garlic parsley. For a full-flavored garlic-only pasta, click here.

Pair garlic pasta with seafood, or use as a rich base for Pasta Primavera or as an interesting twist on Fettuccini Alfredo. It adds flair to soups, casseroles and pasta salads.

Lemon or Lemon/Pepper†*

Lemon juice and lemon zest lend a mild lemon tartness to the pasta. Pepper, an optional ingredient, adds bite. This pasta is great for chicken or seafood dishes, and excellent in cold pasta salads. It works well with light red sauces like Marinara, but white wine sauces and clam sauces are naturals. And, as with all pastas, adding some butter or olive oil, a bit of lemon juice, parmesan cheese, and fresh pepper will make this perfetto!

Click here to purchase.

You may not have thought of lemon pasta with a red sauce and parmesan cheese, but it's delicious!

Onion or
Leek & Onion*

Subtly flavored with Vidalia onions, this sweet and mild pasta has just the right hint of onion. It beautifully complements olive tapenades, light tomato and Carbonara sauces, and sharp cheeses. Or, enjoy it with a little butter and grated parmesan cheese.

Click here to purchase.

Onion pasta is equally delicious hot and cold. Fold leftover pasta into a cheese omelet!

Red Bell Pepper†*

Pureed roasted bell peppers are added to the pasta dough, imparting a vibrant orange color and a subtle sweet pepper nose. A favorite for pasta salads (add Tabasco if you like it hot), you can make a quick gourmet dish just by adding some ground pepper, a little olive oil and butter, some chopped onions and garlic. Top it with a squeeze of fresh lemon juice.

Click here to purchase.

Serve red bell pepper pasta with
crudités and cheese, and as a pasta salad with a tart vinaigrette and shaved parmesan cheese.

Saffron†*

The world's most expensive spice (yet only $5.95 for the package of pasta) is added to the pasta dough to give it a distinct saffron flavor and golden color. This pasta is outstanding with all seafood, white wine sauces and subtle cheeses. Try it with scallops, butter, white wine, tamari and grated Locatelli Romano. Or, enjoy it simply with lemon and olive oil.

Click here to purchase.

The lovely golden color of saffron pasta looks stunning in any pasta salad or under a red sauce. Its unique flavor is an added plus.

Spinach†*

The most popular flavored pasta, finely chopped or pureed raw spinach is added to the pasta dough. The most versatile flavor as well, it works with red or white sauces, vinaigrettes, or simply with butter and/or olive oil, lemon juice and freshly grated parmesan cheese.

Click here to purchase.

Spinach pasta complements chicken and hearty cheeses especially well. For St. Patrick's Day, serve it with a pesto!

Squid Ink†

The ink from squid or cuttlefish is added to the pasta dough. Some squid ink pastas have a mild briny, inky flavor of the sea; others are have more color than distinct flavor. It can take a white or light red sauce and is a perfect pasta for fish and seafood. Serve it with brochettes, filets, seafood stews and casseroles. Pink fish like salmon, steelhead, and char, grilled or poached, make a beautiful presentation.

Click here to purchase.

We love to serve squid ink pasta with white scallops and red salmon caviar: exquisitely delicious and simply stunning.

Tomato†*

Tomato paste is added to the pasta dough, providing a rich tomato flavor that requests no tomato sauce. Instead, try a light, creamy Alfredo or a subdued Primavera. Or, make a pasta salad with an olive oil vinaigrette with sautéed garlic, squeezed lemon, and fresh Parmesan cheese.

Click here to purchase.

Tomato pasta has so much tomato flavor that tomato sauce is overkill. Instead, go for a beautiful white Alfredo sauce or a pasta salad with a vinaigrette.

Wine or
Vin Rosso*

Cabernet Sauvignon added to the pasta dough provides a subtle influence that will delight wine lovers. It's delicious with beef dishes (try topping it with beef tips) and meatier sauces. For a quick dish, cook chopped onions and garlic in a little olive oil, add some salt and pepper, open up a bottle of Cabernet, and mangia.

Click here to purchase.

Another way to enjoy a good red wine: in fine pasta!

Wasabi*

Wasabi paste is added to the pasta dough, providing a spicy fusion pasta. Serve with seafood, salmon caviar, chicken, grilled pork and beef. It pairs well with all the Asian accoutrements, especially ginger, soy sauce and tamari.

If you love Asian-fusion food, how can you resist? Try wasabi pasta with fresh salmon finished in a light soy glaze. Or, serve a first course of nouvelle chirashi: sashimi on a bed of wasabi pasta instead of rice.

Whole Wheat†*

Naturally nutty, whole wheat pasta can be pure or mixed with regular semolina (or all-purpose flour) to reduce the nuttiness; be sure to read the label if you are seeking the maximum fiber benefits through insoluble fiber. A versatile flavor, it can be paired with almost anything, but goes particularly well with red sauces.

Click here to purchase.

To savor the whole wheat flavor, simply toss with butter or olive oil, grate some Parmigiano Reggiano cheese, a bit of fresh-ground pepper and a squeeze of fresh lemon juice.

Wild Mushroom*

Minced porcinis and morels are added to the pasta dough, providing an earthy flavor that speaks for itself. This pasta is superb with light cream sauces, both red and white wine reductions, and with sauces that contain chicken stock and/or fish sauces. So versatile, you can serve it with simple seafood, poultry and pork entrees, complex dishes, or just by itself with butter or olive oil and cheese.

Click here to purchase.

Wild mushroom pasta is exceptional hot or cold, and from one end of the globe to the other. Try it with spicy Primavera sauce or creamy chicken casserole; or make an Oriental stir-fry with tamari, water chestnuts, mushrooms and snow peas (vegetarian or with the meat of your choice).
* Available at RossiPasta.com
†Available at AlfonsoGourmetPasta.com
‡ Available at ChocolateHeaven.com

Although the many pasta flavor options provide a variety of tastes, the pasta sauce or ingredients that are mixed with the pasta or noodles will have the biggest effect on the taste of the finished dish. The lighter or simpler the sauce is, the more the flavor of the pasta will come through.
Can't Decide?
Here are some gift-boxed assortments of Pasta Rossi's all-natural, top-quality pastas. Rossi's pastas are made in America "the old-fashioned way," hand-cranked in small batches. They're sold by Williams-Sonoma, Fresh Fields, Harry & David, are served at the Greenbriar and Ritz Carlton Resorts, and are used by chefs at the top restaurants in America. The next time you see Wasabi Tagliarini or Saffron Linguini on the menu of a hot spot, you can guess the chef did what you did: boiled water and reached for the Rossi. Click here for our review of Rossi Pasta.
| | |
| --- | --- |
| | |
| Seven Days of Pasta. Who wouldn't love to try seven of the most popular flavors: either one heavenly week of pasta, or stretching out the good stuff over a few months. One 12-ounce package each of Capelli d'Angelo, Spinach Basil Garlic Fettuccini, Roasted Red Bell Pepper Fettuccini, Tomato Basil Garlic Fettuccini, Italian Spice Linguini, Wild Mushroom Linguini, and Saffron Linguini. Gift-boxed. Click here to purchase. | Plentiful Pasta. For the gourmet: exciting pasta flavors plus sauces and extra virgin olive oil and balsamic vinegar for the salad! Gift pack includes Black Olive Linguini, Classic Linguini, Leek and Onion Linguini, Curry Linguini, Whole Wheat Linguini, Parsley Garlic Fettuccini, Garlic Fettuccini, Fire (The Devil's Angel Hair), Classic Lasagna and Spinach Basil Garlic Lasagna, Classic Marinara Sauce and Vodka Sauce. Click here to purchase. |
| | |
| Three Pastas, Two Sauces. A delightful all-purpose gift, hostess gift, get-well gift, happy birthday present, or "thinking of you" token for a foodie friend. One 12-ounce package each of Classic Fettuccini, Spinach Basil Garlic Fettuccini, and Tomato Basil Garlic Fettuccini, plus 15.5-ounce Classic Marinara and Mushroom Sauces. Click here to purchase. | Deluxe Gift Basket. Nine 12-ounce pastas and four 15.5-ounce sauces mean lots of feasting! Pastas include Spinach Basil Garlic Fettuccini, Tomato Basil Garlic Fettuccini, Lemon Pepper Fettuccini, Capelli d'Angelo (Angel Hair), Vino Rosso Linguini, Artichoke Linguini, Saffron Linguini, and Italian Spice Linguini, and Classic Fettuccini; sauces include Classic Marinara Sauce, Mushroom Sauce, Artichoke Sauce and Vodka Sauce. Click here to purchase. |

Copyright 2005- 2015 Lifestyle Direct, Inc. All rights reserved. Images are the copyright of their respective owners.