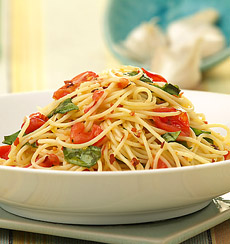 Angel hair pasta can't be weighted down with a heavy sauce. Here it is dressed with olive oil and garlic, and topped with cherry tomatoes and fresh basil. The recipe, from Barilla Pasta, is below.


Matching Pasta & Sauce
For A Successful Pasta Recipe, The Right Type Of Sauce Makes A Big Difference
Chefs know—but many home cooks don't realize—that there's a reason certain sauces don't work with certain pastas. Fragile pastas like angel hair can't be weighted down by heavy ragùs. By the same token, robust penne and shells need more than a dressing of olive oil and garlic.
Barilla, producer of America's number one brand of pasta, has developed this easy-to use chart that explains it all for you. Now, you'll know why you never see certain pairings on restaurant menus. In fact, certain cuts of pasta were developed in their regions to accommodate the cuisine—seafood sauces, meat sauces, etc.
Pasta Shape
Sauce

Flat and Long

Fettuccine, Linguine

Fettuccine. As the thicker flat long shape, fettuccine can withstand extremely robust sauces:


• Dairy-based, oil-based or tomato-based sauces
• Sauces combined with meat, vegetables, seafood or cheese

Linguine. Linguine is best known paired with traditional pesto. Other perfect matches include:
• Tomato sauces
• Oil-based sauces
• Fish-based sauces

Round and Long

Spaghetti (thick, thin or angel hair)

Spaghetti. Long and thin, yet not too fine, spaghetti becomes brisk and graceful after cooking and is one of the most versatile shapes. Everybody's favorite, spaghetti pairs well with just about any kind of sauce.

•Simple tomato sauce, with or without meat or vegetables—medium-size chunks work well
• Fish-based sauces
• Oil-based sauces
• Carbonara

For the more refined and delicate spaghettis, use seafood-based sauces (like tuna) or oil-based sauces.

Angel hair. Light structured sauces work best to balance the delicacy of this long shape.
• Simple, light tomato sauces (tomatoes, oil and basil)
• Broths, consommés and soups
• Light dairy sauces like parsley crème

Oven Shapes

Jumbo Shells, Lasagne, Manicotti

Jumbo Shells, Lasagne, Manicotti. These famous baking shapes are known for their generous consistency and heartiness, allowing for use with the most robust and highly flavorful sauces and the most sumptuous and creative fillings. Sauces can be rich in chunks and abundant with moisture to facilitate oven-baking. Lasagne, the most well-known pasta al forno, varies from region to region—Tuscans and Emilia-Romagnans make it with a béchamel, a meat ragù and grated Parmigiano; Ligurians make it with pesto.

• Meat-based sauces like traditional bolognese
• Other tomato-based red sauces
• Dairy-based sauces like a classic béchamel
• Vegetable-based sauces

Soup Shapes

Ditalini, Orzo, Pastina

Ditalini, Orzo, Pastina. Known for being served in children's soups throughout Italy, these very delicate shapes (pastina) are great with light vegetable, meat or fish-based broth soups.

• Heartier soups like vegetable soups with peas and lentils are perfect for these more substantial soup shapes.
• They're also great with cream-based soups.

Specialty Shapes

Campanelle, Castellane, Cellentani, Gemelli, Large Shells

Campanelle, Castellane, Cellentani, Gemelli. For a touch of elegance to any dish, these decorative shapes are great with:

• Hearty dairy-based sauces (cheese or béchamel) [campanelle, castellane, gemelli]
• Fish-based sauces [cellentani, castellane]

Large shells. Hearty sauces love to tuck inside the shell:
• Vegetable sauces (like beans, lentils, chick peas, pumpkin, or other chunky vegetables)
• Meat sauces
• Robust tomato-based sauces

Tube Shapes

Mezzi Rigatoni, Mostaccioli, Penne, Mini Penne, Rigatoni, Tubini, Ziti

The thickness of these shapes requires full flavor sauces. The large diameter, combined with the ridges that penne and rigatoni bring, make them ideal to retain sauces on the entire surface, inside and out!

• Chunkier meat or vegetable-based sauces work well with the ridged shapes, like ragù alla bolognese—red sauce made with ground meat, onions, celery, carrots and tomatoes
• Refined dairy-based sauces, like four cheese or a mushroom cream sauce
• Fresh, light sauces—like olive oil or simple fresh tomato—work best with smooth shapes (mostaccioli, ziti) since they do not have the benefit of ridges to hold more sauce
• Tomato sauces or spicy sauces, like arrabbiata
• Also great for baked casserole dishes, known as pasta al forno; great with cheese-based sauces like four-cheese

Versatile Shapes


Elbows, Farfalle, Fiori, Medium Shells, Pipette, Rotini

Farfalle (bow ties). Farfalle is great with intense fragrances and flavors. Consider:

• Light sauces with vegetables or fish
• Dairy-based sauces
• Simple oil-based sauces
• Pasta salads

Elbows, fiori, shells, pipette. Traditionally, elbows, fiori, medium shells and pipette are used in American-inspired pasta salads, and in the American favorite, macaroni and cheese. Traditional Italian usage might include:

• Dairy-based sauces (butter or cheese)
• Tomato-based sauces with or without vegetables
• Chunky fish/meat-based sauce

Rotini. A sister to fusilli, rotini is made of lots of twists and spirals, allowing it to embrace both refined and simple sauces. Vegetables, meat, seafood or fragrant spices love to glide in the grooves of this shape. Rotini is often used in the U.S. in pasta salads. Traditional Italian usage might include:

• Light tomato sauces with or without vegetables (small diced)
• Dairy-based sauces
• Oil-based sauces
RECIPE: Angel Hair Pasta with Cherry Tomatoes and Basil (Capelli d`Angelo con Pomodorini e Basilico)
Prep time 15 minutes, cooking time 13 minutes.
Ingredients

¼ cup extra virgin olive oil
2 cloves peeled garlic
1 teaspoon hot red pepper flakes (if you don't like it spicy, use regular red pepper flakes)
2 pints cherry tomatoes, cut in halves (to make the dish more interesting, use one pint of red, one pint of yellow tomatoes)
5 large basil leaves (or more to taste)
Salt to taste
1 package angel hair pasta
½ cup Pecorino Romano cheese
Preparation
Heat olive oil in a skillet. Peel and gently press the garlic. Add garlic and pepper flakes to the skillet.
Cut the cherry tomatoes in half and tear the basil into small pieces. Add the cherry tomatoes and basil. Simmer for five minutes. Season with salt. Discard the garlic cloves.
Cook the pasta according to package directions. Drain and toss with the sauce. Garnish with freshly-grated Pecorino Romano.
Serve with red wine.
RECIPE: Farfalle with Chicken and Spinach (Farfalle con Pollo e Spinaci)
Everyone delights in bow tie pasta (farfalle). This "meaty" recipe has chunks of chicken, plus iron-rich spinach.
Ingredients

1 box (16 ounces) Barilla Farfalle (bow tie pasta)
1 pound boneless skinless chicken breast halves, cut into bite-sized chunks
1 teaspoon salt, divided
¼ teaspoon freshly-ground black
pepper, divided
3 tablespoons extra virgin olive oil
1 small onion, chopped (or 2 small
shallots)
1 cup chopped red pepper
2 cloves garlic, minced
1 cup chicken broth
½ pounds spinach, rinsed and chopped
2 tablespoons chopped parsley
¼ cup freshly grated Parmigiano Reggiano cheese
Preparation
Prep time 15 minutes, cooking time 30 minutes.
Sprinkle chicken with 1/2 teaspoon salt and 1/8 teaspoon black pepper.
Heat oil in large skillet over medium-high heat. Add chicken, onion, pepper and garlic; cook and stir 5 to 7 minutes or until chicken is almost cooked through.
Add chicken broth, spinach and remaining salt and pepper. Cook until spinach is wilted and chicken is cooked through.
Cook farfalle according to package directions; drain and return to pot. Add chicken mixture to hot farfalle; toss.
Transfer to serving platter; sprinkle with cheese and parsley. Makes 4 to 6 servings.
Serve with red wine.
Recipes and chart content copyright Barilla pasta. Other content © 2005- 2015 Lifestyle Direct, Inc. All rights reserved. Images are the copyright of their respective owners.