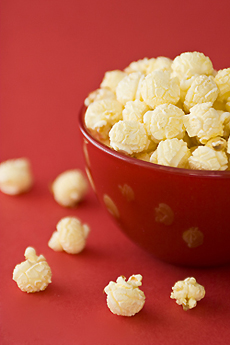 Sure, Gary Poppins will send you fine plain popcorn. But with 22 flavors, it's time to spread your wings and give gourmet flavored popcorn a try. Photography by Saidi Granados.
EMILY CHANG is an intern at THE NIBBLE.

Gary Poppins Gourmet Popcorn
Almost Two Dozen Gourmet Popcorn Flavors
Page 1: Flavored Popcorn Overview


CAPSULE REPORT: If you've read our article about whole grains, you know that a serving of 3 cups of popcorn satisfies one-third of your recommended daily amount of whole grains. This is good news for popcorn lovers; but an introduction to Gary Poppins' selection of gourmet popcorn, which includes 22 flavors ranging from the savory (Cheddar bacon ranch, coffee, salt & vinegar) to the sweet (chocolate-covered, pumpkin spice, white chocolate), takes "whole grain food" to a new level. Every flavor was good, but some of them have us positively hooked. The kernels are slightly soft and not as crunchy as microwave popcorn (but certainly not as bland, either!); some of the sweet flavors can be positively dessert-like. Now when you reach for a sweet treat, it's easy to make yours whole grain...and to send whole-grain gifts to your friends, too. This is page 1 of a 4-page article. Click on the black links below to view the other pages.
Can you combine an iconic childhood movie and the iconic movie snack? Gary Poppins popcorn has done it! Give this popcorn a taste and you'll find yourself thinking that no one needs to down a "spoonful of sugar" when one could have a tin of Gary Poppins' chocolate-covered popcorn (or perhaps gourmet Cheddar cheese jalapeño popcorn is your cure...but we are racing ahead).
Gary Poppins is not kin to Mary, but is Gary Seltzer, a serious culinarian and a graduate of the famed Culinary Institute of America (fellow alumni include Anthony Bourdain, Mario Batali, Michael Chiarello, Cat Cora, Rocco Di Spirito, Todd English, Bobby Flay and Sara Moulton). His father was a baker, which inspired him to pursue a career in food. But rather than travel the traditional path, his inspiration was to take his own strong penchant for popcorn and create true gourmet popcorn flavors as only someone with a top culinary education can.
You may have noticed a cornucopia of fancy popcorn flavors—at beach resorts, online and elsewhere, and you may have tasted some of it. Any shop can call its popcorn "gourmet," but that doesn't mean the manufacturer uses natural flavorings. Some of those fancy flavors can make your eyes pop...and not in a good way.

But Gary Poppins' all-natural flavors are exactly what you'd expect, and more. With his fine palate and imagination, he makes all the fancy flavors work. Gary Poppins successfully takes flavored popcorn to new heights. This popcorn truly deserves to call itself "gourmet." And you truly deserve to order yourself a whole bunch of flavors.

We've sorted Gary Poppins' 22 flavors into four groups: Cheese Popcorn Flavors, Chocolate Popcorn Flavors, [other] Sweet Popcorn Flavors and [other] Savory Popcorn Flavors. We'll tell you which ones we liked the best; but just as each of us would probably order a different flavor at the ice cream shop, follow your own palate.




Up close with Gary Poppins Cinnamon Popcorn.
Remember: There are no wrong choices!
Continue To Page 2: Cheese Popcorn Flavors
© Copyright 2005-2015 Lifestyle Direct, Inc. All rights reserved. Images are the copyright of their respective owners.