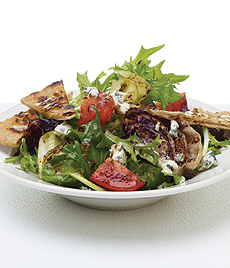 The unmistakable caraway spice tames the bitter bite of bold greens in this Grilled Bitter Greens Salad. Photos courtesy McCormick.

Product Reviews / Main Nibbles / Vegetables
Recipe: Grilled Bitter Greens
With Caraway Peach Dressing


Grilling wedges of radicchio and endive introduces another flavor component to these bitter greens, perfectly accented by a nutty-sweet dressing of caraway seeds and peach preserves. A scattering of pungent blue cheese finishes the dish.
Prep time is 25 minutes followed by 5 minutes of cook time. Yields 4 servings.
Bitter greens and caraway are one of McCormick's Top 10 Flavor Pairings For 2010. See all of the flavor pairings and recipes.
Grilled Bitter Greens With Caraway Peach Dressing
Ingredients For The Dressing

1/3 cup peach preserves
3 tablespoons white wine vinegar
1 tablespoon caraway seeds, finely
crushed

Ingredients For The Salad

1/4 cup olive oil
1 teaspoon Sicilian sea salt (or other
sea salt)
2 Belgian endive, cut in half
lengthwise
1 radicchio, cut into 4 wedges
2 medium plum tomatoes, cut in half
lengthwise
2 pita breads (8-inch)

Caraway seeds are actually a fruit, not a seed. Read more about Gourmet Fruits & Nuts.
2 cups baby salad greens
1/2 cup crumbled blue cheese (buy quality cheese, not acrid
"blue cheese crumbles")
Preparation
For the dressing, mix preserves, vinegar and caraway seeds in small bowl until well blended. Set aside. (TIP: For more flavor, crush caraway seeds with mortar and pestle. Or, place caraway seed in large resealable plastic bag. Close tightly. Pound with a rolling pin, mallet or heavy skillet until crushed.)
Mix oil and sea salt in small bowl. Brush endive, radicchio, tomatoes and pita breads with oil mixture.
Grill endive and radicchio over medium-high heat 1 to 2 minutes per side or until browned.
Grill tomato halves, cut sides down, 3 to 5 minutes or until slightly charred, turning once. Cut grilled tomatoes into chunks.
Grill pita breads, 1 to 2 minutes per side or until lightly toasted. Cut pita breads into wedges.
Place 1/2 cup salad greens on each serving plate. Top with an endive half and a radicchio wedge. Sprinkle with tomato chunks and blue cheese.
Serve with dressing and pita wedges.

Recipe © 2010 McCormick. All rights reserved. All other material © copyright 2005- 2015 Lifestyle Direct, Inc. All rights reserved. Images are the copyright of their respective owners.