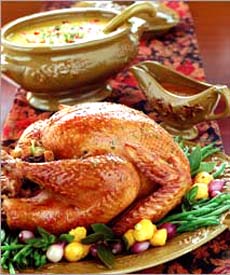 What wine to serve? The debate ends here. Louisville Stoneware platter, tureen and gravy boat available at
Sur La Table
.
KRIS PRASAD is Wine Editor of THE NIBBLE. Click here to email him with questions and comments.
November 2005

Product Reviews / Main Nibbles / Wine

Wines for Thanksgiving Dinner
Two Lists of Wines That All Will Give Thanks For


The decision of what wines to choose for Thanksgiving dinner is something of an annual ritual in most foodie households. We at THE NIBBLE go through it as well, and share with you our own guidelines.
The first step is to take stock of your guests. If most are "wine people," peruse the options on List 1. If most of your guests don't know the difference between a Pinot Grigio and a Pinot Blanc, List 2 will pass muster with the knowledgeable guests without taking them on a voyage of discovery.
List 1: For Wine Connoisseurs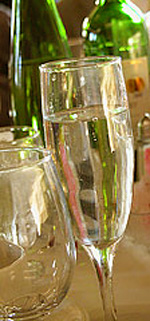 Start with sparkly. With a group of wine-loving, as opposed to wine-drinking, friends, what could be more festive than the tinkle of glasses raised in a toast? That tinkle sounds so much more musical when there is some bubbly in the glasses. You probably have a favorite Champagne or other sparkling wine, but if you want something different that is reasonably-priced we recommend a Champagne from a small grower: Jean Laurent Blanc de Blancs Brut (about $35). It is fairly intense with ripe flavors, but without being heavy and has a delightful clean lingering finish. Other choices are Llopart Leopardi Vintage 1999 Brut from Spain (which you can read about in Great Libations Under $25) or Domaine Carneros Brut from California ($22).
If fish is your dish. If fish is on the menu we suggest a fairly dry white. Among the best we have tasted recently, two stand out in particular: Landmark "Overlook" Chardonnay 2002 and Chalone Estate Chardonnay 2002. Both wines retail for about $23 and are a perfect follow-through after sparkling wines. Neither is bone dry. They both have a softness and exotic fruit quality to them so that if you decide to raise the heat level of the spices for your fish they are more than capable partners.
Perky with turkey. With the turkey there are many choices, both red and white. But a lot depends on the accompaniments: the best-matched wines are those that have the same sweet-tart spectrum of the food, with sweet potatoes on one end and sweet-tart cranberry relish on the other. In addition, the wine should not overpower the delicate flavor of the turkey. We recommend either a wine from Alsace or from the Loire Valley of France.
The Hugel Riesling 2003 (about $18) from Alsace has the characteristic delicacy and floral character of a Riesling on the nose, with ample broad ripe fruit on the palate and a tangy edge with a fairly dry finish. It should go over particularly well if the accompaniments are not too sweet. A more sweet, bold better choice if the accompaniments are quite sweet is the Clos Baudoin Vouvray "Le Bouchet" 2003 (about $18). It has a honeyed apple compote aroma on the nose, with ripe succulent fruit and a long finish that does not lack for acidity. Bring on the chestnut puree sweetened with maple syrup, and it will be up to the task.
Many people have not yet learned to enjoy sweeter wines with main courses. If you, like the late wine writer and critic Harry Waugh, believe that "the first duty of a wine is to be red," then our choices for a dry red wine that will partner well with the turkey and its entourage of sides are all from California.
Definitely for dessert. If dessert is on the ultra-sweet side, you need a wine that can cut through the flavors without seeming dry. If you want to end dinner on a thrilling high note and cost is no object, go for a German TBA (trockenbeerenauslese) from the 2003 vintage. The best value, and still a steep $160 a half-bottle, is the Joseph Leitz Rudesheimer Kirschenpfad Riesling. It's amazing stuff, with multiple layers of honeyed peaches, quince and apricot and a wow! finish. Other TBA's from either the 2002 or 2003 vintage in Germany are great choices but most of these range between $200 to $350 for a half-bottle. Having a glass would make one truly thankful; but since they're beyond most budgets, settling for a Bonny Doon Vin de Glaciere is no shame. Expect to pay about $18 a half-bottle for the 2004 vintage. There are many other options in our Wine and Dessert Pairings chart.
List 2: I Don't Understand Wine, But I Like It
Assuming the same basic menu in the prior list, these wines in this are a greater value for those who are less knowledgeable about wine; yet still will satisfy more sophisticated palates. They assume that the most important duty of a wine is to be tasty, within a general range of $15.
Starting off. To set a festive tone we recommend the Bisol Prosecco 2003/2004. Proseccos are sparkling wines that are primarily made in northern Italy near Brescia and Milan, in the region called Valdobiadenne. The Bisol is a light citrusy wine with a clean dry finish. You should be able to find it for around $15. The Zardetto Prosecco, on the other hand, is from the region of Veneto, and while not as crisp as the Bisol, does have more immediately appealing fruity flavors—and is priced around $10.
First course. For a white wine to follow the Prosecco, the Cartlidge & Brown California Chardonnay 2003 or 2004 (around $10) offers the kind of soft, low-acid fruit that casual wine drinkers often like; but it also has enough backbone to pass muster with a more demanding palate. Another choice would be a rosé that we particularly enjoy, the delicious Vega Sindoa 2004 Rosado (around $8). Serve it slightly chilled.
Turkey time. For the main course, three reds offer excellent value and can be enjoyed on many levels:
Dessert. A wine that is most satisfying with pumpkin pie—even connoisseurs agree—is the Lustau Emilin Muscat Sherry (under $25). It is mahogany brown in color with a rich, raisin and fig flavor, and additional complexity in the form of roses and lime blossoms. It has the right amount of acidity to cut through rich pumpkin flavors. There is also a caramelized nut flavor to the sherry that would be an excellent complement to nut-based desserts like pecan pie. What is left undrunk in the bottle can be enjoyed with great pleasure even a few months later, even without refrigeration. A less expensive alternative is a fizzy 2004 Moscato d'Asti from Italy—between $10 and $15 depending on the producer. Our favorite is La Spinetta from Rivetti, a delicious version with an amazingly low alcohol level of around 6%. This is an intensely fruity, almost fruit salad-like, delicate and exuberant wine, with bubbles playfully frolicking across the palate. Pour it over a fruit salad and the simple fruit is elevated to a higher plane. That should bring the dinner to a rollicking close.
Happy Thanksgiving to you from all of us at THE NIBBLE!
Photo courtesy of MorgueFile.com.
© Copyright 2005-2015 Lifestyle Direct, Inc. All rights reserved. Images are the copyright of their respective owners.