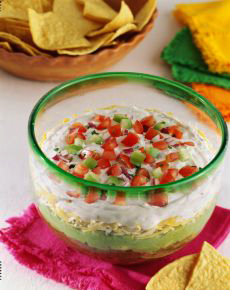 Everyone loves a good dip, and layered dips add beauty and the excitement of "discovery." Photo copyright California Milk Advisory Board. The recipe is on the next page.
November 2005
Updated March 2009

Indian Layered Dip Recipe
Fast & Festive Fusion Cuisine...
Plus 5 More Layered Dip Recipes
Looking for inspiration this party season? Look to the East.
Ever since the smashing success of our first seven-layer Mexican dip in college—bright white sour cream, taupe refried beans, green guacamole, red chili with kidney beans, shredded orange cheddar, topped with sliced black olives and green scallion tops, layered in a glass bowl to create a centerpiece that as was eye-catching as it was palate-seducing—we've been captivated by layered dips.
The purpose of this article is to present an Indian layered dip, but you can create a layered dip on almost any theme. Start with sour cream and/or yogurt. You can use cream cheese, but you need to mix it with sour cream or you'll end up with a very thick and super-caloric end product. We prefer using FAGE Total Greek Yogurt—the fat-free version works as well as sour cream for a fraction of the calories. Or, if it's appropriate for the flavor, we'll use half yogurt, half mayonnaise.
Your own favorite recipe will depend on the kind of seasonings you prefer, and the intensity. To experiment, start with half a cup of everything and work on the proportions until you have a mix you think is perfect. You can alter any of the variations below by mixing two cloves of minced garlic into the sour cream or yogurt; adding chopped nuts, olives, or scallions.
There are five more layered dip recipes on Page 2, representing cuisines from American Barbecue to Greek to Italian.
Indian Layered Dip
Ingredients
1 cup sour cream
1 tablespoon curry powder
2 cups grated cheddar cheese
1 cup Greek yogurt
1/2 cup mango or other fruit chutney
1/2 cup shredded coconut
1/2 cup honey roasted or salted peanuts
1/2 cup green scallion tips, chopped
Preparation
Blend the sour cream and curry powder. Mix in the cheddar. Layer on the bottom of a glass casserole or a shallow bowl.
Blend the yogurt with chutney and layer it on top of the sour cream and cheddar layer.
For the top layer, create a design with the coconut, scallions, and peanuts: concentric circles, diagonals or stripes.
Serve With:
Rice crackers
Mini-papadums
Crudités
Blue corn chips
| | |
| --- | --- |
| | |
| Papadums | Rice Crackers |
| | |
| Blue Corn Chips | |
Continue To Page 2: Seven More Layered Dip Recipes
© Copyright 2005-2015 Lifestyle Direct, Inc. All rights reserved. Images are the copyright of their respective owners.