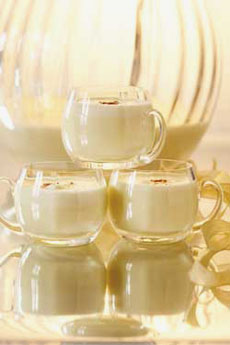 A toast to the holidays. Photo courtesy of Mount Gay Rum.
December 2007
Updated December 2008

Coconut Egg Nog Recipe
A Tropical Enhancement To Rum Egg Nog
The rum in egg nog has its origins in the Caribbean tropics. Coconut is tropical, too—although from the Pacific tropics. So why not mix the two for a tropical spin on holiday egg nog? This egg nog recipe is courtesy of Santé magazine, a publication for professional mixologists and restaurateurs. Yield: 6 servings.
See the Cocktails & Spirits index for more egg nog recipes; go to Diet Nibbles for diet egg nog.
Ingredients
8 egg yolks
4 cups coconut milk or cream
8 tablespoons dark rum
6 tablespoons sugar
2 teaspoons pure vanilla extract
1/2 teaspoon fresh-ground nutmeg
1/4 ground cinnamon
Fresh coconut curls (optional)
Preparation
Pour the coconut milk/cream and sugar into a large saucepan and heat (do not boil) over medium flame.

Beat the egg yolks with the vanilla in a large bowl. Add approximately half the coconut milk and sugar mixture and whisk briskly.

Add the remainder of the coconut milk and sugar mixture and pour the combined mixture back into the large saucepan. Cook over low heat (do not boil), stirring continuously.

Continue stirring the mixture until it thickens slightly, enough to be able to coat the back of a spoon. Then, pour and strain the egg nog into a clean, large bowl and allow it to cool to room temperature.

Stir in the rum. Cover the egg nog with plastic wrap and refrigerate for at least 3 hours, preferably overnight.

Just prior to serving, grind the nutmeg and combine with the ground cinnamon in a small dish; sprinkle a little of the mixture on top of each glass of egg nog as you serve it. If you can find large coconut curls in your specialty food store, add one to each glass as a garnish.
Fresh Nutmeg

Fresh-grated nutmeg makes all the difference in the world. We love our nutmeg grater. We use it not just for holiday egg nog, mulled wine and cider, but for hot chocolate and year-round for coffee, custard, cheese sauces, poached eggs, soups and vegetables (nutmeg is a natural with potatoes and spinach).

Nutmeg is actually the seed of the fruit of a tree in the Myristica family. Myristica fragrans from Indonesia is most common, but related trees in Papua New Guinea and India produce variations. The dried reddish covering of the seed is removed and ground into mace, a milder form of nutmeg.
Recipe © Copyright Santé Magazine. Other material © Copyright 2005- 2015 Lifestyle Direct, Inc. All rights reserved. Images are the copyright of their respective owners.