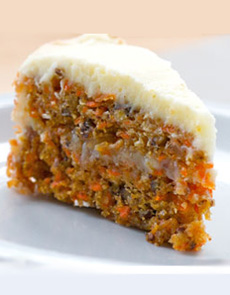 Cream cheese frosting, pecan cream filling and nuggets of crystallized ginger. What a carrot cake!
March 2008
Last updated April 2010

Recipe: Ginger Carrot Cake
A Carrot Cake Developed By Pastry Chef & Chocolatier Michael Recchiuti Just Might Be The Best Carrot Cake
Overview
San Francisco chocolatier Michael Recchiuti searched his city for perfect carrot cake. The best he found was in North Beach—at Mario's Bohemian Cigar Store (a cappuccino café). However, North Beach is not so easy for people from other 'hoods to get to—including Michael Recchiuti (whose own chocolate shop is so conveniently located in the Ferry Building, San Francisco's must-see food hall). So the chocolatier/pastry chef did the obvious: He developed his own recipe. And, he likes it as much as Mario's.
Not your average carrot cake, this one has chunks of crystallized ginger for flavor and crunch; and there are pecans in both the cake and the filling.
NOTE TO BAKERS: Michael insists that you serve this cake at room temperature. (He obviously is surrounded by so much of his own goodies, that he's never had to eat cake straight from the freezer!)
You may want to try the carrot cake with a glass of Campari, like they serve it at Mario's. And check out Recchiuti Confections, a NIBBLE Top Pick Of The Week. What could be better than carrot cake with a chocolate chaser?
Ingredients
Carrot Cake

Don't buy the cheapest carrots you can find,
just because they're going to be "ground up
in a cake." Moist, fresh carrots will give you
a better cake than dried-out carrots in a cello
bag. Photo by Jean Scheijen | SXC.
Pecan Filling
1-1/2 cups granulated cane sugar
1/4 cup unbleached all-purpose flour
3/4 teaspoon kosher salt
1-1/2 cups heavy whipping cream
3/4 cup unsalted butter
1-1/2 cups pecans, toasted and coarsely chopped
2 teaspoons pure vanilla extract, preferably Madagascar (Bourbon) vanilla
(see THE NIBBLE's favorite vanilla extracts)
Cream Cheese Frosting

8 ounces cream cheese, at room
temperature (try an organic brand,
without the extra gums)
8 ounces unsalted butter, at room
temperature
1 cup powdered (confectioners')
sugar
1 teaspoon pure vanilla extract,
preferably Madagascar (Bourbon)
vanilla
1-1/2 cups shredded coconut, toasted


Quality cream cheese makes a big difference. We always use an organic brand.
Preparation
Bake The Cake
Preheat the oven to 300°F. Butter and flour one 9-inch cake pan.
Sift the flour, baking powder, baking soda, cinnamon, ginger and salt into a medium bowl. Set aside.
In a large bowl, whisk together the vegetable oil and sugar. Add half of the dry ingredients and stir to combine. Add the remaining dry ingredients in four parts, adding an egg between each addition.
Fold in the pecans, crystallized ginger and carrots.
Pour batter into the prepared pan, filling the pan 3/4 of the way high. Bake on the middle shelf of the oven for 70 to 75 minutes until a toothpick comes out clean. Let cool completely on a wire rack.
In a heavy saucepan combine the sugar, flour and salt. Gradually add the cream, stirring until blended.
Place the saucepan over low heat and add the butter. Stir until the butter has melted, then let simmer for 25 minutes. Remove from heat and cool to lukewarm.
Stir in nuts and vanilla. Let cool completely until needed.

Make The Frosting

Cream the butter with cream cheese and beat until blended.
Sift in the powdered sugar. Add the vanilla.
The frosting must be firm enough to spread without running. Refrigerate to firm as needed.


We prefer Chinrose Chinese Crystallized Ginger in the chips, above, which are the
perfect size for cakes, scones, muffins, cookies, trail mix, etc. Chinese Ginger is considered the finest in the world—less fibrous, more golden in color and more intense in flavor.
Assemble The Cake
Loosen the cake from pan and invert onto a plate. Split the cake into two horizontal layers using a serrated knife.
Spread the pecan cream filling between the layers of the cake and then cover the top and sides with the cream cheese frosting.
Finish by pressing the toasted coconut around the side of the cake.
Serve at room temperature.
Recipe © Recchiuti Confections. Other material © Copyright 2005- 2015 Lifestyle Direct, Inc. All rights reserved. Images are the copyright of their respective owners.