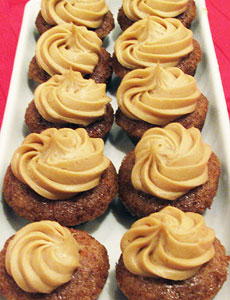 Biscoff spread and cream cheese frosting makes an extra-special topping for carrot cupcakes. Photo courtesy Lotus Bakeries.

Carrot Cupcakes Recipe With Cream Cheese Frosting
Cream Cheese Frosting & Biscoff Spread Make An Even More Delicious Cupcake Topping
CAPSULE REPORT: This is the fifth page of recipe ideas for spéculoos spread, known in the U.S. as biscoff spread. Click on the black links below to visit other pages.
Overview
Biscoff spread is a creamy, spreadable version of the traditional Dutch and Belgian spéculoos cookies (called biscoff cookies or biscuits in the U.S.). The slightly caramelized taste is addictive.
Add it to cream cheese frosting to give a special touch to carrot cake, carrot cupcakes, zucchini bread or anything that can benefit from a touch of ginger and cinnamon.
Biscoff & Carrot Cupcakes Recipe
This recipe makes one dozen cupcakes.
Ingredients
3/4 cup sugar
1/3 cup canola or vegetable oil
2 large eggs
1 cup all-purpose flour
1-1/2 teaspoons baking soda
3/4 teaspoon cinnamon
1/4 teaspoon salt
1-1/2 cups finely grated carrots
(2 large carrots)
1/4 cup biscoff spread
1 block cream cheese (8 ounces),
softened
1/2 cup powdered sugar
1/2 teaspoon vanilla extract




Biscoff spread, as spéculoos spread is known in the U.S., with an apple wedge. Photo courtesy Lotus Bakeries.
Preparation
Heat oven to 350°F. Line twelve muffin cups with paper liners.
Combine sugar, oil and eggs in a medium bowl; mix well.
Combine flour, baking powder, baking soda, cinnamon and salt; add to wet ingredients, mixing well. Stir in carrots.
Spoon batter into prepared muffin cups. Bake 26 to 28 minutes or until wooden pick comes out clean. Transfer muffin pan to cooling rack; cool 5 minutes. Remove cupcakes from pan to rack; cool completely.
Beat together biscoff spread, cream cheese, powdered sugar and vanilla with a hand mixer until smooth.
Frost cupcakes with the mixture; store in refrigerator.
Any leftover icing is delicious on graham crackers or tea biscuits.
Recipe © Lotus Bakeries

Related Food Videos:



For more food videos, check out The Nibble's Food Video Collection.


© Copyright 2005- 2015 Lifestyle Direct, Inc. All rights reserved. Images are the copyright of their respective owners.