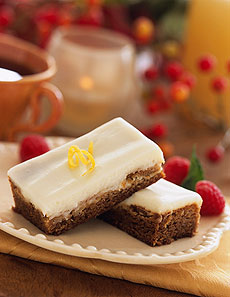 Traditional gingerbread combined with rich cream cheese icing is sure to please at your next holiday party.

Recipe: Gingerbread Bars With Cream Cheese Icing
Christmas Comfort Food: For Holiday Parties, Gifts & Treats For Family, Friends & Colleagues
These gingerbread bars topped with a sweet cream cheese icing, from spice master McCormick, will be a snack favorite during the holidays. Of course you can serve them as dessert, too, as is, or with a scoop of vanilla or rum raisin ice cream. This is one of McCormick's highest-ranked and requested recipes—you'll soon understand why.
Ingredients
1-1/4 cups flour
1 tablespoon ground ginger
1 teaspoon ground cinnamon
1/4 teaspoon baking soda
1/4 teaspoon salt
3/4 cup (1-1/2 sticks) butter,
softened
1-1/4 cups sugar, divided
1 egg
1/3 cup molasses
3 tablespoons water
1 package (8 ounces) cream
cheese, softened
2 teaspoons pure vanilla extract
Crystallized ginger for garnish
(optional)


This is what THE NIBBLE Editors like to sprinkle on top of the bars, instead of orange zest. Use a spice grinder or a mallet to crush it to a medium consistency, like coarse party sugar.

Powdered ginger is made from dried ginger root (fresh root is shown above).

Ginger is not only a delicious holiday (and year-round) flavor, but it's also full of illness-fighting antioxidants. Read our article on all seven high-antioxidant spices.

Preparation
Preheat oven to 350°F.
Line a 13x9-inch baking pan with foil. Spray foil with no stick cooking spray. Mix flour, ginger, cinnamon, baking soda and salt in medium bowl. Set aside.
Beat butter and 3/4 cup of the sugar in large bowl with electric mixer until light and fluffy. Beat in egg until well blended. Gradually beat in flour mixture until well mixed. Stir in molasses and water just until blended. Spread evenly in prepared pan.
Beat cream cheese in large bowl with electric mixer until smooth. Beat in remaining 1/2 cup sugar and vanilla until smooth. Reserve 1/2 cup of the icing; refrigerate remaining icing.
Spoon dollops (about 1 teaspoon each) of the reserved icing over batter in pan. With knife or spatula, swirl icing through batter to marbleize.
Bake 30 minutes or until toothpick inserted in center comes out clean. Cool in pan 15 minutes. Lift out of pan using foil. Cool completely on wire rack. Invert and peel off foil. Spread refrigerated icing over top. Cut into bars. Store in refrigerator.
Makes 27 bars.
Recipe and photos courtesy McCormick & Company, Inc. Other material © Copyright 2005- 2015 Lifestyle Direct, Inc. All rights reserved. Images are copyright of their respective owners.