BETH COLLINS is a contributing editor.

Caramel Sin: Spoon Candy
Caramel Candy, Dessert Sauce, Garnish & Temptation In One Jar
CAPSULE REPORT: Caramel Sin Spoon Candy is a line of caramel that can be eaten from the jar like candy, or turned into delicious dessert toppings and a variety of sweets and snacks including caramel popcorn. All five flavors are wonderful, though we're hooked on Chocolate and Ginger. Keep a jar or two in the pantry and you can have instant fabulous desserts (or top-quality sugar fixes) in minutes.
A peculiar thing happens when you eat Caramel Sin Spoon Candy from the jar. You take a spoonful, feel a wave of pleasure wash over you. It was intended as a candy indulgence, but the eyes and the palate say dessert sauce. So you immediately start coming up different ways to it as a sauce. Drizzle it over ice cream!, your brain tells you, Dip fruit in it! The more you eat, the more ideas you get. And then, just when you're ready to put one of them into action, you realize you've finished the entire jar.
So you reach for another jar—the lemon flavor, say—and it happens again. Before you can obey your brain's command to Make caramel popcorn with it!, you are scraping the bottom of the jar with your spoon, working to get every last lemony caramel drop.
If you're not careful, the pattern will repeat itself until you've spoon-fed your way through the entire line of thick and buttery jars of Caramel Sin: first the Plain, then the Chocolate, the Ginger, the Lemon, and finally, the Peanut. Just try to limit yourself. With every well-intentioned declaration you make ("I'll just have a little"; "I really should put this away"), the smirk on the jar's devilish, flame-haired character* seems to grow bigger, as if to say, "I dare you to stop." Restraint and moderation, it's clear, are just not words that go along with Caramel Sin. Resistance is futile, you realize, so you give in to the smirk and polish off yet another jar.
*Company founder David Hahn, transformed into a sweet tempter.
And who could blame you? Rich, creamy and utterly addictive (an all-natural recipe made of heavy cream, sugar, corn syrup, butter, pure vanilla extract, and dark chocolat liquor, ginger, or other flavoring), the entire Caramel Sin line renders even the most disciplined dieters powerless. In fact, as creative as your ideas for ways to use the sauces might be, the truth is, each flavor of Caramel Sin does just fine all by itself.
Serving Suggestions
Still, it's worth at least pretending you might do something creative with the sauces—and recipes on the company's website help you with many of the ideas below. In fact, now that we think of it, perhaps the safest approach is to try Caramel Sin in various concoctions before you ever take that first direct hit. Here, a few ideas to get you started (you'll want to heat it up in the microwave for some of these):
Use it as an ice cream topping
Dip fresh fruit in it—a caramel fondue
Drizzle it over poached fruit
Shake it up with popcorn for delicious caramel corn
Use it as a topping for brownies, cheesecake, pound cake or shortbread
Make caramel-swirl brownies with it
Make an inspired crème caramel
Drizzle it over apple pie
Add it to s'mores for a gourmet rendition of a childhood favorite
Eat it right from the jar as "spoon candy," which is how David Hahn intended it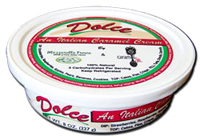 One of our favorite and super-easy recipes is this sweet mascarpone dip, filling and topping—everyone who tries it goes wild, and Mozzarella Fresca produces it as a ready-made product called Dolce):
Caramel Sin Mascarpone Swirl
1/4 jar Caramel Sin (approximately 2 heaping tablespoons)
1 8-ounce container of mascarpone cheese
Directions:
Stir Caramel Sin into the mascarpone until smooth.
Serve as a dip for fruit (be sure to try strawberries and peaches for dipping).
Or use as a topping for berries or mixed fruit.
Or use as a pastry cream for tart shells, cream horns or cannoli shells.
Or use as a blini filling or as a garnish for any of the cakes, pies and cookies noted above.
Shades of Sin: The Flavors
Plain: A good start, and caramel lovers will love the pure, soft, buttery basic of the line.
Chocolate: This should be a controlled substance: consider yourself warned. It's hard to imagine a better chocolate caramel—as a spoon candy, ice cream topping, or garnish. We used it as a cake filling: it brought the house down.
Ginger. The note of ginger is very subtle and we wish there were a bit more. But it's so subtle that it perks up the basic without providing enough ginger impact to distract people who don't like ginger. It's like Plain but with more depth and interest. Great with apple pie—and everything else.




Our favorite, Chocolate Caramel Sin.
Lemon. Lemon caramel is a sophisticated combination, such that we wanted to throw in rosemary, lavender or one of the lemony herbs (grass, mint, thyme, verbena) to bring it up even one more notch. More than a fun comfort food, we would use this for gourmet accents.
Peanut. If you love Snickers, Payday and peanut caramel clusters, this one's for you.
Gifts of Sin
One or more jars of Caramel Sin are a welcome gift for any occasion, but the company makes it even easier with several gift choices:
A Tin of Sin, Caramel Sin in a silvery gift canister
Sin's A Poppin', unpopped popcorn in a reusable gift canister with Peanut Caramel Sin, for an amazing peanut caramel popcorn that's ready in five minutes
Sin On A Stick, Caramel Sin coated in crushed pecans and drizzled with premium Belgian dark chocolate—a candy bar on a stick
| | | |
| --- | --- | --- |
| | | |
| A Tin of Sin† | Sin's A Poppin' | Sin On A Stick |
†Also shown in photo, Cranberry Fool, a cranberry conserve.
You also can tuck a jar into an Easter basket or a Christmas stocking or just tie a single jar up in a gift bag for a grateful hostess or favorite child—if you're going to give candy, make sure it's the purest and most delicious candy you can bestow. If you hesitate to give a child a candy called "Sin" with a photo of a smiling devil...this is an excellent time to explain what "sinfully delicious" means. Portable, crush-proof and ant-proof, Caramel Sin goes to the beach, to picnics, to movie theatres (NIBBLE readers tend not to embrace the quality of movie-theatre candy) and to any place you think you're not going to get a good dessert. It even enlivens a cup of so-so cocoa or coffee.
Surrounded by all this temptation, let us assure you: A little Caramel Sin is a divine intervention.
Caramel sin
Plain, Chocolate, Ginger, Lemon, Peanut

Certified Kosher (Dairy) by Tablet-K

11-Ounce Jar
$9.95
A Tin of Sin
Packed in a reusable gift
canister
$15.00
Sin's A Poppin'
Packed in a reusable gift
canister
$15.00
Sin On A Stick Lollipops
$2.75 to $4.50 each


Purchase online at CaramelSin.com.

Prices and flavor availability are verified at publication but are subject to change. Shipping is additional.


The Caramel Sin Family

With very subtly ginger notes, we prefer Ginger
Caramel Sin to Plain. Be sure to try it along
with the amazing Chocolate Caramel Sin.