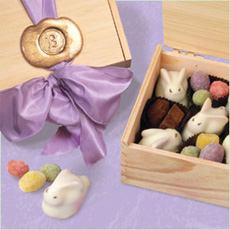 Maybe there is no Santa Claus, but Larry Burdick is definitely the Easter Bunny. His Bunny Box includes five white chocolate bunnies filled with ganache, marzipan eggs and two chocolate truffles. At BurdickChocolate.com.


HAPPY SPRING!
Not only is there much more in the produce section, there's a lot to plan for in terms of Easter and Passover celebrations, and Mother's Day in early May.
In addition to this monthly online magazine, we e-mail our top food pick of the week to opt-in subscribers. If you don't already receive our Top Pick of the Week newsletter, click here to have it delivered directly to your e-mailbox. Of the thousands of specialty foods we taste each year, these 52 weekly recommendations are our favorites for both home use and gift-giving. You won't want to miss them!
We look forward to your comments and any suggestions you have about how we can make THE NIBBLE™ magazine and newsletter more valuable to you. Click here to send us a note.

THE NIBBLE™ does not sell the products we review or receive fees from recommending them.
Our recommendations are based purely on our opinion,
after reviewing thousands of products each year,
that they represent the best in their respective categories.


Related Food Videos:



For more food videos, check out The Nibble's Food Video Collection.


© Copyright 2005-2015 Lifestyle Direct, Inc. All rights reserved. Images are the copyright of their respective owners.