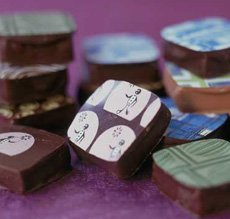 These eye-catching and palate-pleasing chocolates from
MarieBelle
are among our favorites.


As we publish each issue of our specialty food magazine, we archive all of our content on this website by category. If you want to see the COMPLETE ISSUES as they were published each month, click on the links below.
Each of the articles on gourmet food also can be found using the pull-down menus at the top of this page.
For example, if you want to find a product review or an article about
chocolate, go to Product Reviews > Main Nibbles > Chocolate.
For a diet product, go to Product Reviews > Diet Nibbles.
Or, use the search box at the top of the page to find a specific food,
producer or topic—for example, ice cream or Scharffen Berger or Christmas.
In each section of the pull-down menus, you'll find all of the articles
on that particular topic, from every issue we've published.


Related Food Videos:



For more food videos, check out The Nibble's Food Video Collection.


© Copyright 2005-2015 Lifestyle Direct, Inc. All rights reserved. Images are the copyright of their respective owners.