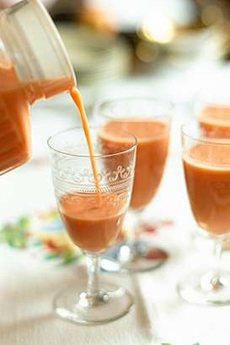 WELCOME BACK...
...to America's favorite foodie destination website* and the July 2005 issue of THE NIBBLE™.
If you're a lover of specialty foods, artisanal foods or simply someone who savors wonderful things to eat...our goal is to point you to the best.
This month, we tasted some of the best "adult sodas," artisanal beverages crafted from natural ingredients, with lower levels of sugar. With their pure flavors and sophisticated flavors, they bear no relationship whatsoever to mass-marketed soft drinks. Whether you want some refreshment for yourself or are looking for something special for your guests, we think you'll enjoy tasting these brands as much as we did.
If you're not already a subscriber to THE NIBBLE's Top Pick newsletter, you can have it delivered weekly to your e-mailbox. Of the thousands of specialty foods we taste each year, these are our favorites for both home use and gift-giving. You won't want to miss them! SIGN UP NOW by clicking here.
To read previous issues of THE NIBBLE™, click here.
*From an April 2005 poll of NIBBLE readers
TABLE OF CONTENTS
Magazine Section

JULY 2005
This Month's Nibbles

WEEKLY NIBBLES


Newsletter

Click here

to read the Editors' gourmet product

pick of the week

in THE NIBBLE™ newsletter

Click here to sign up for a free
subscription

Gourmet News




PRODUCT REVIEWS

Articles &
Product Reviews


Main Nibbles™

Cocktail Nuts

Luxury Foods

Drink Up

Honoring Ice Cream Month

Newsletter Picks

Product Reviews




Diet Nibbles

Product Reviews




Kosher Nibbles

Product Reviews




NutriNibbles

IT'S NEVER TOO HOT FOR CHOCOLATE

Marketplace

Food Fun

PRODUCT REVIEWS: HOME ZONE

Home Zone




Appliances & Tabletop

Gourmet News

-->

What's Up Next?


Miss Last Month?
To take a peek at the August table of contents,
click here.

To read the June issue,

click here

.

We look forward to your comments and any suggestions you have about how we can make THE NIBBLE™ magazine and newsletter more valuable to you. Click here to send us a note.

THE NIBBLE™ does not sell the foods we review or receive fees
from recommending them.
Our recommendations are based purely on our opinion,
after reviewing thousands of products each year,
that they represent the best in their respective categories.


Related Food Videos:



For more food videos, check out The Nibble's Food Video Collection.


© Copyright 2005-2015 Lifestyle Direct, Inc. All rights reserved. Images are the copyright of their respective owners.