Truffle-flavored caviar: is this the perfect luxury
food?
Tsar Nicoulai:
The Caviar Trifecta
CAPSULE REPORT: We have been nibbling caviar* since, as a child, our mother's special occasion hors d'oeuvre was composed of red and black caviars. We regularly take ourselves to Petrossian for the sampler plate. The best party we ever attended featured not celebrities or intellectuals, but a kilo of Petrossian's best—and only one other person was interested in the contents. We'll never forget the thrill of our first Caviar Palette at Trio in Evanston, Illinois—different colored and flavored-infused whitefish and trout caviars (including green wasabi, peach-colored ginger, and red saffron-beet), served on a Lucite artist's palette where they were daubed like bright paints. At sushi bars, we line up ikura and tobiko nigiri like vodka shots. And year after year, our oldest friend knows the only thing we want for Christmas and birthdays is as large a tin of Osetra as the budget will bear. Read the full review below.
*While traditionally only sturgeon roe was referred to as caviar, the term has been expanded in recent years and today is used by many people to refer to any fish roe. As long as the term is modified—e.g. sturgeon caviar, Caspian caviar, salmon caviar—we prefer the flexibility and use the terms caviar and roe interchangeably.
There can be no argument: we are a certifiable caviar nut. So what could possibly turn the head of such as we? Caviar infused with white truffle. And what a perfect marriage it is!
It turns out that Tsar Nicoulai Caviar, the same innovators who supplied those memorable flavored caviars we first enjoyed more than 10 years ago, have another palate-zinging, mind-spinning, must-have entry into the caviar pantheon: Natural Truffled Tiger Eye Whitefish Roe. If you love caviar and truffles, this is a sine qua non experience.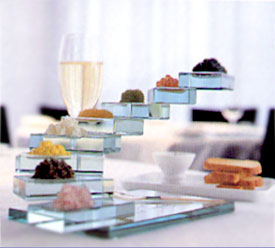 Chef Rick Tramonto, co-owner and executive chef of the great Chicago restaurant, Tru, serves infused caviars on a stunning glass staircase (available for purchase). Chef Tramonto created the memorable Caviar Palette while at Trio in the 1990s.
The roe is infused with truffles and colored a rich sable brown with vegetable juice (it's called Tiger Eye after the gemstone, although we don't know why anything called "truffled caviar" needs added distraction). The caviar has the heady aroma and flavor of white truffles, and the first taste is startling. Can one believe such a "hybrid" exists? With the flavor of caviar and truffles in one bite, just add a sip of great Champagne and you've hit the gourmet trifecta.
Far from spending $500 or more for a pound of Caspian Osetra and Sevruga—or more than twice that for Beluga—you can enjoy a pound of dazzling Truffled Tiger Eye for just $81. Apples and oranges, you may say. But the price and parentage of the latter diminish neither its luxury nor one's gourmet joy. Think instead of the comparison between a venerable country estate and a downtown hi-rise apartment with a panoramic view. There is no comparison, but you'd take both if offered.
Serving Suggestions
The simplest way to enjoy Truffled Tiger Eye Whitefish Roe requires just a jar and a horn spoon (toss in the champagne and a loved one for good measure). Some more elaborate preparations:
For hors d'oeuvres: Hollow out new potatoes, fill with crème fraîche and top with Truffled Tiger Eye.
As a first course: Toss angel hair pasta or linguini with butter and top with a large tablespoon of caviar.
With a fish course: Use as a top or side garnish (a tablespoon on a cucumber slice, or sprinkle pearls around the plate). The rich, earthy flavor of the roe pairs splendidly with white-fleshed fish like bass, halibut, and sturgeon.
With potatoes: In a split baked potato atop crème fraîche, or as a garnish with new potatoes.
| | | |
| --- | --- | --- |
| Create your own Artist's Palette with different flavors and colors of infused and natural caviars. | | After you've wowed your guests with Truffled Tiger Eye Roe the first time, when they come back for more you should create your own variation of the artist's palette. Serve an ounce each of Truffled Tiger Eye and five or six of the gorgeous caviars from Tsar Nicoulai—on blini or with a side of toast points. It's a simple first course to prepare, and one that your guests will still be talking about 10 years from now. |
— Karen Hochman
Updated October 2007
FORWARD THIS NIBBLE to your caviar-loving friends.
TSAR NICOULAI TRUFFLED TIGER EYE
WHITEFISH ROE

2-Ounce Jar (2-4 servings)
$18.00
3.5-Ounce Jar (4-8 Servings)
$31.50
6.5-Ounce Jar (7-14 Servings)
$58.50
1-Pound Jar (16-32 Servings)
$129.50

Buy online at TsarNicoulai.com

Prices are verified at publication but are subject to change. Shipping is additional.


Tsar Nicoulai products are farmed in California using
ecologically sustainable farming methods. Proprietors Mats
and Dafne Engstrom pioneered American sturgeon farming in
the early 1980s, leading to a wealth of continuing innovation in
both products and environmentally-friendly processes.


FOR ADDITIONAL INFORMATION, special offers, contests, opinion surveys, THE NIBBLE back issues archive, product gift-finder, links to our favorite food websites, and the ability to nominate YOUR favorite nibbles, visit the home page of TheNibble.com.
---
© Copyright 2004-2023 Lifestyle Direct, Inc. All rights reserved. All information contained herein is subject to change at any time without notice. All details must be directly confirmed with manufacturers, service establishments and other third parties. The material in this newsletter may not be reproduced, distributed, transmitted, cached, or otherwise used, except with the prior written permission of Lifestyle Direct, Inc.