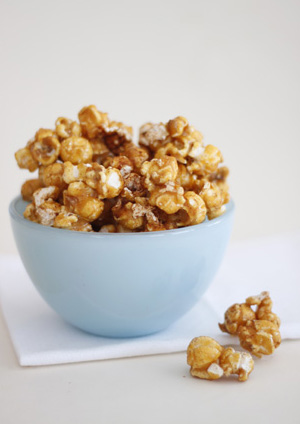 For Halloween treats, Thanksgiving party favors or stocking stuffers, this super-crunchy corn can't be beat. The number one flavor is Caramel Bourbon Bacon Crunch, bur our favorite is Butter Rum Caramel & Dried Cranberries. See our review.
Brussels sprouts grow on tall stalks with large, wide leaves. Get them at a farmers market and use the leaves as plates. Take a bite.

The history of the Fluffernutter sandwich, plus recipe variations. Have you had a toasted Fluffernutter? See all the October food holidays.



There's only one vodka to drink on Halloween and Day Of The Dead: Crystal Head Vodka. You can turn the empty bottle into a terrarium, fish tank or water pitcher. Check it out.

This Week's Features
These are fava beans, waiting to be shelled and cooked. How many types of beans have you had?

It couldn't be easier. Take a look. More videos.

For fall, skip the Cosmo or Appletini and try some apple cider cocktails. Here's how to make them.

Different types of beers benefit from different shaped glasses, engineered to bring out the special attributes of the beer. The scoop.

Mankind has been around for 200,000 years, but has only had soup for the last 8,000. Why? The scoop.

There is no generic "Swiss cheese" in Switzerland. What Americans call "Swiss" is Emmental. Take a bite.
Most Popular Articles
More Of Our Most Popular Articles