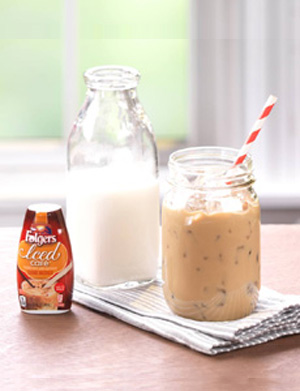 Pick your favorite type of milk, squeeze in two drops of Folgers coffee concentrate, and you've got an instant latte. And it's delicious! See our review.
We were inspired by this week's Top Pick, iced lattes (at left), to buy lots of almond milk. Here's why it's our favorite non-dairy milk alternative. Take a sip.

Make your own ice pops ("Popsicle" is a specific brand) by freezing blueberry juice in ice pop molds, or with this technique that uses frozen blueberries. See all the September food holidays.



This combination of meringues, berries and whip cream is called the Eton Mess, and served at that prestigious U.K. school. Check it out.

This Week's Features
Are you a bacon lover? If so, how much of one? Otherwise stated, how many types of bacon have you had?

Learn some tricks, as well as the difference between icing and frosting. Take a look. More videos.

We didn't realize how much we missed sangria until it was served to us at a dinner party. Here's how to make it.

Grilling quesadillas adds the luscious taste of smoke. This grill basket is only $7.95. Get one!

American eating changed when ground beef was placed between sliced bread. The scoop.


How to enjoy ricotta for breakfast, lunch and dinner: This versatile fresh cheese is not just for ravioli and cannoli. Take a bite.
Most Popular Articles
More Of Our Most Popular Articles