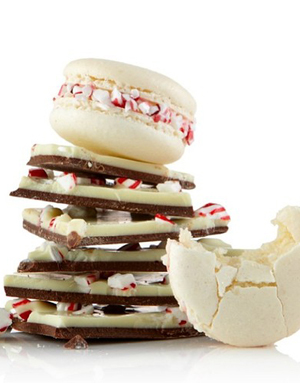 Dana's delectable macarons are made in all-American comfort food flavors, from Red Velvet to PB&J. Check out our review and order them for yourself and for gifts. They're gluten free and certified kosher.
Red, yellow, white, sweet: Each type of onion has a specific purpose. Are you using the right one? Take a bite.

Noodle rings, noodle puddings made in ring molds, are a sweet way to enjoy pasta, mixed with cream cheese or cottage cheese, sugar and eggs. There are also savory versions. Try this delicious Cappuccino Noodle Ring recipe. See all the December food holidays.

We've got recipes for a California Roll snowman and sashimi tartare Christmas trees. Take a look.
This Week's Features
They say that these mini bundts are large enough for to split; but we won't share a bite, A sophisticated treat and gift. Get yours now and read our review of this Top Pick Of The Week.

Learn some tricks, as well as the difference between icing and frosting. Take a look. More videos.

What did Jay Gatsby serve at those weekend-long cocktail parties? The White Lady, above, is one of the Jazz Age se cocktail recipes.

If you've been hesitating to buy a rice cooker because it only does one thing, this one doubles as a slow cooker. Get it now! More double-duty appliance tips.

The original mayonnaise sauce was transformed by a great French chef into today's guilty pleasure. The scoop.


A Norwegian specialty, gjetost is a sweet goat cheese spread that will delight goat cheese lovers. Get yours now!
Most Popular Articles