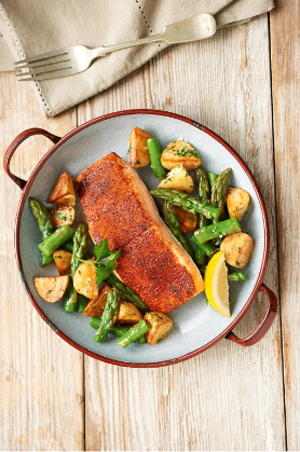 Buy a package of Rebel Fish salmon and you can have this blackened salmon fillet ready to eat in 90 seconds. It's true, and it's delicious. See our review.
What happens when you add American ingredients to fried rice? You have wonderful fusion dishes, including this ginger fried rice topped with a fried egg and breadcrumbs. Take a bite.

Long before the brownie and the blondie, moms were baking this bar cookie, an old-fashioned treat. Try this recipe. See all the February food holidays.



Make these skewers to eat as is, or to dip in chocolate fondue. We say: Do both! Check it out.
This Week's Features
You may love beef, but can you identify the different cuts? How about the difference between Filet Mignon and Chateaubriand? Brush up and become a beef wizard.

It couldn't be easier to turn Frosty from cold snow to hot pizza. Take a look. More videos.

Take advantage of winter's red grapefruit to make delicious cocktails. Here are the recipes.

Different types of beers benefit from different shaped glasses, engineered to bring out the special attributes of the beer. The scoop.

Mankind has been around for 200,000 years, but has only had soup for the last 8,000. Why? The scoop.

There is no generic "Swiss cheese" in Switzerland. What Americans call "Swiss" is Emmental. Take a bite.
Most Popular Articles
More Of Our Most Popular Articles