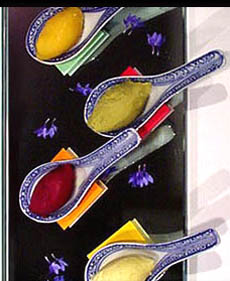 One of the easiest ways to make an elegant dessert is to serve different flavors of sorbet in flat-based Chinese soup spoons. The spoons have many uses—for hors d'oeuvres, condiments, garnishes...and of course, soup! Dessert by Gael Gand, partner and executive pastry chef, Restaurant Tru, Chicago.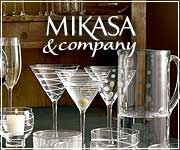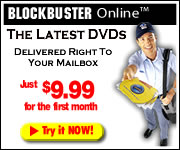 Most people look at September as "Back-To-School Month." We look at it as the opportunity to write about back-to-school foods ... and to have our final barbecues of the season. We spent all summer testing the best barbecue sauces. You'll find our favorites in the Table of Contents, below.
If you love tea, our article on Tea and Food Pairings offers tea matches for dozens of foods. For everyone who wonders about what wines and other beverages match best with what foods, there's a great new book on the topic. For other discoveries, we have new product reviews—including selections for dieters and people who prefer organic and kosher products—and lots of good "food learning," including a recipe that uses fregula, a tastier cousin to couscous. Dieters and citrus-lovers: send for your FREE SAMPLE of True Lemon and True Lime!

In addition to this monthly online magazine, we e-mail our Top Food Pick Of The Week newsletter to opt-in subscribers. If you don't already receive it, click here to have it delivered directly to your e-mailbox (or you can sign up above for the RSS feed). Of the thousands of specialty foods we taste each year, these 52 weekly recommendations are our favorites for both home use and gift-giving. You won't want to miss them!
THE NIBBLE™ does not sell the foods we review
or receive fees from manufacturers for recommending them.
Our recommendations are based purely on our opinion, after tasting thousands of products each year, that they represent the best in their respective categories.
We look forward to your comments and any suggestions you have about how we can make THE NIBBLE™ magazine and newsletter more valuable to you. Click here to send us a note.



Related Food Videos:



For more food videos, check out The Nibble's Food Video Collection.


© Copyright 2005-2015 Lifestyle Direct, Inc. All rights reserved. Images are the copyright of their respective owners.