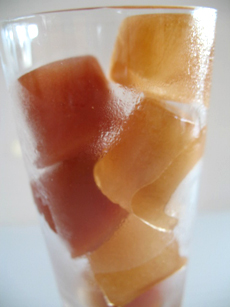 Why dilute your drinks when iSi Orka ice cube trays make it so easy to make and store gourmet ice cubes? We always have a tray made from bloody mary mix (left), coffee (right) and tea. Glass above is Cin-Cin by Bodum. Photo by Melody Lan | THE NIBBLE.
KAREN HOCHMAN is Editorial Director of THE NIBBLE.
August 2006
Last Updated October 2010

iSi Orka Ice Cube Trays
Make "Gourmet Ice Cubes" With The Ice Cube Trays We've Been Waiting For!

Overview
We've dreamed about ice cube trays like this...one that would enable us to make gourmet ice cubes (a.k.a. "designer ice cubes") as we always have, but so much more easily. Let us explain.
There's generic ice—the kind you make in ice cube trays that you fill from the kitchen sink...or that your refrigerator's ice maker makes for you. For years, we've been making specialty cubes that don't dilute (or pollute) our drinks, but we've had to make them in clumsy conventional ice cube trays.
Orka's Press And Freeze Ice Cube Trays and Servers are what we've longed for. They're color-coded so we know where the mineral water cubes are and can tell the iced tea cubes from the iced coffee cubes. They have snap-on lids that keep the cubes fresh, are meant to be "servers" (see the photo at the bottom of the page) and have "treads" so the serving "tray" doesn't skid...but it also makes the tray units easier to stack. And the cubes pop out so easily. We tore out our ice maker and spent a happy hour filling up the 6 colors of trays with different "flavors" of ice.
Here's what we did, but everyone will have a personal "drill."
Ice Cube Trays For Connoisseur Cubes
How can you use your color-coded ice cube trays?
Terrific Trays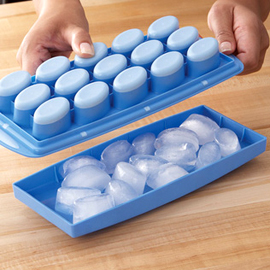 The iSi ice cube trays are lightweight, durable and come in five vibrant colors—lime, plum, raspberry, sky blue and tangerine—and white. It's so easy to color-code your ice cubes. The trays have an easy "release pad" on the bottom of each cube—just touch lightly and they pop out (a minor miracle). The lid doubles as a serving tray, prevents spills while the ice is being made and keeps the ice fresher much longer. That the stylish trays produce stylish oval cubes is icing on the cake.
Having taken a product everyone uses and made it better, the iSi ice cube trays are practically the definition of good design.
isi orka
Freeze And Press Ice Cube Tray And Server

Purchase online at Amazon.com




The release pad on the Freeze and Press Ice Cube Tray and Server makes getting ice out easy. Just press the ice you want into the serving tray (which doubles as the lid).
Price and color availability are verified at publication but are subject to change.


Related Food Videos:



For more food videos, check out The Nibble's Food Video Collection.


© Copyright 2005- 2015 Lifestyle Direct, Inc. All rights reserved. Images are the copyright of their respective owners.