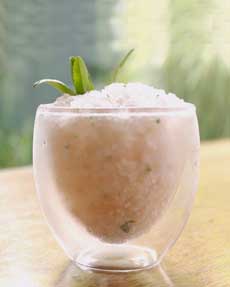 Updated July 2009

Recipe: Grapefruit Tarragon Granita
The Most Wonderful Refreshment From Michael Recchiuti
Granita is a wonderful dessert, less sweet and more granular (crunchy) than sorbet. And the good news is, you don't need an ice cream maker.
In this recipe, a refreshing citrus granita, grapefruit is accented with herb tarragon, which has an anise-like flavor. Tarragon has many savory uses:
Condiment (tarragon herb butter, vinegar and Dijon mustard)
Garnish and seasoning
Meats (most chicken, turkey, game and veal dishes such as tarragon roast chicken and veal Marengo—also as a stuffing seasoning)
Omelets and most egg dishes
Salad dressings (herbed mayonnaise and Green Goddess dressing)—and use the leaves in salads
Sauces (béarnaise sauce, rémoulade sauce, tartar sauce)
Seafood (particularly salmon, shrimp and scallop dishes)
Vegetables (for years, it was eaten as a vegetable, now it seasons just about any vegetable)
In French cuisine, tarragon is part of the fines herbes seasoning (along with chives, chervil and parsley). But tarragon has its sweet side too: It can be baked into an olive oil cake or used to season sorbet or granita. In this case, San Francisco chocolatier Michael Recchiuti says, "I came up with this recipe years ago while living in Vermont. It was intended as a palate cleanser (intermezzo) between courses, but because it's so easy and has such a unique flavor, it makes for a refreshing dessert too. Enjoy!"
Ingredients
1/3 cup water
½ cup granulated cane sugar
¼ cup fresh tarragon sprigs, (washed, picked and coarsely chopped)
1 teaspoon fresh tarragon sprigs, finely minced
2½ cups fresh ruby red or pink grapefruit juice, strained (6 to 8 medium grapefruits)
Tarragon sprigs for garnish
Directions

Stir the water and sugar together in a medium saucepan. Bring to a boil over medium heat. Remove from the heat and stir in ¼ cup of tarragon into the water. Cover the top of the pan with plastic wrap. Let steep for 30 minutes.

While the tarragon syrup steeps, juice and strain the grapefruits into a medium-size mixing bowl.

Strain the tarragon syrup into the grapefruit juice and stir to mix. Whisk in the minced tarragon.

Place the bowl in the freezer, uncovered. Stir with a fork or whisk every 30 to 40 minutes until the liquid is frozen and granular. This will take 2 to 3 hours, depending how cold your freezer is.

Spoon the finished granita into chilled serving bowls and garnish with fresh tarragon and a fresh grapefruit segment.




Fresh tarragon.
Yields: 8 to 12 servings
© Copyright 2005- 2015 Lifestyle Direct, Inc. All rights reserved. Images are the copyright of their respective owners.