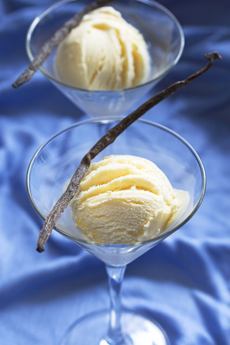 Dense yet restrained ice creams—plus a sorbet and a frozen yogurt—in the basic, popular flavors. Photo © Elke Dennis | Fotolia.

KAREN HOCHMAN is Editorial Director of THE NIBBLE.

New Zealand Natural Ice Cream
Dense Premium Ice Cream With Less Fat & Calories
CAPSULE REPORT: New Zealand Natural Ice Cream is actually imported from New Zealand. It's a different style of ice cream than Americans are used to; and if you like it, it's better for you than your favorite superpremium (less sugar, less cream). The brand isn't yet widely available in the U.S. and normally we don't write about products that aren't accessible to most readers, at least by mail order. But a number of people have asked about it, so here's the scoop (pun intended). This is Page 1 of a two-page review. Click on the black links below to visit Page 2.
Overview
New Zealand makes lots of delicious food, and more and more of them have begun to be imported into the U.S.: artisan cheeses that make a wonderful addition to our own home-crafted products, varietal honeys such as manuka and rewarewa, lush olive oils, fine wines, delightful soft, natural licorice and more. But importing ice cream into a country that has no shortage of it sounded a bit iffy to us. Not only is America not looking for another brand of factory ice cream (as opposed to more great handmade gelato), but transporting a frozen product thousands of miles across the ocean is no cheap proposition.
Yet, for a country the physical size of Colorado and with a smaller population (4 million in New Zealand compared to 4.86 million in Colorado in 2007), America is the land of opportunity. We've got almost 306 million people, most of whom like ice cream. So New Zealand Frozen Foods landed in California. Primarily a scoop shop brand, it set up shops and is now looking for franchisees as well as retailers to make New Zealand Naturals a name in American treats.
Will they succeed? It may require some palate-tweaking among the Americans, but that won't be a bad thing.
All Natural
New Zealand natural is natural, of course. The milk and cream come from rBGH-free cows, and there are no artificial ingredients or preservatives. It's made with an egg custard. Thus far, it sounds like a lot of premium ice cream brands. Yet there is something very different about New Zealand Natural Ice Cream.
The product line uses less sugar and a lower percentage of cream (more milk) than a typical American premium recipe, making up the difference in the low overrun (air whipped into the ice cream). So you have a dense ice cream without the tongue-coating butterfat or the cloying sweetness. If you like it, it's better for you. Compare New Zealand Naturals and Häagen-Daz:

The 170 calories per New Zealand
Naturals serving with Häagen-
Daz's 270 calories
Calories from fat 90 NZN, vs.
calories from fat, 162 HD
Total fat of 10g/15% NZN vs.
18g/28% HD
Cholesterol of 21mg/7% NZN vs.
120mg/40% HD
Sugars of 16g NZN vs. 21g HD (in
the vanilla)

Yes, you notice that there's less butterfat; but the density is a quality offset.


It wasn't sweet, but that didn't stop us from
eating the whole pint. Product photography by Daniela Cuevas | THE NIBBLE.
Continue To Page 2: Flavors Of New Zealand Natural Ice Cream
© Copyright 2005-2015 Lifestyle Direct, Inc. All rights reserved. Images are the copyright of their respective owners.