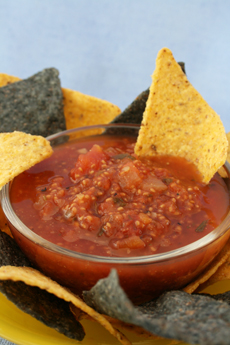 Salsa and tortilla chips with Salba. Salba is "the new flaxseed"—the highest vegetable source of omega-3, 8 times higher than salmon. Photography by Hannah Kaminsky| THE NIBBLE.
KAREN HOCHMAN is Editorial Director of THE NIBBLE.

Salba Smart Tortilla Chips, Pretzels & Salsa
A Healthy Snack With Omega 3-Laden Salba Seeds
Page 1: Overview

CAPSULE REVIEW: Eat more tortilla chips and pretzels, they're good for you. And salsa, while a low-calorie, healthy food (just avoid the ones dosed with sugar and fruit), has found its ultimate healthy form. What's the catch? These products are seasoned with Salba seeds—an heirloom breed of chia seeds, a whole grain. It's a tasty superfood and a proven diabetes and coronary disease fighter. Pass the chips, please. The products are certified USDA organic and certified OU kosher (parve). This is Page 1 of a three-page article. Click on the links below to view other pages.
Introduction
Salba isn't the name of a dance although it may have you dancing. Don't chuckle, but the plant Salvia hispanica, popularly known as chia—the same chia that hits the airwaves every holiday season in the form of Chia Pet gifts—is a superfood, like açaí, blueberry, montmorency cherry and pomegranate. Salvia hispanica is native to Mexico. The genus Salvia is the largest genus of plants in the mint family, Lamiaceae. The Salvia genus also includes all the varieties of sage.
Those ch-ch-ch-chia sprouts that are grown and giggled at each year are among the most nutritious foods in the world. Chia, a whole grain, was cultivated by the Aztecs in pre-Columbian times, and was so valued that it was given as an annual tribute by the people to their rulers. The word chia is derived from the Aztec Nahuatl* word chian, meaning oily. The Mexican state of Chiapas is derived from the Nahuatl for chia water or chia river. Salba is a name trademarked by a company that understands the potential of the grain, gauged the marketing potential of a name other than ch-ch-ch-chia (as the name Kamut was trademarked—an easier sell than khorasan wheat) and cultivated a registered variety, grown only in Peru, which ensures strict nutritional consistency
*Nahuatl was the language of the Aztecs; their descendants, 1.5 million Nahua people, mostly live in Central Mexico and still speak the language (in many dialects).
Chia is still widely used in Mexico and South America, both for nutritious drinks, ground and mixed into water or fruit juice, and for porridge, pudding, bread, biscuits and cakes. Chia sprouts are used like alfalfa and other sprouts in salads, sandwiches and other dishes. So don't throw that Chia Pet away—eat those sprouts. (Once the Salba buzz gets going, we fully expect the Chia Pet to be marketed as a health and wellness gift.)

Today chia is grown commercially for its seed. It yields 25% to 30% extractable oil that is very rich in omega-3 fatty acids, mostly α-linolenic acid (ALA). Chia is a source of antioxidants and a variety of amino acids, though its health benefits have only recently begun to make waves.

Salvia hispanica. Photo by courtesy of Wikimedia Commons.
And, it tastes great! So if anyone in the household wants to focus on healthy eating, those who don't give a hoot (most kids, teens and adults under 40) will be fighting over these tasty Salba Smart tortilla chips, pretzels and organic salsa. The line will soon expand to include potato chips, flatbreads, bars, cereals and breads made with Salba.We'll get to them in a minute (or skip to Page 3), but first, a word about the health benefits of Salba/chia.
Continue To Page 2: The Health Benefits Of Salba/Chia
Recent Articles From Our NutriNibbles™ News Feed:
Subscribing notifies you whenever there are
new additions to the NutriNibbles™ section.

Subscribe to THE NIBBLE™ NutriNibbles™ by Email
© Copyright 2005-2015 Lifestyle Direct, Inc. All rights reserved. Images are the copyright of their respective owners.