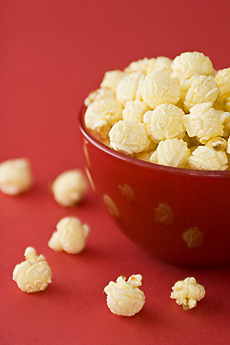 Sure, Gary Poppins will send you fine plain popcorn. But with 22 flavors, it's time to spread your wings and give gourmet flavored popcorn a try. Photography by Saidi Granados.
EMILY CHANG is an intern at THE NIBBLE.

Gary Poppins Gourmet Flavored Popcorn
Page 4: Sweet Popcorn Flavors ~ Beyond Caramel Corn & Kettle Corn


This is page 4 of a 5-page article. Click on the black links below to view the other pages.
Sweet Popcorn Flavors
Our first introduction to Gary Poppins was the Pumpkin Spice popcorn—and it was memorable. Gary does just as well with other sweet flavors.
Caramel Corn
With a satisfyingly sticky coating, these kernels are so well endowed with sugary caramel that they even stick to each other. But no matter how strongly they cling together, they can't stop you from devouring them. There's saltiness as a counterpoint to the sweet flavor of this candy-like treat. It is so irresistibly sticky and sweet, the contents of the bag disappeared like magic.
Caramel Corn with Nuts
Whole roasted pecans, peanuts and almonds add depth of flavor to the already delicious caramel popcorn. It's no wonder that Gary Poppins also sells these delicious gourmet roasted nuts separately.
Cinnamon Popcorn
Cinnamon is usually a holiday flavor, but thank goodness this isn't one of Gary Poppins' seasonal specials—we want to eat it year-round. The cinnamon melds with sugar to form a crunchy, sweet-and-salty crust.
French Vanilla Coffee Popcorn
We lifted our eyebrows at this one, but by now we should learn to trust Gary Poppins' inventive ideas about popcorn. The popcorn looks rough, as if it were rolled in coffee grounds, but its flavor is nothing if not refined. The coffee asserts itself without bitterness. Buy some for your favorite coffee-lover.

Cinnamon Popcorn (which looks very much like the French Vanilla Coffee Popcorn).
Kettle Corn
With each chew, we discover something new: a caramel sensation one minute and saltiness the next, just like good kettle corn should be. The corn also exhibits varying textures, going from crisp to soft in a heavenly bite. You may have had kettle corn at the fair, but you've never had it this good in the comfort of your own home.
Pumpkin Spice Popcorn
Searching for sugar and spice and everything nice? Look for it in Gary Poppins' Pumpkin Spice Popcorn, one of two seasonal flavors (along with White Chocolate Peppermint). This was a clear favorite of the entire batch, the cream of the Gary Poppins crop. It's perfect for stocking stuffers and holiday party favors.
Is your sweet tooth satisfied? Are you ready for something that isn't sweet?
Continue To Page 5: Savory Popcorn Flavors
© Copyright 2005-2015 Lifestyle Direct, Inc. All rights reserved. Images are the copyright of their respective owners.