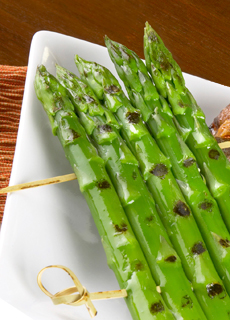 An elegant serving suggestion: a skewered rack of asparagus. Photo courtesy California Asparagus Commission.

Product Reviews / Main Nibbles / Vegetables
Asparagus Recipes
Delicious Asparagus For Every Meal Of The Day


CAPSULE REPORT: Asparagus season is finally upon us! We wait impatiently all year long for the April-June window of fresh asparagus (spending the rest of the year with jars and jars of Tillen Farms Pickled Asparagus). We steam up fresh stalks to al dente, so tasty they don't even require butter (but maybe a dip of seasoned salt, like Fusion flavored sea salts, or our favorite imported saffron salt from Casina Rossa). Asparagus are a dieter's delight. But they also work into impressive recipes. Here, we present 11 delicious springtime recipes—for every meal of the day—courtesy of the California Asparagus Commission. Start out by reading the history of this tasty vegetable and asparagus shopping tips and cooking basics. Then, dig in! This is Page 1 of a 12-page article. Click the black links below to view the other pages.
Index
On The Menu
Breakfast/Brunch:
Lunch:
Dinner Entrees:
Asparagus Sides:
The History Of Asparagus
The asparagus plant is a member of the lily family. Asparagus were first cultivated more than 2,000 years ago in the eastern Mediterranean region. The ancient Greeks and Romans prized asparagus for its unique flavor, texture and alleged medicinal qualities. The vegetable gained popularity in France and England in the 16th Century; King Louis XIV of France enjoyed this delicacy so much that he had special greenhouses built to supply it year-round. Early colonists brought it to America.
Asparagus is a perennial plant raised in furrowed fields. It takes about three years before the plants produce asparagus. The delicate plant needs a temperate climate and requires much hand labor in all phases of cultivation. The spears are cut by hand when they reach about 9 inches in length.
Asparagus is a good source of vitamins and nutrients. It is also a good source of calcium, magnesium, vitamin B6 and zinc; and is a very good source of copper, dietary fiber, folate, iron, manganese, niacin, phosphorus, potassium, protein, riboflavin, , and selenium, thiamin, vitamin A, vitamin C, vitamin E (alpha tocopherol) and vitamin K. It is very low in calories, and contains no fat or cholesterol.
Asparagus Shopping Tips
Select bright green asparagus with closed, compact, firm tips and smooth, tender skin. Try to find even-size spears. Size is measured by diameter, and ranges from small (3/16 inch) to jumbo (7/8 inch).
The tenderness of the asparagus relates to color, not size. Fat spears are just as tender as thin ones. The greener (or whiter for white asparagus) the spears, the more tender they'll be.
Asparagus Cooking Basics
If the tips of the asparagus are slightly wilted, freshen them by soaking them in cold water.
Keep fresh asparagus moist until you intend to use it.
Keep frozen asparagus in the freezer until you are ready to use it. Do not defrost before cooking. If the asparagus defrosts, cook it immediately.
Make sure to use frozen asparagus within eight months of freezing. Do not re-freeze.
The bottom of asparagus stalks are tough and should be trimmed before cooking. Using a vegetable peeler, first lightly strip off the bottom few inches of skin. Next, gently bend the bottom of the stalk until it snaps off. Don't force it—it will naturally break in the correct spot. You can use the broken off ends to make purée, soup or sauce.
Ready for those recipes?

Continue To Page 2: Asparagus Frittata With Red Bell Peppers
All materials © copyright 2005- 2015 Lifestyle Direct, Inc. All rights reserved. Images are the copyright of their respective owners.