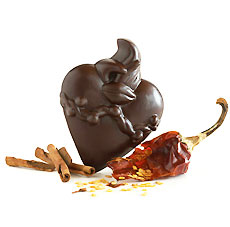 Vosges' flaming "rock 'n roll" heart comes in three flavors: Red Fire (shown here), with chiles, cinnamon and dark chocolate; Barcelona, with almonds, sea salt and milk chocolate; and Amalfi, with pink peppercorns, lemon zest and white chocolate.
February 2006
Updated February 2010

Connoisseur Valentine Chocolate
For Valentines Who Demand The Best
If your valentine knows the difference between 58% and 75% cacao and has a preference for Venezuelan beans over those from Cote d'Ivoire, you can't buy him or her just any chocolate. How can you dazzle such a valentine? With our hand-picked selection of chocolates from some of the finest chocolatiers:
This article is updated each year for Valentine's Day. Prices are confirmed at publication but are subject to change. Another elegant gift choice is chocolate-covered fruit, such as the Valentines Day chocolates from Shari's Berries.
L.A. Burdick : Best Chocolate In A Heart Box

Two heart-shaped keepsake wooden boxes are stacked and tied with a red mesh ribbon. The top heart holds hand-cut, heart-shaped bonbons and the bottom heart (shown at the right) holds a half-pound assortment, plus two white chocolate mice (you can see their red tails forming a heart shape). Read our full review of Burdick Chocolate.




Chocolat Céleste

Chocolat Céleste's bonbons are a treat to the eye and the palate. Each bittersweet Valentine bonbon is beautifully designed and artfully crafted with fresh, local cream and butter and chocolate sourced from the finest cacao growers. Read our full review of Chocolat Céleste.

4-Piece Box
$13.00
9-Piece Box (shown)
$26.00
16-Piece Box
$43.00




Marie Belle: Best Artistic Valentine

For Valentine's Day, the box at right contains 16 different chocolate ganaches, each one equipped with a unique romantic artwork, delightful flavor and love story, depicted in an included brochure. Special edition chocolate ganaches, in Wild Berry and Champagne flavors, display "In Love" images, and there's a white chocolate heart filled with apple liqueur, painted a fiery red. Read our full review of Marie Belle chocolates.

9-Piece Box
$29.00
16-Piece Box
$46.00
25-Piece Box
$61.00

Recchiuti Confections: Most Romantic Champagne Truffles

This year, be different: Celebrate the concurrent truffle season with chocolate truffles. Michael Recchiuti's creamy dark chocolate truffles are flavored with 2001 Schramsberg Blanc de Noirs from Napa Valley, and dusted in confectioner's sugar. Nestled in a red box, tied with a satin ribbon, they're as dear as their namesake wild truffle. And they're shaped like chocolate kisses. Read our full review of Recchiuti Confections.

24 Truffles (6 Ounces)
$25.00




Vosges Haut Chocolat: Flaming Heart

Vosges' flaming hearts won't break the calorie bank, at just 1.8 ounces. In white, milk or dark chocolate, greatly enhanced with Vosges creative flavors, each is bound with a red satin cord, symbolizing your love. We admit our passion for the Barcelona, a 41% milk chocolate with hickory smoked almonds and grey sea salt; but have had quite a few dates with Amalfi (36% cocoa butter white chocolate, pink peppercorns and lemon zest—shown at right) and Red Fire (55% cacao semisweet chocolate with cinnamon, ancho and chipotle chiles). Read our full review of Vosges Chocolates.

1.8-Ounce Heart
$8.00
Set Of Three Flaming Hearts
$21.00



© Copyright 2005- 2022 Lifestyle Direct, Inc. All rights reserved. Images are the copyright of their individual owners.