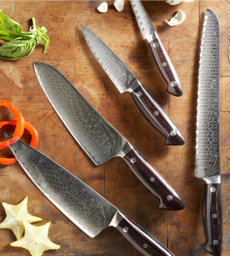 Gorgeous Shun knives, licensing a design by
master bladesmith Bob Kramer, are available at Sur La Table and Williams Sonoma.

Kitchen Gifts 2009
Our Favorite Kitchen Gifts Of The Year
Got some big-ticket items on your holiday gift list? We've got some special things for people who love to cook—and for those who just like to push a button. If you're looking to spend a little less, check out our Kitchen Gifts Under $35 list or our 2008 Kitchen Gifts list for more gift-giving ideas.
Products are shown in alphabetical offer. Prices and product availability are verified at publication but are subject to change.
Calphalon:
Unison Nonstick Cookware

We cook with some of everything in THE NIBBLE test kitchen, and for top-of-the-line cooking, we love our Calphalon Unison pieces. Everything is designed to either slide or sear, which it does to perfection. And no matter how we torture it, it cleans up like a breeze—just a swish with soapy water and a sponge. It's beautifully crafted, and while it's expensive, Williams-Sonoma is having a half-price sale.

Calphalon Unison Nonstick Cookware
$125.00 to $200 Regular Price
Currently $49.95-$99.95 At
Williams-Sonoma.com

Find more retailers at Calphalon.com


The omelet just slides across the pan. Photo courtesy Calphalon.

Circulon:
Contempo 4.5-Quart Covered Saucier


Circulon is the largest-selling single line of cookware in the world. This inexpensive covered saucier from the Contempo line is one of our favorite kitchen pieces. Just 1-1/2 quarts smaller than a stock pot, we use it for smaller servings of pasta, as well as soups, stews, and anything that requires a large saucepan. Nonstick inside and out, it distributes heat evenly and is easy to clean. It's oven-safe to 400°F. The second handle on the pot makes maneuvering on the stove and in the sink easy. What's extra-special are the silicone wrappings on the three steel handles—you never need a potholder. The long handle has a gold-out ring if you want to hang the pot.

Circulon Contempo Nonstick
4.5-Quart Covered Saucier
$39.99

Buy online at Circulon.com


We love this sauce pot! In addition to good
looks and user-friendly features, the hard anodized aluminum construction is twice as strong as stainless steel. Photo courtesy of Circulon.


Cuisinart:
Vertical Rotisserie


Here's a great gift for singles, families and healthy eaters. The rotisserie, which cooks chicken, roasts, fish and kebabs, seals in nutritious juices and drains away fat. A three-hour countdown timer with auto-shutoff lets you tend to other things as dinner cooks. Why buy a pre-cooked chicken that's been sitting under a heat lamp when you can have your own fresh, juicy one wafting a wonderful aroma through the kitchen? Rotisserie cooking is also an easy way to teach kids simple, healthy cooking; a recipe book is included.

Cuisinart Vertical Rotisserie
$194.00

Buy online at Amazon.com with free Super Saver Shipping.


Its easy to make healthy chicken, fish, roasts and kebabs. Photo courtesy Cuisinart.

Knife Skills Class


Has your favorite cook ever taken a knife skills class? If not, he or she might love to sharpen up on brunoise, batonnet, dice and julienne, to shaving fennel, boning a trout, trussing and carving a turkey. You start with perfecting onions and carrots, then work your way up to poultry, fish and meat, and in the middle, learn how to "turn" a vegetable into a beauty with seven or nine perfect sides (it's the hardest thing to do, so the next time you see one on your plate, give the cook the respect he/she deserves).

Knife Skills Class Gift Certificate
Call Your Local Culinary School
Or Community College About
Classes


Students in a knife skills class at Institute
Of Culinary Education in New York City,
where THE NIBBLE staff studied knife skills.

Mitsubishi:
Jet Towel Hand Dryer


OK, this doesn't exactly go in the kitchen, but you sure want people to have clean hands when they come to the kitchen. We fell so in love with this super-jet hand-dryer that we couldn't wait to have one installed. Instead of waiting 30-40 seconds for your hands to dry, they're done in 5 seconds. Amazing! Once you put one of these in your bathroom, everyone will be looking for reasons to wash their hands just to enjoy the rush of air. It's pricey, because it's meant for high-end restaurant rest rooms, but it's really, really worth it.

Mitsubishi Jet Towel
$1,500.00

Order online at MitsubishiJetTowel.com or telephone 1.206.547.4591.


What a rush! The air in this hand dryer rushes by at 295 feet per second and dries hands thoroughly in 5 seconds. Now, washing your hands is fun, not a chore! Photo courtesy Mitsubishi Jet Towel.

Mypressi:
TWIST Portable Espresso Maker

For the espresso lover: There's no need to have a cumbersome machine to make espresso. This little miracle, held in the palm of your hand, can travel around the world with you—or to school, family and friends' homes or to work. Just add ground espresso beans, hot water, twist, and you've got a really great cup of espresso, crema and all. We wouldn't have believed it if we hadn't had cup after cup of it. The Specialty Coffee Association of America chose the Twist as its 2009 "Best New Product." We second the vote!

Mypressi TWIST Portable Espresso
Maker
$169.00

Buy online at Mypressi.com


It fits in the palm of your hand and it makes great espresso. Photo courtesy Mypressi. Double-walled espresso cups from Bodum.

Nespresso:
CitiZ Automatic Coffee & Espresso Maker & Milk Frother

Our favorite new coffee maker in general is Nespresso's CitiZ, pronounced sih-TEEZ. Sleek and metropolitan, it not only looks like a skyscraper, but it has a narrow footprint that fits into an apartment-size kitchen (and looks great in large kitchens, too). There's a built-in milk frother—a more glam version of our beloved Nespresso Aeroccino—for cappuccinos and lattes. The user-friendly design includes a fold-up cup balcony to accommodate larger cups and glasses; the water reservoir is easy to access and holds more than a quart. The colors are white, black, red and grey. Like many single-serve systems, you are limited to the manufacturer's coffee capsules; but there are many varieties and they are all excellent—we like this coffee better than any other system.

Nespresso CitiZ Coffee & Espresso
Maker
$349.00

Find a store locator at Nespresso.com and get a $50 credit toward the capsules.


The CitiZ has a built-in milk frother, at right. Photo courtesy of Nespresso.

Eades Appliance Technology:
SousVide Water Oven


Sous vide, pronounced soo-VEED and meaning "under vacuum," is a cooking technique developed in France in the 1980s, and used by the greatest chefs to assure consistency in turning out fine meals. Previously only available for the professional kitchen, it has finally been made in a consumer model. This little miracle was tested in THE NIBBLE's kitchen; we liked it so much, we now can't live without it. It's difficult to explain a revolutionary technique in two sentences, but here goes: Whether for entertaining or for family meals you can prepare the food to precisely the temperature you want (no more meat thermometers!) in a fraction of the time. If you want to cook in advance, you can partially cook the food in individual portion bags, then finish the cooking in minutes. Here's the bottom line: Just like any fine cook you know, or any busy person, would really have wanted the first Cuisinart and the first microwave, so will they want the first SousVide Water Oven. We'll be writing a full review on this product next month.

SousVide Water Oven
Introductory Price: $399.00
(Regular Retail Price $449.00)

Buy online at SousVideSupreme.com


It looks like a bread baker—but this "water oven," which can cook anything, will change your life. All 12 cuts of beef for a dinner party can come out exactly medium rare (or to whatever doneness you want them). Family meals can be cooked ahead in individual portions, with the final few minutes of cooking done right before serving. Photo courtesy SousVide.
© Copyright 2005- 2023 Lifestyle Direct, Inc. All rights reserved. Images are the copyright of their individual owners.