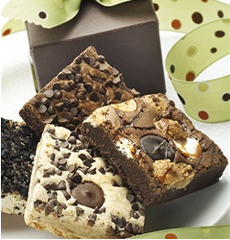 Brownies in every flavor of the brownie rainbow are beautifully gift-boxed from Brownie Points. Photo courtesy Brownie Points.

Kosher Gourmet Food Gifts
2009 Picks For Best Kosher Chanukah Gifts
Chocolate lovers will love our kosher gift list this year because it's full of products for those with a sweet tooth. But there are also very low-calorie and calorie-free products as well. Most are less than $25.00.
Products are shown in alphabetical order. Prices and product availability are verified at publication but are subject to change. Shipping is additional. These items are offered by a third party and THE NIBBLE has no relationship with them.
Brownie Points:
Brownie Gift Boxes

You'll earn brownie points with the kids and anyone else with a sweet tooth when you send boxes of individually wrapped brownies in twelve flavors. In addition to the anticipated chocolate with nuts, fudge, etc., there are Chocolate Caramel Crunch, Chocolate Caramel Sea Salt, Cookies & Cream and Gourmet Buckeye, a chocolate chip brownie sandwich filled with creamy peanut butter. Certified kosher by the V'aad of Columbus, Ohio.

Brownie Points Gift Boxes
From $17.99

Buy online at BrowniePointsInc.com


Photo by GG Merkel | THE NIBBLE.

Galaxy Desserts:
Chocolate Lava Cakes

Send your favorite chocolate lover a box of rich and luscious Chocolate Lava Cakes, made with premium bittersweet chocolate and pure cocoa. Just bake or microwave for a taste of chocolate heaven. If you'd rather send cheesecake, blackout cake, lemon tarts or dozens of other favorites, Galaxy Desserts has them all. Certified kosher (dairy) by KSA.

Chocolate Lava Cakes
Four 2-Pack Boxes (8 Ounces Each)
$39.99
Many Other Options On Website


Buy online at GalaxyDesserts.com


Photo courtesy Galaxy.


Jer's Gourmet Peanut Butter Bars and Peanut Brittle Bites

Jer (Jerry to his parents) has improved upon that already excellent combination, chocolate and peanut butter. We've written about his bonbons before: chocolate-covered peanut butter plain, with bits of pretzel, toffee or a caramel layer. Now, the concept is available in a more casual bar form, easier to carry around than a box of bonbons. And, Jer has evolved into peanut brittle, with the same approach: Flavor it! Certified kosher (dairy) by OU. Read our full review of Jer's Handmade Chocolates.

Jer's Gourmet Peanut Butter Bars
4-pack (8 bars)
$20.00
Jer's Gourmet Peanut Brittle Bites
8-Pack Tray
$20.00

Buy online at Jers.com




Photo by Evan Dempsey | THE NIBBLE.

Tea Forte Kosher-Certified Teas

If your family and friends have style as well as good palates, gifts from Tea Forte will be appreciated. The company imports fine loose tea and packages it in fetching containers. All of the teas are packaged in a facility that is both organic-certified and certified kosher by K-OF K. (See individual products for certifications.)

Tea Forte Kosher-Certified Teas
19 Varieties Of Loose Tea In Canisters
$15.00 each
Additional Products On Website

Buy online at TeaForte.com




Photo courtesy Tea Forte.

Tillen Farms:
Pickled Vegetables

We love Tillen Farms: We treat ourselves to a couple of jars of these pickled vegetables each week. They're very low in calories, fat free and high in flavor and crunch. Choose from Crunchy Carrots, Dilly Beans, Hot & Spicy Beans, Snappers (snap peas) and Sweet Bells (peppers). Use them in cocktails, on relish trays and in salads. The brine is delicious: We reuse it to marinate chicken and fish. Read our review of Tillen Farms.

Tillen Farms Pickled Vegetables
12-ounce jars
$6.99
Certified kosher by BCK (except
asparagus)

Buy online at TillenFarms.com




We love our veggies—especially pickled! Photo by Hannah Kaminsky | THE NIBBLE.

Vital Choice:
Organic Trail Mix

This delicious, naturally sweet and healthy snack tasted as good to us as a box of candy (and we eat plenty of that, too). Anyone making resolutions for a healthier new year will be happy to get a bag. Certified kosher by Earth K. A great nosh.

Vital Choice Organic Super Antioxidant
Trail Mix
16-Ounce Bag
$22.00
12 2-Ounce Snack Packs
$36.00

Buy online at VitalChoice.com




Photo courtesy Vital Choice.
© Copyright 2005- 2022 Lifestyle Direct, Inc. All rights reserved. Images are the copyright of their individual owners.