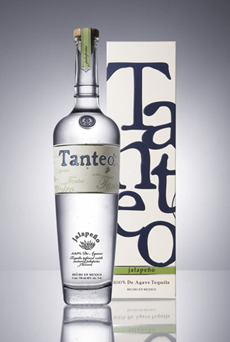 Candy is dandy, but a liquor gift lasts a lot longer! Photo courtesy of Tanteo.

Liquor Gift List 2009
Liquor Gifts For Connoisseurs
Anyone who appreciates fine spirits should be happy to receive anything on this liquor gift list. If the spirit doesn't move you here, check out our recommendations from last year.
Products shown in alphabetical order. Prices and product availability are verified at publication but are subject to change. These items are offered by a third party and THE NIBBLE has no relationship with them.
Courvoisier:
Exclusif Cognac

Courvoisier Exclusif is the first Cognac designed to be mixed; but it's so delicious, we love it straight (in full disclosure, we love everything that's top shelf in its pure, neat form). The recipient will enjoy the beautiful bottle, followed by the equally beautiful copper color of the VSOP Cognac in the snifter. The aromas are of chocolate, nuts and spice; there is more spice, toffee and dried fruit on the palate. Cognac is a perfect winter gift, and this is a lovely, approachable Cognac.

Courvoisier Exclusif
VSOP Cognac
List Price $49.99


At retailers nationwide.




Photo courtesy of Courvoisier.

The Glenlivet:
Nàdurra Triumph 1991

The Glenlivet's Nàdurra recently added a single addition to its family: The Glenlivet Nàdurra Triumph 1991. The single-varietal Scotch is made from just one variety of barley, Triumph barley, which is no longer used at The Glenlivet distillery. Aged a full two years longer than the first Nàdurra (made from a mix of barleys), The Glenlivet Nàdurra Triumph 1991 delivers a greater flavor and complexity imparted from the wood, a broader selection of casks and the Triumph barley. It is mildly sweeter and more fruit-forward. The fruit flavors are vibrant and the texture is robust. Check out our review.

The Glenlivet Nàdurra Triumph 1991
$85.00

Buy online at ShoppersVineyard.com.
If you live in the U.K., buy online at Storefront.TheGlenLivet.com.




Photo courtesy The Glenlivet Distillery.

Ian MacLeod:
Isle Of Skye Scotch Whisky

If you're looking for an exceptionally smooth and mellow Scotch whisky, look no further than Ian MacLeod's Isle of Skye Scotch Whisky—the only Scotch imported to the U.S. from the Isle of Skye, home of the Clan Macleod. There are 8, 2, 21 and 50-year-old bottlings. The youngster, which we tasted, is very smooth and easy-sipping with fine Scotch character—well-balanced with vanilla and slight honey notes. There are no smoky or peaty influences in this islander, making it easy to while away the afternoon.

Isle Of Skye Scotch
750ml Bottle 8-Year
$28.99

Buy online at KLWines.com


Photo by Evan Dempsey | THE NIBBLE.

Philadelphia Distilling Company:
Bluecoat Gin, Penn 1681 Rye Vodka & Vieux Carré Absinthe Supérieure

Philadelphia Distilling is the first distillery to open in Pennsylvania since Prohibition, and we think it's about time, as it's rolled out the award-winning Bluecoat Gin along with two other gems: Penn 1681 Rye Vodka and Vieux Carré Absinthe Supérieure.

Bluecoat Gin
750ml Bottle
$24.99
Penn 1681 Rye Vodka
750ml Bottle
$18.99 (sale price)
Vieux Carré Absinthe Supérieure
750ml Bottle
$66.99

Find retailers at PhiladelphiaDistilling.com


Photo courtesy Philadelphia Distilling.

Art In The Age:
Root Organic Liquor


This is something special, recommended to us by chocolatier Antoine Amrani (whose delicious bonbons are on our Chocolate Gift List). Its origins (the "root of root") goes back to the 1700s, when settlers learned to make root tea from Native Americans. Over generations, the tea grew in potency, made from wild roots and herbs, with very strong notes of anise, birch, vanilla, citrus and pepper. Root Organic Liquor is unlike anything else—a rich bouquet of birch, smoke, spices and vanilla with strong flavors of everything. Drink it neat or use it in cocktails. It's a wonderful gift for people who know their spirits.

Root Organic Liquor
750ml Bottle
$38.99

Buy online at HiTimeWine.net


Photo courtesy Root Organic Liquor.


Tanteo Tequila:
Chocolate, Jalapeño & Tropical Fruit

The Tanteo line of superpremium tequilas infused with chocolate, jalapeño and tropical flavors was launched less than a year ago by Jonathan Rojewski and Lincoln Mayne, who spent two years perfecting the recipes. Made with 100% blue agave tequila, Tanteo uses all natural ingredients to infuse the tequila, and it's a magical marriage. These are sipping tequilas and cooking tequilas—you'll love flavoring sauces, desserts and marinades with them (more ideas in the full review). Pair them with mains or desserts that have similar flavor profiles. In terms of mixed drinks: If the possibilities aren't endless, they'll keep you busy for quite some time. The company offers recipes to start you off.

Tanteo Tequila
750ml Bottle
$45.00

Buy online at TanteoTequila.com

Read our review of Tanteo Tequila, a NIBBLE Top Pick Of The Week.


This elegant jalapeño tequila is a thing of beauty. But don't forget the chocolate and tropical fruit tequilas: straight-up cocktails! Photography courtesy of Tanteo Tequila.




Tequila Cazadores:
Mountain-Grown Tequila

Tequila lovers may not know that there's a difference in flavor between tequila made from agave grown high in the cooler mountain terroir versus that from the flat valley floor. Tequila Cazadores is one of the finest tequilas, and is mountain grown. As a result, it is even more herbaceous. Your favorite tequila lover will appreciate a bottle.

Tequila Cazadores
750ml Bottle
$24.99

Buy online at KLWines.com




Photo courtesy Tequila Cazadores.

TY KU:
Holiday Gift Sets

Just in time for the holidays, TY KU is rolling out two new stylized kits to spread holiday cheer: TY KU Asian Spirits Collection and TY KU Premium Liqueur Gift Set. The spirits collection gives a tasteful sampling of the company by pairing together three 375ml bottles of soju, saké and premium liqueur. We enjoyed both the saké and the liquer (haven't gotten to the soju yet). The Spirits Collection includes a 750ml bottle of TY KU premium liqueur along with a chrome and custom glass TY KU shaker packaged in a colorful gift box featuring Tokyo pop art. The Saké Bomb Kit, in a black dragon-inspired gift box inscribed with the secret to the perfect Saké Bomb, includes a 750ml bottle of TY KU saké, two black sake cups and four stirrers. All are great gifts for Asian cooks, sushi lovers or just plain saké enthuaiasts.

TY KU Asian Spirits Collection
$59.99
TY KU Premium Liqueur Gift Set
$32.99
TY KU Saké Bomb Kit
$29.99

Buy online at TryTyKu.com

Learn all about saké.




Photo courtesy TY KU.

Urban Moonshine Bitters:
Citrus, Maple, Original

With the growth of the artisan food movement, it's no surprise to find artisan bitters on the menu. These are an experience unlike any other—so fresh and flavorful. Bitters are also used as a digestíf; the small sprays (sized like breath spray) make great stocking stuffers.

Urban Moonshine Bitters
10ml Spray Bitters
$4.99
2-Ounce Bitters
$10.99
8.4-Ounce Bitters
$29.99

Buy online at UrbanMoonshine.com




Photo by Evan Dempsey.
© Copyright 2005-2023 Lifestyle Direct, Inc. All rights reserved. Images are the copyright of their individual owners.