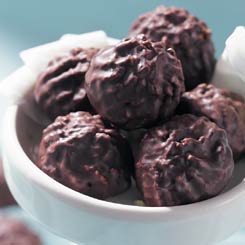 March 2005
Updated March 2009

Gourmet Gifts For Passover
Passover doesn't mean you have to pass by the gourmet foods for a week. You can eat well while enjoying the guidelines—or the spirit—of the holiday. Please note: Prices and availability are subject to change. While we do our best to keep this information updated, it's a huge task. If you would like to suggest products, please use the Contact Us link on this page.
Visit our Kosher Nibbles section to find certified gourmet kosher food for year-round enjoyment.
CAKE
L.A. Burdick makes a moist flourless chocolate cake with coconut milk and shredded coconut, baked in a gugelhupf (kugelhopf) form and perfumed with Malibu rum. The interior is marbled dark chocolate and coconut interior. The recipe has no flour or leavening but is NOT KOSHER. Serves 8 to 10. ($16)
Recent Articles From Our Kosher Nibbles News Feed:
Subscribing notifies you whenever there are
new additions to the Kosher Nibbles section.

Subscribe to THE NIBBLE™ Kosher Nibbles by Email
© Copyright 2005-2022 Lifestyle Direct, Inc. All rights reserved. Images are the copyright of their respective owners.