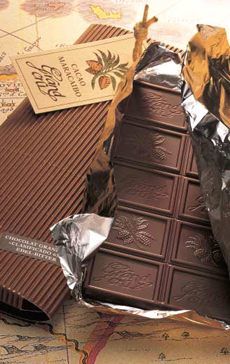 Felchlin's Maracaibo Clasificado 65% couverture was named the best couverture by the Italian Pastry Academy. A pure Grand Cru Chocolate made of Criollo beans from Sur del Lago, Maracaibo, Venezuela, it has aromas of coffee and plum and notes of orange blossom, cinnamon and raisin. Visit Felchlin.com for more information.
KAREN HOCHMAN is Editorial Director of THE NIBBLE.
October 2006
Updated February 2009

Understanding Couverture Chocolate
Page 4: How To Determine Your Couverture Flavor Profile
This is Page 4 of a four-page article on couverture chocolate. Click on the black links below to visit other pages.
How To Determine Your "Flavor Profile"
To understand your flavor preferences, ask chocolatiers which couverture they use: It gives the chocolates their defining taste, regardless of fillings. By understanding, e.g., that you like the chocolate flavor from chocolatier #1 but don't like the flavor of chocolatier #2's couverture as much, you will understand your preferred flavor profile. (It's like knowing that you like the fruitier style of many California Pinot Noirs better than the more balanced style of many Oregon Pinot Noirs.) Ask the chocolatier to describe the flavor profile of the couverture. Develop a vocabulary of chocolate descriptors by studying our Guide To Chocolate Descriptors.
Most chocolatiers don't make a secret of the brand of couverture they use—they're proud of their choice(s) and want you to be an educated consumer. And if you take the time to ask and to study, knowing your preferences lets you make more informed choices the next time you purchase chocolate. If you know you enjoy chocolate made with Guittard couverture, for example, the next time you see a Guittard chocolate bar, you might stop to buy it. Or, the next time you encounter a new chocolatier and find that he or she uses Guittard couverture, you know you have a good chance of really enjoying those chocolates.
Individual chocolatiers decide which brand of couverture to use, depending on their personal tastes and how they feel the couverture matches with the centers (fillings) they make. Some use more than one brand and/or different blends of beans,

origin cacao

or percentages of cacao within a brand, based on their feeling that specific couvertures pair better with particular items. As we demonstrated with the Felchlin example on the previous page, even within the same % cacao range, one couverture might taste better with nuts; another with fruits, fruit cremes and peel; another with caramels and toffee; and yet another with plain bars and ganaches.




Scharffen Berger, an artisan chocolatier purchased by Hershey's in 2005, has been growing in leaps and bounds in popularity.
Even if you don't like a particular couverture as an eating chocolate, it will probably be splendid in baked goods and ice cream, where the flavor is nowhere as intense as biting into a chunk of it. One brand that has flavor notes that we don't enjoy in eating chocolate is one of our top choices for baking and for making ice cream.
For an overview on some of the world's great couverture producers, read our article, "House Tour: The World's Great Chocolate Houses."
© Copyright 2005-2015 Lifestyle Direct, Inc. All rights reserved. Images are the copyright of their respective owners.