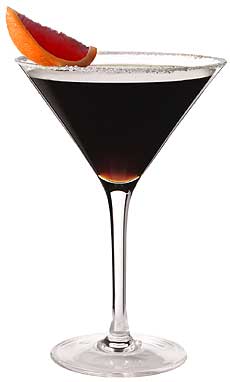 Halloween calls for dark and scary cocktails. We've conjured up
a few for you.
A blood orange on the rim gives this drink festive color and an appropriately creepy garnish.

Kahlúa Cocktail Recipes
Spooky, Sophisticated Cocktails For An Adult Halloween Party
Or Any Occasion, Year-Round
Halloween parties aren't just for kids. Invite friends, decorate the house, throw on your best spooky costume, then serve these special drinks for a memorable evening. Kahlua, perhaps the world's most famous coffee liqueur, will help your coffee-loving guests ease from workday joe to party time coffee cocktails. Also try some spell-casting with Gin-Based Halloween Cocktails and the ultimate fright fest, the Bloody Eyeball Martini.
While these recipes have Halloween-themed names, they can be served year-round with their alternate monikers.
Coffee Cocktail Menu
Dra-Kahlúa (a.k.a. Coffee Buzz)
Black liquid garnished with a blood orange (photo above) makes this the perfect drink for all the partying vampires. You can also dip the rim in a red drink rimmer or sanding sugar, which will add bewitching color, but will also add sweetness.

Ingredients Per Cocktail

1-1/2 part Kahlúa
1/2 part cognac
1/2 part triple sec
3/4 part fresh lemon juice
1/2 part simple syrup
Blood orange wedge for garnish*

*Blood oranges have a dramatic red interior.

Preparation
Shake ingredients in a cocktail shaker with ice.
Strain into a chilled, half sugar-rimmed martini glass and garnish with a blood orange wedge.
Kahlúa Black Cat (a.k.a. Espresso-tini)
A vanilla bean "cat's tail" lends this cocktail its look and name.

Ingredients Per Cocktail

2 parts Kahlúa
1 part vodka
1/2 part fresh brewed espresso
Vanilla bean for garnish*

Preparation

Combine all ingredients in a
shaker with ice and shake
vigorously.
Strain into a martini glass.
Garnish with single vanilla bean.

See our article on vanilla to learn about the different types of vanilla beans.

Vanilla beans are expensive—and they're also reusable. Don't hesitate to collect, wipe down and save the beans for the future. See the footnote below.
*Tip: Not all vanilla beans have curved tips. Look for those that do. While vanilla beans are pricey, since these won't have been cooked, they can be reused in a variety of ways after the party. First, rinse them in cool water and let them dry. Then, you can use them in custards, ice cream and other recipes, where they are scalded in hot cream. Or, add them to a bottle of plain vodka to make your own vanilla vodka.
Kahlúa Cryptini (a.k.a. The Black & White)
This dark and scary drink is good enough to wake the dead! It combines three different spirits including sambuca, a liqueur made from anise seed, which tastes like licorice. It is traditionally served with a garnish of three espresso beans. The "Black & White" refers to the coffee and vanilla ingredients.

Ingredients Per Cocktail

1 part Kahlúa
2-1/2 parts vanilla vodka
1/4 part sambuca
Espresso beans for garnish
Chocolate "shoelace licorice" for
garnish (optional—see caption under
photo)
Drink rimmer for garnish—or try
pulverized espresso beans mixed with
party sugar (optional)

Look for chocolate licorice shoelaces as a garnish, and microwave them for a few seconds around a microwaveable form to set the curl; then snip into garnish-size lengths.
Preparation
Combine all ingredients in a cocktail shaker filled with ice and stir until chilled.
Strain into a chilled martini glass and garnish with three espresso beans.
Recipes and photos courtesy Kahlúa. All other materials © copyright 2005- 2015 Lifestyle Direct, Inc. All rights reserved. Images are the copyright of their respective owners.