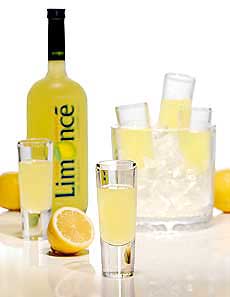 Limoncello is a sunny, citrusy treat. It's delicious in mixed drinks or, as shown here, served as a cordial.

Limoncello Cocktails
Page 2: Herb-Accented Cocktails
This is Page 2 of a five-page article. Click the black links below to view the other pages.
The Amalfi
Citrus lovers will love this summery cocktail. The fresh thyme sets it off perfectly, but if you don't have fresh herbs, a lemon wheel will do.

Ingredients Per Cocktail

1-1/2 ounces citrus vodka
1/2 ounce limoncello
1/2 ounce fresh lime juice
2 sprigs lemon thyme or regular
thyme*

*Thyme can be substituted for lemon thyme, but lemon thyme is preferable.

A fresh thyme garnish adds fragrance and a charming hint of flavor.
Preparation
Put vodka, limoncello, fresh lime juice and the leaves from one sprig of thyme into a shaker with ice. Shake vigorously.
Strain and pour into a chilled cocktail glass. Garnish with a sprig of thyme.
The Méditerranée
This cocktail uses two ingredients that may not be found in the average home.
The Meyer lemon was created long ago by cross-breeding a Eureka lemon (the supermarket variety) with an orange, probably a mandarin, making a sweeter and more perfumed lemon with a zestier punch. It can be found at specialty produce markets and by mail from Melissas.com and other providers. It has smooth, thinner skin and the juice contains far less acidity (which makes it much sweeter); both the aroma and the juice have a slight floral note.
Pineau des Charentes is fortified sweet apéritif made in the Cognac region of France; Cognac is added to unfermented grape juice. Don't hesitate to buy a bottle to make this cocktail; you can use the rest straight, as an apéritif.
Ingredients Per Cocktail

1 ounce Pineau des Charentes
1/2 ounce limoncello
1 ounce fresh Meyer lemon juice
Zest of a Meyer lemon
2 dashes orange bitters
1 sage leaf

Preparation

Add all ingredients, except the sage leaf, to a shaker with ice. Shake vigorously.
Slap the sage leaf in the palm of your hand a few times and then gently rub the leaf around the rim of the glass.
Strain the cocktail into the martini glass. Garnish with the slapped sage leaf.

Fresh Meyer lemon juice makes this cocktail a zesty summertime treat.
Go To Page 3: Orange-Juiced Cocktails
Recipes © copyright courtesy Distillerie Stock USA Ltd. Other material © Copyright 2005- 2015 Lifestyle Direct, Inc. All rights reserved. Images are the copyright of their respective owners.