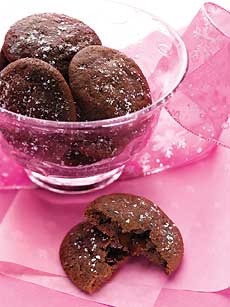 Inspired by the chocolate lava cake, these cookies have a molten chocolate center.

Recipes: Butter Cookies
Page 2: Chocolate Cookie Recipes

This is Page 2 of a five-page article. Click the black links below to view other pages.
Chocolate Tangerine Cutouts
Chocolate and orange are a great combination. Here, a burst of refreshing tangerine set against rich cocoa makes this stunning cutout cookie a winner. We used a star shape here, but you can use this buttery dough with your favorite cookie cutters.
Yields 4 dozen cookies.
Ingredients
Cookies

1-1/4 cups (2-1/2 sticks) butter,
softened and divided
1/2 cup Dutch-processed cocoa
powder (click on the link to read the difference)
1 teaspoon tangerine essential
oil
1 cup sugar
2 large egg yolks
1 teaspoon pure vanilla extract
1 teaspoon tangerine zest
2-1/2 cups all-purpose flour
Frosting
1-3/4 cups powdered sugar
1 teaspoon egg white powder
2 tablespoons fresh tangerine juice
1 teaspoon fresh lemon juice
1 teaspoon tangerine zest
1/4 teaspoon tangerine essential oil food coloring and decorative sugars (optional)
Preparation
Preheat oven to 375°F.

For cookies, melt 1/4 cup butter in a microwave-safe bowl. Heat in 30-second intervals until melted. Add cocoa powder and tangerine oil; mix until smooth and cool.

Cream together remaining 1 cup butter and sugar with an electric mixer until light and fluffy. Add cocoa mixture; mix well. Add egg yolks, vanilla and zest until combined. Gradually add flour, scraping down sides of bowl, as necessary, until combined.

Divide dough in two and place each piece on large sheet of plastic wrap. Flatten into 1/2-inch thick discs, wrap and refrigerate until firm enough to roll out, about 30 to 45 minutes.

On a lightly floured surface, roll dough to 1/4-inch thickness and cut into desired shapes. Place shapes on parchment-lined baking sheets; bake 10 to 12 minutes until firm and edges are beginning to brown. Remove to a cooling rack; cool completely.

For frosting, beat on low speed in bowl of electric mixer: powdered sugar, egg white powder, juices, zest and tangerine oil until moistened. Beat 2 to 3 minutes more on high speed. Adjust with more juice or powdered sugar to desired consistency; add food coloring, if desired.

Frost cookies and decorate with sugars, as desired. When frosting is set, store cookies at room temperature in an airtight container, separating layers with wax paper for up to 1 week.
Molten Lava Cookies
Inspired by popular molten center cakes like the chocolate lava cake, these pillowy-soft, brownie-like cookies are made possible with real butter and a chocolate lava center made with semisweet and dark chocolate melted with vanilla.
Yields 2 dozen cookies.
Ingredients
1 cup (2 sticks) butter, softened
2 cups sugar
3/4 cup cocoa powder
2 eggs
1 teaspoon pure vanilla extract
2 cups all-purpose flour
1 teaspoon baking powder
1/3 cup dark or semisweet
chocolate (at least 60% cacao),
roughly chopped
Powdered sugar for garnish
(optional)
Preparation
Preheat oven to 350°F.
Cream together butter and sugar with an electric mixer. Add cocoa powder, eggs and vanilla; mix until combined.
Combine flour and baking powder in a separate bowl. Gradually add to butter mixture.
Shape dough into 1-inch balls. Using your thumb, press a thumbprint into the center; fill with a piece of chocolate and fold dough over to cover chocolate.
Place balls 2 inches apart on baking sheets lined with parchment paper. Bake 9 to 11 minutes or until edges are firm and tops are soft. Remove cookies to a cooling rack; dust with powdered sugar, if desired. Serve warm, if possible. Store in an airtight container at room temperature for up to 1 week.
To reheat cookies, place cookie on microwave-safe plate and microwave on high for 5 seconds, or until cookie is slightly warm.
Go To Page 3: Chocolate-Covered Cookie Recipes
Recipes copyright © Wisconsin Milk Marketing Board. All other materials © Copyright 2005- 2015 Lifestyle Direct, Inc. All rights reserved. Images are copyright of their respective owners.