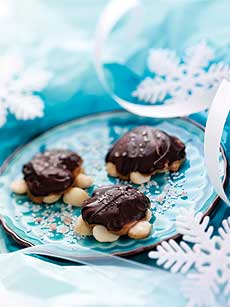 Who can resist these turtles? Not us!
t
Recipes: Butter Cookies
Page 3: Chocolate-Coated Cookie Recipes (Cheesecake Bars & Turtles!)

This is Page 3 of a five-page article. Click the black links below to view the other pages.
Espresso Chocolate Squares Recipe
Those who enjoy coffee with their dessert can also enjoy coffee in their dessert? A buttery chocolate layer forms the foundation of this rich, cheesecake-like bar. Chocolate, cheesecake and espresso: How can anyone resist?
Yields 2 dozen bars.
Ingredients
Crust

1-1/4 cups all-purpose flour
3/4 cup confectioner's sugar
1/4 cup unsweetened cocoa
powder
3/4 cup (1-1/2 sticks) butter,
chilled and cut into pieces
1/2 cup miniature semisweet
chocolate chips

Filling

1/4 cup heavy cream
1 tablespoon instant espresso
coffee powder
2 (8-ounce) packages cream
cheese, softened
1/4 cup (1/2 stick) butter, softened
3/4 cup sugar
1 tablespoon all-purpose flour
1/4 teaspoon ground allspice
2 eggs
Glaze
6 tablespoons miniature semisweet chocolate chips
1 tablespoon heavy cream
1/2 tablespoon butter
1/4 teaspoon instant espresso coffee powder
Preparation
Cookies
Preheat oven to 350°F.
Line a 9"x13"-inch baking pan with foil; butter bottom of foil.
For crust, whisk together 1-1/4 cups flour, confectioner's sugar and cocoa in medium bowl; add 1/2 cup butter. Using a pastry blender or 2 knives, cut in the butter until butter is the size of small peas. Stir in 1/2 cup chocolate chips; press into bottom of pan. Bake 20 minutes or until toothpick comes out clean; cool slightly.
For cookie batter, stir together 1/4 cup cream and 1 tablespoon instant espresso until coffee is dissolved. Using an electric mixer, beat cream cheese and 1/4 cup butter together. Add sugar, 1 tablespoon flour and allspice; beat until blended. Slowly beat in cream and coffee mixture. Add eggs, one at a time, beating until smooth. Pour batter over crust.
Bake 20 to 25 minutes or until edges are slightly puffed and center is set; set pan on a cooling rack.
Glaze
Melt 6 tablespoons chocolate chips with 1 tablespoon cream, 1/2 tablespoon butter and 1/4 teaspoon instant espresso in medium saucepan over low heat, stirring constantly.
Drizzle over bars and refrigerate until set. Cover and store bars in refrigerator for up to 1 week.
Island Sea Turtle Recipe
A twist on the classic turtle candy, this addictive confection is something delightfully different on the cookie plate. brings together macadamia nuts and bittersweet chocolate with a buttery coconut caramel. Topped with a sprinkling of sea salt, it's an irresistible blend of sweet and savory.
Yields 3 dozen pieces.
Ingredients
12 ounces dry roasted and
salted macadamia nuts
1 cup flaked sweetened coconut
1/2 cup (1 stick) butter
1 cup brown sugar, packed
1/2 cup light corn syrup
1 cup sweetened condensed milk
1 teaspoon pure vanilla extract
12 ounces bittersweet chocolate,
coarsely chopped
Sea salt, to taste
Preparation
Preheat oven to 400°F.
Line 2 baking sheets with parchment paper. Place macadamia nuts in 36 clusters of 4 to 7 nuts each, 2 inches apart; set aside.
Toast coconut in oven for about 5 minutes or until lightly browned. Pulse in food processor or chop into shorter strands.
Butter the inside of a heavy 3-quart saucepan. Melt 1/2 cup butter over low heat. Add sugar, corn syrup and sweetened condensed milk; mix well. Increase heat to medium-high and bring mixture to a boil, stirring frequently. Reduce heat to medium and continue to boil, stirring frequently until mixture reaches 244°F on a candy thermometer.*
Remove saucepan from heat, stir in vanilla and coconut. Cool slightly; spoon a tablespoon of coconut caramel over each nut cluster; cool completely.
Place chocolate in a microwave-safe dish. Microwave 30 seconds on high, stir and continue to microwave in 10- to 20-second intervals, stirring after each. Chocolate should be smooth, but not warm. Dip tops of caramel-nut clusters in chocolate and sprinkle with sea salt. Place in refrigerator to set chocolate. Store in an airtight container at room temperature, separating layers with wax paper for up to 1 week.
*Tip: To prevent the formation of sugar crystals in the caramel, wash down the sides of pan using a pastry brush dipped in water.
Go To Page 4: Savory Spice Cookie Recipes
Recipes copyright © Wisconsin Milk Marketing Board. All other materials © Copyright 2005- 2015 Lifestyle Direct, Inc. All rights reserved. Images are copyright of their respective owners.