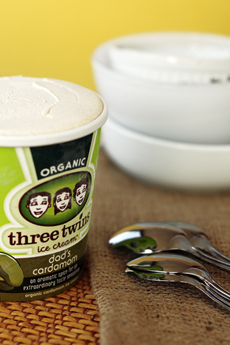 Dad's Cardamom shows why there should be more cardamom ice cream in America. All photography by Katharine Pollak | THE NIBBLE.

KAREN HOCHMAN is Editorial Director of THE NIBBLE.

Three Twins Ice Cream
Organic, Sustainable Superpremium Ice Cream
This is Page 2 of a two-page review. Click on the black links below to visit the other page.
Organic Ice Cream Flavors
The flavor profile is elegant and restrained. Although this is a French custard recipe (with egg yolks), there is more milk than cream, so the richness isn't obvious.
Rotating flavors are available at Three Twins scoop shops and by the pint. Flavors are seasonal—for example, strawberry season, which will be upon us soon, should yield yummy organic strawberry ice cream. Here's what we were able to enjoy last month:

Cookies & Cream hits the spot.


Peanut Butter Chocolate is creamy, not crunchy.
Vanilla Chocolate Chip. The Madagascar Vanilla ice cream is accented with many tiny chips instead of larger "standard" sizes. It makes sense (as do shaved flakes): Who wants to crunch into large frozen-solid pieces of chocolate?
Now we're dying to try Cookie Jar (vanilla with 3 types of cookies), Mint Confetti (mint ice cream with flecks of dark chocolate), PBC3 (peanut butter cookie confetti crunch) and Strawberry Je Ne Sais Quoi (strawberry with a splash of balsamic vinegar).
We're bringing a copy of this review to our Whole Foods manager and telling him that we want to see them in the freezer case—next week!

BOULDER ICE CREAM COMPANY
Bittersweet Chocolate, The Chocolate Project, Cookie Jar, Cookies & Cream, Dad's Cardamom, Madagascar Vanilla, Milk Coffee, Milk & Cookies, Mint Confetti, Mocha Difference, PBC3, Peanut Butter Chocolate, Strawberry Fields, Strawberry Je Ne Sais Quoi and Vanilla Chocolate Chip

4 Pints Delivered
$45.00
6 Pints Delivered
$60.00

Purchase online* at
ThreeTwinsIceCream.com

*Prices and product availability are verified at publication but are subject to change. Shipping is additional. These items are offered by a third party and THE NIBBLE has no relationship with them. Purchase information is provided as a reader convenience.


You need to try more than one pint to get a flavor
of Boulder Ice Cream.
© Copyright 2005-2015 Lifestyle Direct, Inc. All rights reserved. Images are the copyright of their respective owners.