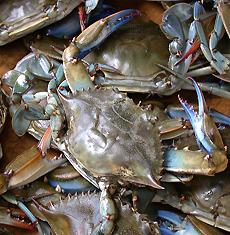 Blue swimmer crabs are among the prettiest of the crab family. These are Mediterranean crabs, from Piraeus, Greece. Photo courtesy of Wikipedia.org.

November 2007
Last Updated May 2010

Crab Types & Grades Of Crab Meat
Page 5: Crab Glossary-Asian & European Crabs

This is Page 5 of a six-page article and glossary. Click on the black links below to see other pages.

Asian Crabs
European Crabs
Continue To Page 6: What To Look For In Canned Crab Meat & The Crab Book
© Copyright 2005-2015 Lifestyle Direct, Inc. All rights reserved. Images are the copyright of their respective owners.