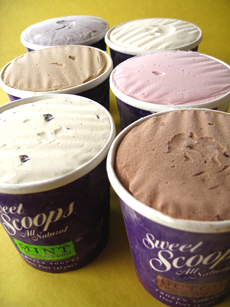 Sweet Scoops frozen yogurt, in regular and seasonal flavors, tastes like creamy, rich ice cream. Photography by Emily Chang | THE NIBBLE.

KAREN HOCHMAN is Editorial Director of THE NIBBLE.

Sweet Scoops Probiotic Frozen Yogurt
Part 1: Frozen Yogurt Flavors
CAPSULE REPORT: It's delicious, cold and sweet, and it has live probiotic cultures of L. Bulgaricus and S. Thermophilus that help with digestion. It's all-natural and made from rbst-free milk. Amazingly, it tastes like rich, creamy ice cream, not yogurt. Sweet Scoops is also certified kosher, but we didn't need any kind of certification to enjoy every pint we ordered. With eight flavors and two seasonal flavors, frozen yogurt and ice cream lovers have a new line to cherish. This is Page 1 of a two-page article. Click on the black links below to visit Page 2.
Introduction
Sweet Scoops currently has retail distribution in the Northeast U.S., but we are doing our best to get it noticed nationwide. You can order it online and get it the next day. But, ladies and gentlemen, if you want more delicious probiotic food choices 24/7, ask your retailer to bring it in. It should fly off the shelves, because there is no more delicious way to get your probiotics—or get your kids to eat them. Even if you don't need probiotics, you'll love the fresh flavor. You can tell that this milk comes from cows who graze on good New England pasture.
Sweet Scoops is a family business based on serendipity. In New Hampshire, Brian Murray's favorite scoop shop shut its doors, and he didn't want to be left frozen yogurt-less. His father was looking for a new project and opened a frozen yogurt shop as a seasonal enterprise, and a few seasons later, suggested that Brian turn it into a career. Mom and sister joined the business, and ten years later, have a thriving regional business.
Frozen Yogurt Flavors

Common wisdom is that you should start with the vanilla to tell if a line of ice cream (and, by association, frozen yogurt), is going to be good. The Madagascar Vanilla is lovely, as are all of the eight core flavors. Ingredients are top-quality, and the fruits taste fresh-from-the-bush (or tree). We were transported to that summer scoop shop, where everything is made fresh, daily or weekly, from locally-farmed ingredients.

Black Raspberry
Coffee, Cookies & Cream
Dutch Chocolate Chip
Ginger
Madagascar Vanilla
Mint Chocolate Chip
Mudslide Chocolate Chunk
Peach Mango
Pumpkin (seasonal)
Wild Maine Blueberry (seasonal)




Delicious vanilla, with added-value probiotics.
We enjoyed every bite of every pint, with some comments noted below.
Mudslide Chocolate Chunk has a wee bit of coffee liqueur, which adds to its allure, but isn't prominently noted on the top or front panels.
The Mudslide Chocolate Chunk flavor also includes large chunks of semisweet Callebaut chocolate, 3/8 x 5/8 inches. As impressive as they look, our suggestion would be retool them with the chips used in the Mint and Dutch Chocolate Chip. When frozen, the surface area of the chunks is too large to crunch into comfortably, and the size doesn't melt quickly enough in the mouth to enable one to enjoy the excellent chocolate flavor. Instead, you have a frozen chocolate chunk too cold to show its breed. Still, this did not stop us from polishing off the pint.
Continue To Page 2: Comparison To Ice Cream
© Copyright 2005-2015 Lifestyle Direct, Inc. All rights reserved. Images are the copyright of their respective owners.