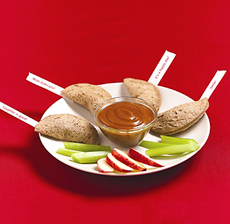 Wowie zowie: These PB sandwiches have been reinvented as "fortune cookies" filled with PB, apples and celery, with an Asian-style peanut dipping sauce.

August 2008
Updated August 2009

Peanut Butter Sandwich Recipes
Amaze Your Family With These Award-Winning Peanut Butter Sandwiches
Recipe 1: Crunchy Chinese Fortune Cookie Sandwich
CAPSULE REPORT: Last fall, The J.M. Smucker Company, maker of Jif peanut butter, held its sixth annual "Most Creative Peanut Butter Sandwich" contest for kids, with college scholarship awards. Even though the creators of these sandwiches are all under the age of 13, adults will enjoy them, too. Even better, they make a wonderful adult-child cooking activity. This is the first of six recipes. Click on the black links below to see the other recipes. For information on the current year's contest, visit Jif.com.
Crunchy Chinese Fortune Cookie Sandwich
Eleven-year-old Samuel Sosa of Riverside, California took the grand prize with his Crunchy Chinese Fortune Cookie Sandwich. The fortune cookie-shaped sandwiches are served with an Asian-inspired dipping sauce of creamy peanut butter, coconut milk, soy sauce, brown sugar, lemon juice, sesame oil and chile powder. The whole wheat bread provides valuable whole grain nutrition. To give the sandwich extra kick, you can sprinkle additional chili powder in the filling.
Ingredients
Sandwich
4 slices of wheat bread
3 tablespoons creamy peanut butter
1 tablespoon finely diced celery
1 tablespoon finely diced apple
Extra apples and celery for garnish and dipping
Dipping Sauce
1/4 cup creamy peanut butter
1/4 cup coconut milk
1 tablespoon soy sauce
1 tablespoon brown sugar
1 tablespoon lemon juice
1/2 teaspoon sesame oil
1/2 teaspoon chili powder
Fortunes
Plastic lids from butter, sour cream, yogurt or other containers, cut into "fortune" strips
Permanent marker
Preparation
To make the dipping sauce, combine all ingredients in small saucepan and cook over low heat while stirring with a wire whisk. When the mixture starts to bubble and thicken, remove from heat and let cool.
While the dipping sauce is cooling, roll flat with a rolling pin the four slices of bread. Use a large circle-shaped cookie cutter to cut each slice of bread into a circle.
Mix the three sandwich mix ingredients together in a small bowl. Place a tablespoon of mix into the center of each circle-shaped piece of bread. Fold the bread in half so the sandwich is now a half-circle. Crimp the edges of the sandwich together with your fingers to contain the mix inside. Then, while holding the center of the sandwich, pull the sides of the sandwich down so the edges touch each other, forming a fortune cookie shape.
Cut apple slices and celery sticks to eat with the Chinese dipping sauce. (Note: Because apple flesh browns when exposed to air, cut them close to serving time.)
To make fortunes for your fortune cookies, use a clean plastic lid from a tub of butter, yogurt, or sour cream. Cut small plastic strips, then write fortunes on them with a permanent marker. Tuck the edge of a fortune into the edge of each fortune cookie with the fortune facing down, so it will be a surprise to whomever selects the sandwich.
Once the dipping sauce is at room temperature, serve the Crunchy Chinese Cookie Sandwiches on a platter along with apple slices and celery sticks and a cup of dipping sauce.

Next Recipe: P-Nutty Chicken Wrap
Recipes © Copyright The J.M. Smucker Company. All other material © Copyright 2005- 2015 Lifestyle Direct, Inc. All rights reserved. Images are the copyright of their respective owners.