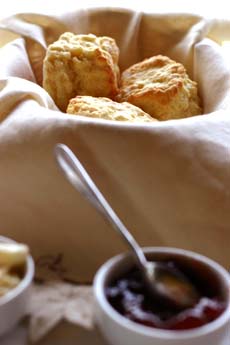 STEPHANIE ZONIS is a contributing editor.


June 2006
Updated December 2008

The Best Strawberry Jams & Preserves
Page 4: What To Look For In A Jam
This is Page 4 of a seven-page article. Click on the black links below to visit other pages.
What To Look For In A Jam
What makes a good jam or preserve? Before you even open the jar, look at the color. If it's strawberry, does it retain any red color? Because jams and preserves are cooked, their color won't be as red as that of a fresh strawberry, but they should still be red, although not aggressively so. If you're looking at a preserve, do you see any chunks of fruit in the jar?
Most jams or preserves won't have a strongly fruity aroma in the jar, even when first opened. However, jams/preserves should smell pleasant, with some fruit aroma, and never have a burned or "off" smell.
| | |
| --- | --- |
| Do you like your jam thin, or thick and chunky like the preserves above? Photo by Tyler Olson | BSP. | How's the consistency? Some people like a thinner spread, while others insist on something thicker. Some of the jams or preserves in this review were definitely on the thin side; conversely, others were very stiff. This can make a genuine difference to consumers. A jam or preserve that is very thin may drip off a slice of toast, while one that is stiff may tear bread or refuse to spread to any significant degree. How about chunks of fruit? Large chunks of fruit in a preserve, delightful to some, will leave others gnashing their teeth over the difficulty of spreading it readily. Think about the texture of those fruit chunks, as well. Are the chunks hard? Are they mushy? Fruit chunks in a preserve should retain some texture, but they shouldn't be at all difficult to chew. |
There are a number of aspects to the flavor of a jam or preserve. First off, it should taste like the fruit (or fruits) from which it is made. Sweetness should not be the predominant taste! It can be helpful to look at the product label; if sugar or another sweetener is the first ingredient listed, your strawberry jam may not have much strawberry flavor. If there is more than one fruit, you should get the flavor of both (or all). How's that balance? If there is lemon juice or zest in the preserve, does it overwhelm the taste of the fruit?
Finally, think about the aftertaste, if there is one. Is the lasting impression that of fruit? Sugar? Lemon? Jams and preserves should have a clean aftertaste; it shouldn't be syrupy-sweet. And the aftertaste shouldn't be unpleasant. In a top product, it should be berries all the way.
Have Some Brunch With Your Jam
Brunch: 100 Recipes from Five Points Restaurant, by Marc Meyer and Peter Meehan. If you can't get to Manhattan's popular Five Points restaurant, you can still enjoy brunch, with this delicious book. Ricotta cheese pancakes, waffles with rhubarb compote and sweet potato hash will make brunch at your house the hot event in town. Click here to purchase.
The Big Book of Breakfast:
Serious Comfort Food for Any
Time of the Day, by Maryana
Vollstedt. Basic recipes plus
highly original and creative ones, including Green Eggs and Ham. Readers love the "stress-free recipes" and one states that the recipe for Shrimp and Artichoke Strata alone is worth the price of
the book. Click here to purchase.
Breakfast and Brunches, by Culinary Institute of America. The professionals who train some of the best chefs in the country present excellent, easy-to-follow recipes, from the traditional to the very modern, with exquisite photos to match. Whether you feel like serving sticky buns, palmiers with prosciutto or watercress sandwiches, you'll find it here. Click here to purchase.
Continue To Page 5: Taste Testing Methods
© Copyright 2005-2015 Lifestyle Direct, Inc. All rights reserved. Images are the copyright of their respective owners.