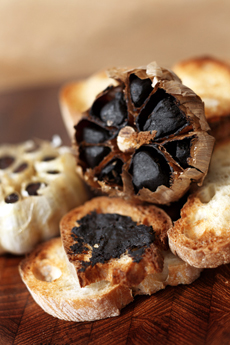 Like roasted garlic, black garlic can be used as a spread—and in many recipes. All photography by Katharine Pollak | THE NIBBLE.
KAREN HOCHMAN is editorial director of THE NIBBLE.

Black Garlic
A New Take On An Old Favorite
CAPSULE REPORT: Umami flavors. Black gold. Better than roasted garlic—and you don't have to roast a thing. These are some of the things said about black garlic, a product from Korea that's now hot. Black garlic—the cloves turn black when the bulbs are fermented—has notes of soy sauce, molasses and tamarind (some find notes of balsamic vinegar). It's as much akin to fresh garlic as a gherkin is to a cucumber. What should you do with it? Find out here! This is Page 1 of a four-page article, including recipes. Click on the black links below to visit the other pages.
Introduction To Black Garlic
Black garlic was was developed about 10 years ago by a company in Korea, and has been available to American chefs for about two years. But until now, it hasn't been easy for consumers to find it.
Last summer, at a major trade show for consumer specialty foods, a company selling black garlic revealed an entire line of black garlic products imported from Korea. Now people who shop at upscale supermarkets can find a package of two bulbs for $3.99 or a five-ounce tub of peeled black garlic cloves for $10.99. (There is no brand name; the name of the company is Black Garlic Inc., in tiny letters on the back of the bag.)
When we tried black garlic at the trade show, the importers were encouraging us to pop the cloves into our mouths and eat them like edamame. There was also a black garlic juice. Both were too strong for us consumed straight, but have numerous applications in cooking.

Some fans claim that black garlic is like roasted garlic, only better. The truth is, like anything off the beaten menu path—bottarga, toasted seaweed or salmon caviar, to name everyday examples that most people don't eat regularly—if you happen to like the flavor, then it's better.

Our take: It's an unusual Asian flavor. Some people will love it, some won't. (We're sufficiently overwhelmed by the number of people who despise cilantro, a much more innocuous flavor, to guess at what percentage of "foodies" will take to black garlic.)




For $3.99 or so, you can try a two-bulb bag.
Black garlic has a complex aroma that starts off as sweet-and-tart like tamarind, followed by subtle roasted garlic notes. Regular garlic becomes sweet when roasted garlic. With fermented black garlic, the sweetness smacks of molasses and soy.
The texture of black garlic is not soft, like its roasted cousin, but firm. It can easily be easily sliced with a fork, but it isn't mush inside. It's the difference between hot oven cooking and cold fermentation.
Whether or not it floats your garlic boat, black garlic is a welcome newcomer to people who are always seeking new flavors. One can imagine why chefs have been excited about it: They're always looking for something new, to test their chops and to excite their customers.
Unlike fresh garlic, using black garlic in a recipe requires a bit of experimentation. We found our dishes were either too subtle or too strong in black garlic flavor. But, experimentation is part of the fun of working with something new. Pick up a package for a foodie friend. The attractive package makes it high-perceived value gift vis-à-vis the $3.99 cost.
Continue To Page 2: How Black Garlic Is Made
© Copyright 2005- 2015 Lifestyle Direct, Inc. All rights reserved. Images are the copyright of their respective owners.