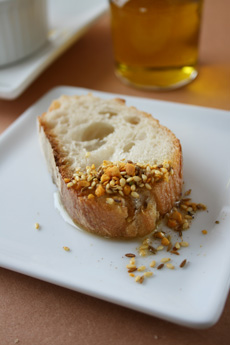 Dukkah close-up: Note the chopped hazelnuts, sesame seeds, fennel seeds and olive oil. Photography by Hannah Kaminsky | THE NIBBLE.
EMILY CHANG is a New York-based writer.

Oregon Dukkah
Page 2: Oregon Dukkah Savory Varieties
This is Page 2 of a six-page article. Click on the black links below to visit other pages.
Dip Like An Egyptian...And Western-Style, Too
In the process of adapting the ancient Egyptian dukkah concept to American recipes—from hors d'oeuvres to mains to desserts, from savory to sweet—chef Donna Dockins shows how dukkah is well poised to become the next go-to ingredient. East definitely meets West. Instead of chickpeas, Oregon Dukkah takes advantage of Oregon's native hazelnut crop, with delicious results.
While the Oregon Dukkah website may invite us to "dip like an Egyptian" (to consume dukkah with bread dipped in good oil, the classic Egyptian way), Chef Dockins makes it easy to contemplate veering from this traditional route by way of recipe suggestions for seafood, meat, salads and even desserts like French toast and caramelized bananas. Recipe suggestions can be found at the end of this article. On this page we'll focus on savory uses. Beyond dipping, dukkah can be:
Sprinkled on salads and vegetables (try it on potatoes and rice)
Used as a breading for chicken, fish and other seafood, lamb and tofu
Used as a garnish for soups
Mixed into, or sprinkled atop, eggs
Sprinkled on toast with olive oil or butter
Sprinkled as a plate garnish for anything from artichokes to steak
Oregon Dukkah makes this even easier, with three savory flavors of dukkah, plus the Coconut Dukkah on the next page, which works well as a coating for chicken and fish and a salad sprinkle.
Varieties Of Oregon Dukkah
While Oregon Dukkah is divided into savory and sweet flavors, crossover is definitely possible when it comes to using them in recipes. For instance, Dockins suggests using the Sweet Dukkah in a salad with oranges. Taste all five and you'll become inspired to use them in different recipes that feature each unique flavor.
Traditional Dukkah
We always judge a product by its traditional or original flavor, and Traditional Oregon Dukkah did not disappoint. It tastes strongly of spices and herbs such as fennel and turmeric. This would be our go-to flavor for classic dipping, served alongside a basket of bread and a plate of good-quality olive oil. It would also be a suitable addition to a main course—for example, the turmeric in the mixture would pair well with roasted cauliflower and other vegetables.

Smoky Hot Dukkah
Moving beyond more gentle spices, here smoked paprika and chipotle chiles add a definitive punch to the mellowness of the nuts and sesame seeds. Don't expect the type of heat that numbs your taste buds. Rather, it's heat with smokiness that you can taste—and it will add great flavor to seafood or Cajun recipes.




Roll a log of goat cheese in Smoky Hot Oregon Dukkah, or add it to recipes.
For an appetizer or snack, roll a creamy goat cheese log in the Smoky Hot dukkah and serve with bread or crackers. Of the five varieties, the Spicy Hot is best suited for adding flavor to your cooking, rather than "dipping like an Egyptian."
Zesty
The Zesty variety is one of our favorites, because of the addition of sumac, a deep reddish-purple Middle Eastern spice from a berry, that adds tart, lemony flavor—it served as the tart/acidic element in Middle Eastern cooking prior to the introduction of lemons by the Romans. Sumac is still an essential spice throughout much of the Middle East. Its poisonous cousin grows in the U.S.

Although Zesty Oregon Dukkah tasted great with bread and oil, Dockins suggests that it can add pronounced flavor in dishes like salads or pilafs, and we can't help but concur. Use it as a coating for fish and chicken fillets, sprinkle it on salads and hummus, try it in any dish that would benefit from a squeeze of fresh lemon juice.




Coat a fish or chicken fillet with Zesty Oregon Dukkah; sprinkle it on salads or rice.
Continue To Page 3: Sweet Dukkah Varieties
© Copyright 2005- 2015 Lifestyle Direct, Inc. All rights reserved. Images are the copyright of their respective owners.