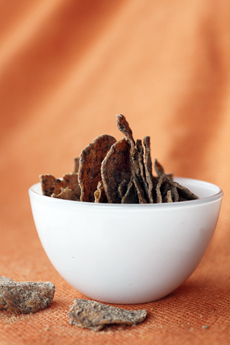 Beanitos Black Bean Chipotle BBQ Chips has a smoky sweetness. Photo by Katharine Pollak | THE NIBBLE.
CHRISTINA GONZÁLEZ is an Editorial Intern at THE NIBBLE.
February 2010
Updated September 2010

Take A Bite Of Black Bean Chips & Pinto Bean Chips
The Flavors Of Beanitos
This is Page 2 of a two-page article. Click on the black links below to visit the other page.
Flavors Of Beanitos

Black Bean Chips

Black beans, popular in many bean dishes and bean-and-rice combinations worldwide, are a distinctly flavorful variety with an earthy taste. Black Bean Beanitos combine that taste with a firm crunch.

After the initial bite, the full bean flavor comes through, as the chip becomes almost the consistency of bean dip on your tongue. It's a little like eating chips and dip in one!

Sea salt (80mg per serving) helps to bring out the complex flavor of the beans. We loved this chip at first bite.

Black Bean Chipotle BBQ Chips

True to its name, Beanitos Chipotle BBQ flavor is a little bit sweet at first taste, with a mild heat that can be lasting on the tongue.


Black Bean Beanitos are a real treat for bean-lovers! Photo by Hannah Kaminsky | THE NIBBLE.
Even if you're not a big fan of spicy foods, the chips as a whole are more mild with a smoky sweetness, but they don't skimp on the flavor at all. The layers here should please barbecue sauce and black bean fans, as well as those who love the distinct taste of chipotle peppers.
This variety uses the Black Bean Beanitos as a base, and contains the same 140 calories and 7g fat per serving. There's even less than 1g of sugar per serving. So if you're looking for something a little sweet and a little spicy, give these a try.
Pinto Bean & Flax Chips
Pinto beans are the most commonly eaten bean in the United States, and are often feature in Tex-Mex and Southwestern cuisine. Pintos are the main component in refried beans, burritos are stuffed with them and they're also served over rice.
Pinto beans have a relatively mild flavor, so they take seasoning well. Beanitos Pinto Bean & Flax chips strike a good balance between letting the taste of the pinto beans— creamy and subtle—shine through alongside the complementary nutty taste of flax. The Omega 3-rich flaxseeds add dimension in both flavor and texture. While they don't taste excessively salty, this variety has more than twice the sodium than the Black Bean at 190mg per one ounce serving, so it's a tradeoff: more Omega 3s versus less sodium.
Pinto Cheddar Cheese Chips
Made with all-natural ingredients, this is the corn-free answer to nacho cheese chips— minus the artificial, neon orange-coated fingers. Based on their Pinto & Flax chip, this variety combines cheddar and romano cheeses with a flavor blend that includes onion, garlic, paprika and capiscum. These have a definite kick, especially after eating a few.
As with all varieties of Beanitos, the taste experience goes from crunchy chip to bean dip all in one, this time with spicy cheese in the mix. Healthy snackers rejoice, because there are only 140 calories and 8g of fat in each one-ounce serving.
Serving Suggestions

Both Beanitos bean chip varieties are definitely worth a trek to the store or a click to order online.
We love Beanitos alongside light lunch of salad and soup, but they'd also pair well with chili or with a sandwich instead of potato chips or tortilla chips.
The fiber and protein will fill you up and keep you satiated, and since there's no sugar and the glycemic load is low, they won't quickly turn to sugar in your system (like potato chips).
You don't have to be a bean lover, following a gluten-free or vegan diet or looking for a healthier way to snack to bite into Beanitos.
Black Bean, Black Bean Chipotle BBQ, Pinto Bean & Flax, Pinto Cheddar Cheese

6-Ounce Bag


$3.99
Box Of 9 Bags
$29.99

Purchase online* at SnackWarehouse.com, Amazon.com or at fine food stores, including Whole Foods Markets.

Prices and product availability are verified at publication but are subject to change. Shipping is additional. These items are offered by a third party and THE NIBBLE has no relationship with them. Purchase information is provided as a reader convenience.



Even if you don't eat lots of beans, you'll love these bean-based chips. Photo by Hannah Kaminsky | THE NIBBLE.
Recent Articles From Our NutriNibbles™ News Feed:
Subscribing notifies you whenever there are
new additions to the NutriNibbles™ section.

Subscribe to THE NIBBLE™ NutriNibbles™ by Email
© Copyright 2005-2015 Lifestyle Direct, Inc. All rights reserved. Images are the copyright of their respective owners.