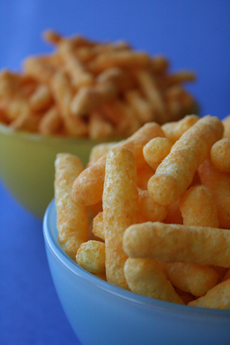 Michael Season's Cheddar Cheese Puffs (front) and Chili Cheese Puffs (rear) offer real cheese flavor with reduced fat. Photography by Daniela Cuevas | THE NIBBLE.
KAREN HOCHMAN is Editorial Director of THE NIBBLE.

Michael Season's Cheese Puffs & Other Reduced-Fat Cheese Snacks
Page 2: Varieties Of Cheese Puffs, Cheese Curls & Cheese Pops

This is Page 2 of a three-page review. Click on the black links below to visit other pages.
Reduced Fat Cheese Puffs & Cheese Curls
We had quite a snack-a-thon, comparing Michael Season's regular line, called the "Ultimate" Cheese Puffs, Curls, etc., to the reduced fat line, called "Baked." Overall, the Baked line scores as well or better than the Ultimate, proving that reduced-fat foods can be just as pleasing as the full-test.

Baked Cheese Curls

The Baked Cheese Curls (photo at right) have over 60% less fat than Michael Season's regular, Ultimate Cheese Curls (4.5g compared to 12g fat per cup). They have very good cheese flavor, although we could do with just a tad less salt (200mg per cup, but the regular Cheddar curls taste a tad salty when we just want them to taste cheesy). The Cheese Curls are also crunchier than the Cheese Puffs, so it's up to you as to whether you want a crunchier cheesy snack or a better version of the nostalgic cheese puff.

Cheese Curls are twists rather than curls, but don't be a stickler for description because they're reduced fat and delicious!
Compared to the Ultimate Cheese Curls, the Baked Cheese Curls are much crunchier, cheesier, and overall more flavorful. And that's comparing a Baked Cheese Curl bag that was open for more than a month to a freshly-opened Ultimate Cheese Curl bag. Score for the reduced fat version.
Baked Cheese Curls are available in Cheddar and Cheddar With Hot Chili Pepper. We liked both very much; the Hot Chili Pepper, which is lightly hot but hardly palate-numbing, is a great snack with a beer.
Baked Cheese Puffs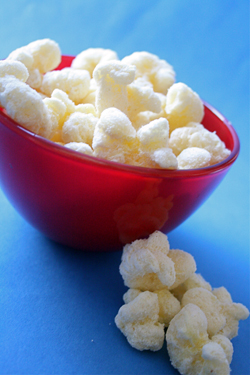 The ultimate Cheddar Puff was crunchier than the Baked Cheese Puffs (photo at top of page), but here the Ultimate Cheddar Cheese Puffs were cheesier and saltier (the Baked have 100mg sodium/cup). Still, at 60% reduced fat (2.25g vs. 5.5g) and 55 fewer calories (65 vs. 120) per cup, you can decide what's more important to you. We wish Mr. Season would go back to the drawing board, put more cheese in the Baked/Reduced Fat and get rid of some of the salt in the Ultimate.
Still, we'd opt for the savings in fat and calories, any day of the week—the extra cheese flavor in the Ultimate wasn't worth the overt salt. We know that many people are partial to a high level of salt, but, like foods that are highly sugared, it's something that we've been trained to like by food manufacturers, something we should seek to cut back on, and something that flies in the face of opting for a reduced-fat product. Also
Photo above: White Cheddar Pops.
Baked Cheese Pops
The lightest of the line, Baked Cheese Pops are made with white Cheddar and 40% organic cornmeal. They're fun and tasty, but milder, with less cheesy oomph than the yellow Cheddar Cheese Puffs or the crunchier Cheese Curls. They're 56 calories per cup, 18 calories (2g) from fat. They have less sodium (60mg) in both measure and flavor, which is why we might choose this variety over the others. Otherwise, we'd go for the superior crunch and cheesiness of the Curls or the Puffs. (Note that the cheese pops have so much less fat and calories than the curls in part because they have so much more air.) Michael Season's Ultimate White Cheddar Puffs, the closest comparison to the Baked White Cheddar Pops, are, yes, cheesier, saltier, crunchier and higher in everything else: 1 cup has 120 calories.
MICHAEL SEASON's Baked CHEESE PUFFS & CHEESE CURLS

Regular & Reduced Fat Cheese Puffs & Cheese Curls

Certified Kosher (Dairy) By KOF-K
Gluten Free

5.5-Ounce Bag Baked Cheddar Puffs & Baked Hot Chili Pepper Curls
6-Ounce Bag Baked Cheddar Curls, Ultimate Cheddar Puffs & Ultimate White Cheddar Puffs
8-Ounce Bag Ultimate Cheddar Curls
4-Ounce Bag Baked Pops
$2.59/Bag

Purchase online* in cases of 12 at SeasonsSnacks.com

The chips are also available at fine food stores nationwide.

The online store currently only lists the Baked Cheese Curls and Baked Cheese Puffs. If you can't find the products locally, call 1.630.628.0211 or write info@seasonssnacks.com.




*Prices and product availability are verified at publication but are subject to change. Shipping is additional. These items are offered by a third party and THE NIBBLE has no relationship with them. This link to purchase is provided as a reader convenience.
Go To Page 3: Multigrain Baked Cheddar Chips
Recent Articles From Our NutriNibbles™ News Feed:
Subscribing notifies you whenever there are
new additions to the NutriNibbles™ section.

Subscribe to THE NIBBLE™ NutriNibbles™ by Email
© Copyright 2005-2015 Lifestyle Direct, Inc. All rights reserved. Images are the copyright of their respective owners.