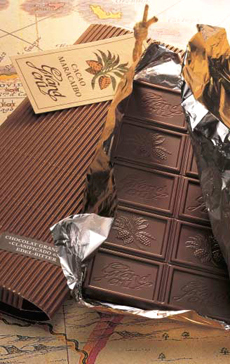 Felchlin's Maracaibo Clasificado 65% couverture was named the best couverture by the Italian Pastry Academy. A pure Grand Cru Chocolate made of Criollo beans from Sur del Lago, Maracaibo, Venezuela, it has aromas of coffee and plum and notes of orange blossom, cinnamon and raisin. Visit Felchlin.com for more information.
KAREN HOCHMAN is Editorial Director of THE NIBBLE.
October 2006
Updated February 2009

Understanding Couverture Chocolate
Page 3: Choosing Couverture ~ Example, Felchlin Chocolate
This is Page 3 of a four-page article on couverture chocolate. Click on the black links below to visit other pages.
How Couverture Is Different From Eating Chocolate
Couverture is tempered so that it will form a thin, smooth, shiny coating on hand-dipped candies. The extra cocoa butter, generally 36% to 39%, makes it easier to work with, allows for a thinner shell coating and gives it a different texture and consistency than non-couverture chocolate, i.e. chocolate bars. (Bars for eating can be 25% to 33% cocoa butter, depending on the quality of the bar.)
Can you eat couverture? Of course! Some people might even prefer it because of the extra cocoa butter, which creates a creamer mouthfeel. One of the highlights of trade shows for us is digging into the huge block of white Chocovic—one of the best white chocolates we have ever tasted, and not available for purchase as a consumer product.
Choosing Couverture Chocolates
Each chocolatier decides which brand of couverture to use, depending on his or her personal tastes. Some use more than one brand and/or different blends of beans,

origin cacao

or percentages of cacao within a brand, based on their feeling that specific couvertures pair better with particular items. For example, even within semisweet chocolate, one couverture might taste better with nuts; another with fruits, fruit cremes and peel; another with caramels and toffee; and yet another with plain bars and ganaches.




Guittard, one of our favorite American couvertures.
For example, at these different descriptions of Felchlin couvertures will have you matching them to different kinds of chocolates and truffles:
Felchlin Maracaibo Creole 49% Cacao (Criollo beans from Sur del Lago, Maracaibo, Venezuela.) A 49% cacao is the most intense level of milk chocolate; 50% is the demarcation line for semisweet.† Details: Aromatic and fruity, a creamy taste combined with a delicate cream-caramel note. A sense of a light vanilla-bourbon aroma with a hint of honey, and a fresh, fruity raspberry finish.


†There is a new category of milk chocolate that has a higher than normal percentage of cacao, which gives these chocolates the deep flavor of a semisweet bar with the extra milkiness of a milk chocolate bar. Slitti, an Italian producer, makes a magnificent line called Lattenero ("milk-dark") in 45%, 51%, 62% and 70% cacao. The 70% bar looks as dark as any 70% bittersweet bar, but contains milk and has the milky flavor and smoothness, without the sugary sweetness. It is 70% cacao, 30% sugar; whereas the 45% bar is a more traditional milk chocolate recipe with more sugar than cacao: 45% cacao, 55% sugar.

Felchlin Madagascar 64% Cacao (Trinitario beans from Sambirano, Madagascar). Well-balanced, fruity cocoa is entwined with a mild aroma of roasted hazelnuts and with a fresh note of wild berries. On the palate, a subtle citrus enhanced with a hint of clove and cedar, leading to a long finish.
Felchlin Maracaibo Clasificado 65% Cacao (Criollo beans from Sur del Lago, Maracaibo, Venezuela.). The well-balanced combination of aromatic coffee and plum aroma enhances the distinct cocoa flavor. The flavors yield hints of orange blossom and cinnamon, enhanced with a light sweet raisin bouquet leading to a long finish.
Felchlin Arriba 72% Cacao (Nacional [a.k.a. Arriba] beans from Arriba Mocache, Los Rios, Ecuador). The cocoa taste is enhanced by the intensive coffee and licorice aroma. Full-bodied and well-balanced, intensive dried prune bouquet with with a delicate trace of spice, slightly bitter, leading to a long finish with a light, flowery black-currant note.
Origin Couverture
Most fine couverture producers offer a variety of origin chocolate, as well as house blends in different percentages of cacao from milk to semisweet to bittersweet. (See our Chocolate Glossary for definitions of all chocolate terms and our descriptors of Single Origin Chocolate.)
Origin Vs. Blends. Some chocolatiers use the manufacturer's straight product, which is available in pure origin (as shown in the Felchlin illustration above) or house blends. Other chocolatiers blend different blocks of the manufacturer's couverture to get their desired flavor result. Still others might have the chocolate manufacturer blend a special "recipe" according to the chocolatier's own specifications (e.g., more cocoa butter for a smoother mouthfeel, more Venezuelan beans in the mix for a fruitier chocolate).
Brands. While all of the brands on the previous page are used by different chocolatiers, and some chocolatiers use multiple brands, brands popular among U.S. chocolatiers include Callebaut, El Rey, Guittard and Valrhona. Callebaut and Guittard chocolate are certified kosher (as is Scharffen Berger, which is popular with pastry chefs), so chocolatiers who want to make the finest kosher chocolate generally choose one of these brands. (Read more about kosher chocolate brands.)
Continue To Page 4: How To Determine Your "Flavor Profile"
© Copyright 2005-2015 Lifestyle Direct, Inc. All rights reserved. Images are the copyright of their respective owners.