Gourmet Chocolate House Tour
The World's Great Chocolate Houses
Page 2: France (cont'd) & Italy
On our first tour, in 2005, we visited these great chocolate producers (in alphabetical order):
Amedei (Italy), Chocovic (Spain), Domori (Italy), El Rey (Venezuela), Michel Cluizel (France),
Pierre Marcolini (Belgium), Pralus (France), Scharffen Berger* (U.S.), and Valrhona‡ (France).
*Kosher †Organic ‡Some Organic Items
In 2006, our tour took us to Bonnat* (France) Dagoba*† (U.S.), Guittard* (U.S.),
Plantations (U.S.) and Santander* (Colombia). Whither in 2007? So much great
chocolate, so little time! Stay tuned!
ON THIS PAGE:

Pralus

Dark • Smoky • Origin-Driven
The legacy of Pralus (pronounced prah-LOO) began in 1955 when Auguste Pralus opened up a patisserie in Roanne. His son François took over in 1988 and continues the family business today, with an especially keen focus on single origin chocolate. After studying with the finest pastry chefs including the renowned Jean Jacques Bernachon in Lyon (the first patissier to discover the superiority of single origin Chuao over cacao blends and to use it in his chocolates), François decided to pursue his own passion—producing chocolate from bean to bar.
François' passion for cacao caused him to search the equator for the finest. He has narrowed his sources to a few suppliers from South America, Africa, and Asia. Since the early 1990s, François has been zealous about the importance of origin. His hard work has paid off in the form of national and international awards, including the Grand Prix d'Excellence International du Chocolat in 1996 and 1997.
What to Know Before You Go
Pralus' style is rather distinct and characteristic of a dark roast; in fact, of all of the great chocolates, this is the most roasted. No matter which bar you taste, each has a "dark" and caramelized tone that dark roasting contributes to the chocolate, regardless of bean species and origin. Where Valrhona represents the extreme side of light roasting (sharp fruitiness), the caramel flavors in Pralus characterize the dark side—think of it as the "espresso" of cacao. Pralus' texture is slightly thick in the mouth, mainly because the bars have a high cacao content. Generally speaking, the higher the cacao percentage, the thicker the mouthfeel.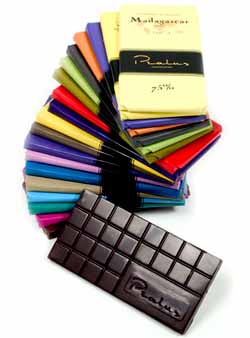 Points Of Interest
The Pyramide des Tropiques is the result of Pralus' search for the finest cacao. This collection of bars includes ten single-origin chocolate bars of 75% cacao content, each from a single bean type. The ten bars are decoratively wrapped and stacked together in a cube (pyramid means cube in French), creating one of the greatest chocolate tasting tours on earth.
Take a trip around the world with François Pralus as he shares his favorite beans and the chocolate bars he has created from them: to Madagascar (the Criollo bean), Indonesia (Criollo), Colombia (the Trinitario bean), Venezuela (Trinitario), Trinidad (Trinitario), Jamaica (Trinitario), São Tomé (the Forastero bean), Vanuatu (Trinitario), Ghana (Forastero), and Ecuador (Trinitario).

Each bar is a lovely exploration into that region's distinct and remarkable flavors. Each bar can be purchased individually, so you can return for as much of your favorites as you like. Pralus also produces two excellent bars not included in the Pyramid: a 45% milk bar called Melissa (made from Indonesian Criollo beans), and an 80% dark bar, Fortissima (a blend of Ecuadorian Criollo and Trinitario).

The Pyramid des Tropiques (photo at right) is a very special dark chocolate treat. Ten 50-gram bars of Pralus' single-origin 75% chocolate, each festively wrapped, are bound in to the "pyramid": a total of 500g/1.1 lbs. of chocolate. It's not exactly a pyramid, but don't quibble about form over flavor.
Not To Be Missed
Indonesia and Colombia, personal favorites of the author. Indonesia has soft and subtle flavors of brown grass/hay, licorice, and even a subdued fruitiness. Colombia is rich with faint tones of strawberries, cranberries, and pure cacao. Two sensational chocolates.

Chocolat Bonnat

Dark • Traditional • Fruity • Kosher
Chocolat Bonnat's history stems back to 1884, when Félix Bonnat first opened his doors at 8 cours Sénozan in Voiron, a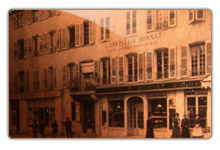 town in the French Alps in the southwest of France, about an hour northwest of Grenoble. Throngs of customers flocked to his storefront, anticipating the divine chocolate creations inside. Félix's two sons, Armand and Gaston, began to help with business operations soon after, and in 1956, scion Raymond Bonnat, with his wife Nicole, took full control of the firm. Formally schooled in business as well as chocolate, Raymond guided the company to exponential growth. Now four generations strong, Bonnat is run by two of Raymond and Nicole's four children, Cécile and Stéphane. Together, they aim to preserve the chocolate-making traditions that have made Bonnat sought-after around the globe. Chocolat Bonnat is certified kosher by Beth Din of the Federation of Synagogues London.
What to Know Before You Go
Bonnat is known for a dark roast. If you like darker-roast coffees—French roast and espresso—you should like the flavors of this chocolate. The flavors tend to be on the darker side even if fruitiness is present, which at the same time, shows that the artisan tending the roaster knows when to stop. Several of chocolates display properties of over-roasting to a minimal degree, but such attributes never become overbearing in a negative sense. Bonnat does not emulsify: the texture is usually smooth due to additional cocoa butter, which is probably an unavoidable consequence caused by an absence of lecithin. Devoid of vanilla too, Bonnat sticks to minimal ingredients: cocoa mass (also known as cocoa liquor), sugar and cocoa butter. Bonnat is one of the very few chocolatiers in the world to add neither vanilla or soya lecithin. The result is what some call Bonnat's "rustic edge," very popular with certain chocolate purists. While Michel Cluizel makes a dark roast chocolate without lecithin, he does use vanilla, and the chocolate is extremely elegant and sophisticate. It is a fascinating study in contrasts.
Points Of Interest
75% Single Origin Bars
Bonnat's bars come in a uniform percentage range of 75%: you can tour the world in 75% cacao: Ceylon, Côte d'Ivoire, Ecuador, Madagascar, Trinidad and Venezuela. Of the three Venezuelans, Puerto Cabello is characterized by intensity and berry fruitiness, El Rosario is bolder and reminiscent of strawberry ganache, Chuao is bustling with the region's characteristic flavors of berries and molasses. Coming from beans grown a bit to the south, Equateur is floral and peachy yet very bold, while farther north in the Caribbean, Trinité is tropical yet brooding, the dark side of paradise. Cote d'Ivoire is as bold and neutral as a Forastero can be. Head over to the Pacific Rim: Ceylan is spicy and light while Madagascar is bitter and woody. Origin cacao is always a fascinating journey.
Three Milks And An Unsweetened
Bonnat produces three high percentage milk bars, each clocking in at 65% cocoa content (regular milk chocolate bars are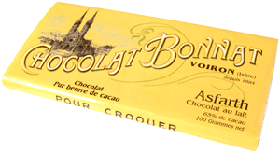 generally 30% to 35% cacao). This means an intensity of cacao flavor while still delivering some creaminess that milk chocolate-lovers crave. Each bar hails from different regions of the same Javanese island, and each bustles with its own unique flavors. Surabaya is the mildest and the most milk chocolate-like; Java is reminiscent of lemon chocolate mousse, and Asfarth is strong and forthright, a domineering force among any high cocoa content milk chocolate. If you like very fine milk chocolate, or know someone with a sophisticated palate who does, a gift of these (along with a set of Slitti's Lattenero bars) is an eye-opener.
Finally, get ready for the unsweetened, 100% Cacao bar. It's strong and acidic, definitely a "red fruit" and earthy chocolate, relentless with its tart attack. Chocolate connoisseurs will find it a worthy challenge, and those who cannot have sugar will enjoy the range of flavors it offers.
Not To Be Missed
Chuao. Definitely Bonnat's best bar, but questions arise about the origin of the beans since Amedei claims exclusive rights over this cacao.* Notwithstanding, the flavor here is remarkably close to Amedei's version.


*Prior to Amedei acquiring the exclusive rights to the beans from the township of Chuao, beans from the greater region had been called Chuao, including the beans from the neighboring Puerto Cabello and Ocumare Valleys. Bonnat has a large stock of precedent Chuao beans from which it still makes its Chuao bars.

Puerto Cabello. This is Bonnat's next best offering. Intense, chocolaty and fruit-forward, this is a marvelous chocolate in all departments.
Learn more about Chocolate Bonnat at
Bonnat-Chocolatier.com

Purchase Bonnat at
Chocosphere.com

Chocolat Bonnat is certified kosher by Beth Din of the Federation of Synagogues London (Federation KF).

Italy

Amedei

Fruity • Approachable • Perfectionist
Historic Capsule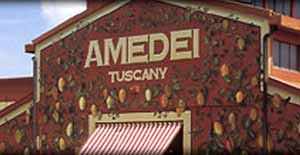 Begun in Pisa in 1990, Amedei is the result of a cacao love affair of the brother and sister team of Cecilia and Alessio Tessieri. With a combination of Alessio's scrupulous bean selection and Cecilia's masterful chocolatier skills, Amedei produces some outstanding chocolate. Their passion for cacao has caused them to search the world for the finest beans and plantations. This dedication and ardor creates a personal connection to the chocolate, a sentiment of love that can be tasted: it is translated through the pleasure that their chocolate evokes. If chocolate is a language, then Amedei speaks it fluently.
What to Know Before You Go
Amedei has a characteristic flavor of brown dried fruits: dates, raisins, even figs. They produce two lines: iCru (representing ier Cru, short for Premier Cru in Italian) single origin chocolate and blended bars. It is hard to surpass their sublime Porcelana and Chuao single origin chocolates. Amedei does not have an intimidating or overwhelming flavor profile and will appeal to most people seeking excellent high-end chocolate. Whereas some with limited taste ranges might find Valrhona too fruity, Pralus too dark or Domori too Fauvian, Amedei has an even-tempered point-of-view that is approachable by all, while offering all the complexity and exclusivity to appease the fussiest connoisseur. Flavors are generally easy to detect and describe—an indication of perfect bean handling, selection, and formulation.
Points of Interest: Legendary Cacao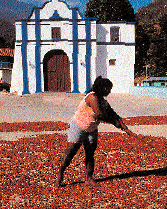 Drying the beans in the town
square of Chuao.
Perhaps the most quintessential chocolates Amedei produces are the Porcelana and the Chuao. At 70% cacao content each, the two bars are made from rare and highly prized Criollo beans.
Porcelana is a genetically pure Criollo grown in Venezuela. The name derives from the translucent white color of the bean. The chocolate itself is very delicate with a refreshing acidity and gentle flavor profile of fresh cream and strawberries. Its incredible silken texture and long length add to the appeal.

Chuao

is named after the small Venezuelan village and plantation where the beans originate, and whose fertile soils impart a unique flavor to the chocolate.

Chuao

has been regarded as the best cacao in the world. The village plantation has a limited output, and the demand is great. Because there is no controlled appellation designation, anyone can call their beans "Chuao." Thus, although Amedei has secured sole ownership rights over entire Chuao village plantation crop, other producers buy beans grown in the surrounding valley to make bars called Chuao.

They are excellent bars, but the beans from the village plantation, produced exclusively by Amedei, must be experienced.

Indeed, Chuao is Amedei's pride and joy. Although predominantly Criollo*, Chuao's flavor is strong and assertive like a Forastero, with tones of blueberry, plums, red fruits, and molasses. The chocolate is slightly tart with a lingering intensity, and the finish is clean, long, and strong. With just one taste, it is easy to understand why this chocolate is so highly prized.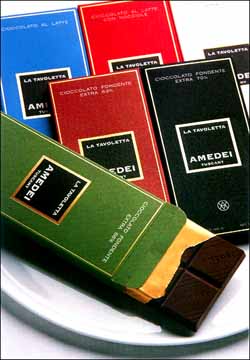 *Only the upper part of the Chuao plantation is planted with 100% Criollo beans. The rest is a hybrid of Criollo blanco and Amelonado, a species of Forastero—a cross-breeding technique that has yielded a hardier and more productive plant.
Cru Or Blended
Amedei has two bar lines: the Cru line and blended bars.
The iCru line consists of 70% chocolates from six locations: Ecuador, Grenada, Jamaica, Madagascar, Trinidad and Venezuela. Each type is only produced in a tiny 5g square napolitain format (1" x ¼" squares of chocolate) and is part of a set that allows the taster to explore Amedei's interpretation of Cru chocolate.

The blended bars come in the typical array of milk, white, and various dark chocolates, the latter of which consist of 63%, 66%, and 70% bars. Each is blended specifically according to cacao content and offers a unique combination of flavors. Start with the 63%, end with the 70%, and allow yourself to get lost in the complex blends.
Not To Be Missed
Chuao, among the very best chocolates in the world, period.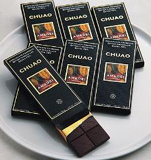 Plat du jour: Many chocolate
connoisseurs would rather be
served a plate of Chuao than
anything else.
The cacao farmed in the town of Chuao (pronounced chew-OW), in the rainforest off the Caribbean coast of Venezuela, produces beans that many experts regard as yielding the greatest finesse and complexity. In 2000, an agreement was signed giving Amedei the right to the entire crop through 2007 and the right of first refusal thereafter. Because Venezuela and the chocolate industry in general do not have an AOC (Appellation d'Origine Contrôlée, which exists in France, Italy, and Spain to protect the product authenticity, there is no legal authority to stop anyone from calling their beans or bars Chuao (or Porcelana, or anything else for that matter). To guarantee that you are experiencing authentic Chuao from the plantation in the village of Chuao, you should taste the Amedei product. Of course, compare it to other Chuaos and look for commonalities and differences.*

*Amedei has since acquired the rights to the production of the village of Chuao. Valrhona is no longer making a Chuao bar. Bonnat still has an inventory of Chuao and is making a Chuao bar.

Domori

Adventurous • Brilliant • Cutting-Edge
Historic Capsule
Mack Domori is a relative newcomer to the industry, but he did not arrive unprepared. Launched in 1996 in Genoa, his line of products is large: bars, dragées, cocoa powder, candies, nut cremes, and of special interest to the chocophile, rare-to-find whole roasted cacao beans, ready to eat. He produces not just single origin and blended bar lines, but five distinct lines of bars with complex flavors and textures to challenge both the palate and the mind. Domori is a traveler who sees pursuit of cacao knowledge as a cult (the good kind). Like Michel Cluizel and François Pralus before him, his mission is poetic and pure: to allow the natural flavor of the cacao to shine through in its most complete unadulterated and pure form. But he guides the mission several steps further than anyone else.
Domori seeks to revive and highlight the natural sensory properties of the pure cacao, a mission which can be clearly understood upon first bite. A journey through the product line is like a journey through the jungle: seemingly unorganized chaos, yet harmonious in a cycle where everything works together. Such is the chocolate: a seemingly wild array of various bars, yet each cacao variety has been tamed to release its full properties upon the senses so that the two work together: a chocolate nirvana is achieved.

Perhaps you'll like the sharp vibrancy of the Madagascar 70%, with its flavor accents of tangy citrus, tart pineapple, and notes of vodka. Or the soothing flavors of bread, butter, and jam in the magnificent Porcelana. Or maybe Puertofino's buttermilk and cherry tones. Flavored bars are also available, infused with spices, chilies, tea, or sugar crystals. If you love sea salt, try the milk chocolate Latte Sal. Domori is the chocolatier for those who want the envelope pushed.




Assorted Grand Cru napolitains.
What to Know Before You Go
Domori's innovative approach of minimal bean processing allows the true essence of cacao to shine through in the finished chocolate. He excludes lecithin and vanilla from his chocolate, which results in an overall stronger chocolate flavor and pasty texture. Conching time is shorter, which contributes to the pastiness; but pleasantly so. Domori does not have the same smoothness associated with Valrhona, but it coats the mouth in a lovely paste that's highly seductive. Many of Domori's bars have a distinct dairy tone, varying from fresh cream to buttermilk to cheese.
Domori's innovative approach might not appeal to everyone's palate immediately: a slow acclimation might be required to fully appreciate his brilliant, "Fauvian" style. However, be warned: once you become acclimated, the addiction follows quickly.
Points Of Interest
If variety is the spice of life, then Domori's spice cabinet is overflowing:
The Grand Blend Line has three bars made from the best cacao of three harvests.
The Ethnics Line has three uniquely flavored bars, enabling purists to experience the essence of cacao.
Go to the Domori website and read for yourself the combined poetry and science Mack Domori uses to describe his lines. After reading about just the first six bars above, you will realize, as the saying goes, "you're not in Kansas anymore."
The 75 Line is home to seven bars of varying blends, textures, and flavors.
The Chateau Line highlights the distinctive flavors of cacao grown in one region, Hacienda San Jose, in Venezuela. Although grown in close proximity, each bar has a distinct flavor. A fascinating study.
The Cru Originali Line features Domori's five single origin chocolates: Sur del Lago Clasificado (Venezuela), Carenero Superior (Venezuela), Esmeraldas (Ecuador), Rio Caribe Superior (Venezuela), and Sambirano (Madagascar).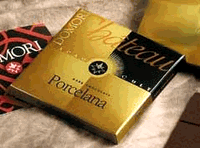 Not To Be Missed
Porcelana 70%, the "Holy Grail" of all chocolate, made of a genetically pure strain of Criollo beans from Venezuela which is acknowledged by experts to produce the most nuanced chocolate. An utterly silky texture with magnificent flavors of bread, butter, and jam. An astounding piece of chocolate.
The Ethnics Line, three fascinating bars. Puro is 100% pure cacao. Full of flavor intensity along with natural cocoa bitterness, it evolves slowly on the palate. The unique Gem bar is 85% cacao mixed with cane sugar crystals. The crystals remain intact, providing texture along with sweetness amid the intense flavor of cocoa. The Green bar mixes Blend No.1 chocolate with dried jasmine tea leaves.
| | |
| --- | --- |
| The Ethnics Line. | |
© Copyright 2005-2015 Lifestyle Direct, Inc. All rights reserved. Images are the copyright of their respective owners.