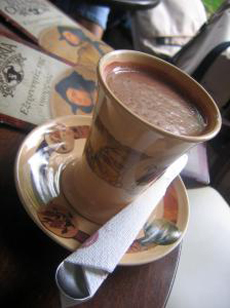 A charming Continental cup of hot chocolate. Photo by Dragan Sasic | SXC.


Gourmet Cocoas & Hot Chocolates
The Ultimate Comfort Food?
Overview
There is a difference between cocoa and hot chocolate. Cocoa is made from cocoa powder, hot chocolate is made from shaved chocolate bars. Both are mixed with hot milk or water, but since cocoa powder is defatted, hot chocolate is a richer beverage. It can easily have double the cocoa butter of cocoa powder.
Supermarket cocoa powders tend to contain 10% to 12% cocoa butter, while premium brands have 22% or more. Fractions such as 10/12 or 22/24 on the package indicate the percent of cocoa butter: e.g., 10/12 indicates 10 to 12 percent.
By comparison, a semisweet chocolate bar can have 46%-54% cocoa butter.
Hot chocolate was invented by the Swiss, who first thought to shave a bar and mix it with boiled milk. Cocoa powder was invented by the Dutch. And it must be remembered that more than 2,000 years ago, enjoyment of chocolate began as a spiced cold beverage, cacahuatl (ka-KWA-tay), enjoyed by the Olmecs and later the Mayas and Aztecs.* It brought back to Spain by Cortès in 1527 and was not made into a solid food—pudding and pastilles—until 1674.
TRIVIA: In 1785, Thomas Jefferson predicted that chocolate (the term then for hot chocolate, as solid chocolate had not yet been invented) would become the favorite beverage in the U.S.—over coffee and tea. This prediction came after the Boston Tea Party and prior to the widespread consumption of coffee in America.
If you have ideas or suggestions about hot chocolate, please use the Contact Us link on this page to share them with us.
*Most likely man began eating the fruit in the pod; the roasting of the seeds in the fire, the beginning of the chocolate-making process, was likely a happy accident. The Olmec word, kakawa, evolved into the Mayan word is xocolatl, cho-co-lah-tay; cacahuatl, pronounced ca-ca-WHA-tay, is the Aztec word.
Nibble Tip

You can buy shaved chocolate, or shave your own from your favorite chocolate bars—dark, milk, white, or flavored. The better quality of bar, the better quality the hot chocolate.

Photo courtesy of Stock.Xchng.
Dark And Tasty
| | | |
| --- | --- | --- |
| | | |
| The New Taste of Chocolate: Explore chocolate throughout history in its homeland, Latin America. $20.47. Click here for more information or to purchase. | Hot Chocolate: If you thought there was only one way to make hot chocolate, then a sublime world awaits. $9.95. Click here for more information or to purchase. | The Haighs' s Book of Chocolate: 60 celebrated recipes from Australia's premier chocolatier. $13.57. Click here for more information or to purchase. |

Serve Your Cocoa Wabi-Sabi Style


| | | |
| --- | --- | --- |
| | | |
| Rae Dunn Mug Set: Wabi-sabi inspired mugs with playful culinary icons. $39.95. Click here for more information or to purchase. | Rae Dunn Cafe Plate: Celebrate the beauty of imperfect things featuring tasty delights. $39.95. Click here for more information or to purchase. | Mr. Coffee Cocoamotion: Make perfectly frothy hot chocolate quickly and easily. $35.99. Click here for more information or to purchase. |