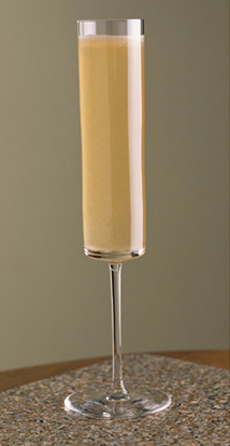 Use elderflower liqueur to jazz up your sparkling wine. Photo courtesy Zacapa Rum.

Sparkling Elderflower Cocktail Recipe
With Rum & Sparkling Wine
This year, forgo tipping back the traditional sparkling wine when ringing in the new year. Instead, whip up the following Sparkling Elderflower Cocktail, created by bartender Ross Crowley for A Voce Italian restaurant in New York City, which infuses sparkling wine with rum and elderflower liqueur. Or, check out additional recipes using elderflower liqueur.
Sparkling Elderflower Cocktail
While any premium rum will work for this recipe, Mr. Crowley recommends using Zacapa Rum, a deep, rich premium blend of rums aged 6 to 23 years old, crafted from first-crushed virgin sugarcane and aged in Guatemala. Ideally, you'll want to serve this cocktail in a Champagne glass like the one in the photo at left.
Ingredients Per Cocktail
1 ounce premium rum
1 ounce elderflower liqueur
1 ounce sparkling wine
1 ounce fresh lime juice
Dash of bitters
Ice
Orange peel for garnish, if desired

Preparation
Combine rum, elderflower liqueur, sparkling wine, lime juice and a dash of bitters to a shaker filled with ice.
Shake and strain into a Champagne glass and garnish with a flamed orange peel (if you are feeling extra dapper).


Recipe copyright as noted above. All other materials © Copyright 2005- 2015 Lifestyle Direct, Inc. All rights reserved. Images are the copyright of their respective owners.