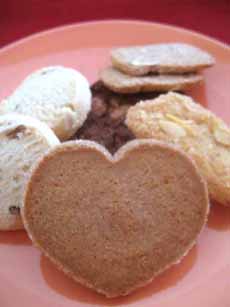 Elsa's Story cookies are about quantity and quality. There's a cookie for every palate. Photo by Melody Lan.
MELODY LAN is a member of THE NIBBLE editorial staff and wishes she had time to bake cookies.

Elsa's Story Butter Cookies
Sophisticated, Kosher Cookies From Israel


CAPSULE REPORT: Elsa's Story makes a line of twenty-plus assorted cookies with classic flavor profiles. The recipes are right on point, and are never too sweet. Imported from Nahariya, Israel and kosher-certified, their bakery-quality products make them perfect to enjoy everyday with a glass of milk but elegant enough to serve aside a fine cup of tea at a fancy tea party.
Some months ago we reviewed the Elsa's Story Sugar-Free Butter Cookie collection and Elsa's Story Preserves and explained that Elsa isn't a real person, but a representative of all of the Elsas who baked wonderful cookies that filled the house with such wonderful smells and tastes. Now that the holidays are upon us, it's time to tell Elsa's Story again—this time, about the original line of Sweet Cookies.

Elsa—or all of the Elsas—are prolific. The selection is so vast that one can but dream of one's favorite cookie and find it in the line. From Brown Sugared Butter Cookies to Almond Melts, this extensive menu makes pleasing any palate an easy task. Imported from Israel, the line is kosher-certified as well.
After one bite, you'll know that these are quality products that no cupboard should be without. We've broken down the cookies into categories so that it will be easier to choose your favorites. All cookie varieties are made with wheat flour.
Butter Cookies
Black and White

A swirl of cocoa makes this butter cookie extra tasty and extra-special. Enjoy it with a Darjeeling or oolong tea, with coffee, milk or ice cream.

Brown-Sugared

An old-fashioned butter cookie with a rich, full-forward butter flavor. The rim of the cookie is coated with crunchy sugar crystals, a nice contrast to the delicate and flaky texture of the cookie itself.

Brown Sugar and Oat

Made of granola, brown sugar and whole wheat, you can convince yourself that this is a "healthy" cookie. If you like muesli, you'll love how this cookie is packed with crushed oats, lending itself to a crunchy texture and true oat flavor without being too sweet. Why not enjoy it as a breakfast cookie!

Crispy

This traditional, crispy butter cookie hits the spot. Sugar granules studding the top dress it up for more formal occasions, but you can still enjoy it with a glass of milk.

Roasted Almond

A butter cookie topped with chopped, roasted almonds that add great texture and crunch. For those who go nuts over nutty cookies.

Sugar-Glazed Sesame

The crispy butter cookie dressed with fragrant, toasted sesame seeds and flecks of sugar crystals. This cookie borders the line between crunchy and chewy, with an irresistible fusion sesame touch.

Sweetheart

A butter cookie than can speak a thousand words. These may be bite-sized, but make them speak for you. Use them to top ice cream, or take two cookies and make "love bites" with preserves, Nutella®, fudge or caramel.
Chocolate Chip Cookies
Almond and Chocolate Chip Bites

Reminiscent of almond chocolate chip biscotti. these crunchy bites are chock-full of chocolate morsels and almond chunks. Dip them into cappuccino.

Banana Pecan

A delicious combination of crispy, dried banana chips and rich, dark chocolate pieces, it's a crunchy version of chocolate chip banana bread. These are available in a tin gift box, individually wrapped.

Chocolate Chip and Nut

It's the classic, crispy chocolate chip cookie, but with the additional crunch from large pieces of walnuts. A true comfort food, it's the sweetest of the cookies we tried in the line—a sure favorite for children of all ages.

Triple Chocolate Pecan

Catering to the chocolate-lover, an irresistible combination of pecans and generous chunks of three different kinds of chocolate: milk, dark and white. Available in a tin gift box, individually wrapped.
Filled Cookies
Apple and Honey Filled


The soft, filled butter cookies have a melt-in-your-mouth cookie texture and sweet, fruity fillings. This one has a delicate apple and honey paste, like a bite-sized piece of apple pie.

Blueberry Filled

Our favorite in this category, with a blueberry jam filling, this cookie literally dissolves in your mouth, leaving the sweetness of blueberry preserves on the palate.

Orange Filled

Filled with delicate orange paste, this tangy, citrusy cookie is a sure crowd-pleaser.
Fruit and Nut Cookies
Almond Slice

A very cinnamony slice with lots of whole almond slivers. It's a cross between a flaky biscuit and a crunchy cracker.

Almond Pinched Lemon Cookie

An almost free-style shape with a fine texture, this tart, lemony cookie in a buttery base is loaded with almonds. Enjoy it with frozen yogurt for yet another counterpoint.

Almond and Raisin Slice

Full of almonds and raisins, this slice is simple, light and a match for light teas. It's chewy from the raisin, but crunchy too. A great alternative to biscotti.

Classic Almond Slice

A real treat for the almond-lover. Super thin, it's much more like a buttery, almond confection than a cookie. Generously adorned with almond slivers, it's more about almond flavor than sweetness.

Dried Fruit Cookie

A moist, chewy cookie studded with lots of dried fruits. Available in a tin gift box, individually wrapped.

Dried Fruit Slice

One bite of this slice provides a mouthful of dried fruits and nuts. Made from whole wheat and brown sugar, it's another "healthy cookie" in our book.

Ginger Thin

Close to a sophisticated gingerbread cookie, bold and gingery with bits of chopped almonds that add a sweet, nutty dimension.

Ginger and Hazelnut Cookie

Like a flat, thin biscotti, hazelnut halves are the star of this slice. The whole ensemble is spiced with nuances of ginger, making it a fraternal twin to the Ginger Thin above.

Pecan and Raisin

There is no shortage of pecans and raisins in this variety. The slice is made from whole wheat and brown sugar, truly a nutritious cookie by our standards. It is first baked as a cake, cut into thin slices and then toasted in the oven for a chewy (from the raisins), yet crispy cookie.

Melts
Almond

Super-soft and almost chewy, this melt is loaded with thin almond slices and powdered with fine sugar. Its delicate and smooth texture contrasts with the bold almond flavor.

Butter Pecan

If you like butter pecan ice cream, this is the melt-in-your-mouth cookie version of it, in buttery shortbread dusted with powdered sugar. Some find the flavors reminiscent of quality toffee.
ELSA'S STORY

Sweet Cookies Collection

Kosher certification (U)D, Chalav Stam
Under the supervision of Rabbinate Nahariya

Average Retail Price: $5.99
Available at specialty stores
nationwide
Sold online at a variety of e-tailers including
GreaterGourmet.com,
MartinezFineCoffees.com, WholesaleBulkCookies.com

Prices and flavor availability are verified at publication but are subject to change.

The company website, ElsaStory.com, is perennially under construction. You can find the products for sale online; or phone the importer, Wythe-Will, at 1. 800.296.0273





© Copyright 2005-2015 Lifestyle Direct, Inc. All rights reserved. Images are copyright of their respective owners.